April 27, 2018
According to the American Lung Association, chronic obstructive pulmonary disease (COPD) is the third leading cause of death in the United States. More than 11 million Americans have been diagnosed with COPD, but millions more may have the disease without even knowing their condition exists.
Mercy Hospital Washington and Mercy Clinic Four Rivers have teamed up to offer a free education center for anyone who has been diagnosed with COPD. The center is located in Mercy Medical Building South, at 901 Patients First Drive in Washington.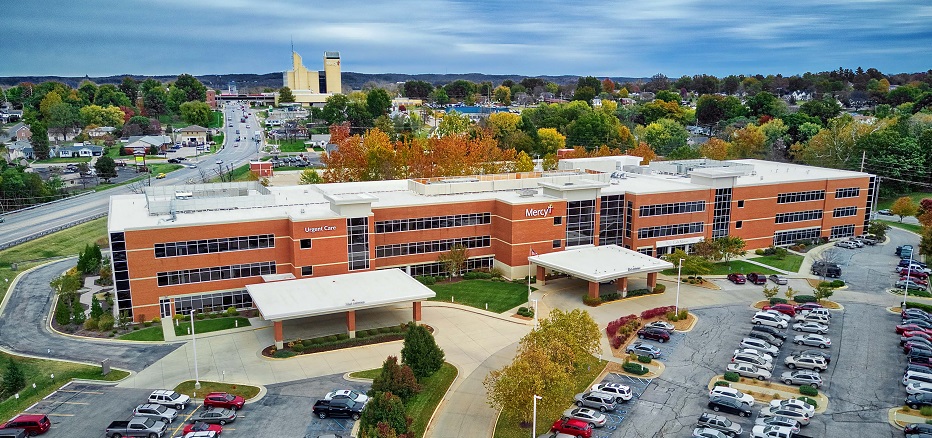 "COPD is a group of progressive, debilitating respiratory conditions, that includes emphysema and chronic bronchitis," said Umer Siddiqui, MD, Mercy Clinic Pulmonology, who serves as medical director of the center. "It is often associated with a history of cigarette smoking and is characterized by difficulty breathing, lung airflow limitations, cough and other symptoms."
The COPD Education Center allows Mercy Hospital Washington respiratory therapist Randy Sweet, BS, RRT, to educate and assess any patient who has been referred to the center. 
"Many of our initial patients came to us directly from the hospital because they needed help in understanding how to manage their disease," said Sweet, who has been a respiratory therapist with Mercy for almost 20 years.  "Then we started getting feedback from our clinic physicians wondering if we could carry over our education to an outpatient setting as a way to help anyone affected by COPD."
Because COPD damages the airways in our lungs, it often leads to shortness of breath.  This can have an impact on work, exercise, sleep and other daily activities.  At the Mercy COPD Education Center, Sweet or other respiratory specialists, work with patients and family members to assess and manage the disease.  Since many COPD patients also have CPAP equipment to help with sleeping, the center's staff will also evaluate equipment and offer any necessary education.
"On the first visit to the center, the team will provide COPD education, assess immunizations, discuss a smoking cessation program and review medications and adherence," said Sweet. "Then we'll teach correct use of inhalers and nebulizers, help patients complete manufacturer assistance forms if they cannot afford medications, and then assess whether the patient is a candidate for pulmonary rehabilitation, nutritional counseling or other services."
Brian Frisby was recently referred to the education center by his pulmonologist, Dr. Adeel Khan. Frisby, a former smoker of almost six years, said his COPD can be very debilitating on a daily basis.
"Breathing during any type of activity is very hard," said the 77-year-old Frisby.  "Trying to exercise, climbing a flight of stairs or just walking from room to room all seriously affects me."
Frisbee said the one-hour appointment at the Mercy COPD Education Center was very thorough and gave him some insight on what he could do to feel his best. 
"Probably the biggest thing I took away from my visit was the importance of using a spacer with my inhalers," he said.  "Even though I had a spacer, I wasn't using it because I didn't really understand the benefits.  Randy showed me how to properly use it and explained it helps deliver the medicine better to my lungs, and that allows the medicine work better and lessens the side effect. I'm happy I made the visit and it didn't cost me a dime."
All patients must be referred to the Mercy COPD Education Center by a physician or advanced practitioner.  For more information on the center or the referral process, please call 636-390-1771 or visit mercy.net/COPDEdu.

Media Contacts