April 16, 2018
At a dinner and celebration Tuesday, April 11, Briccio Cadiz III, MD, was selected as the first-ever winner of the new Catherine McAuley Physician Leadership Award at Mercy Hospital Jefferson.
Dr. Cadiz was one of seven nominees recognized at the celebration for physicians who live out the Mercy Mission and uphold the Mercy values of Justice, Excellence, Service, Dignity and Stewardship in the Jefferson community.
Other nominees honored at the dinner were Benjamin Albano Jr., MD, James Junker, MD, Kenneth Kilian, MD, William Snidle, MD, Hon Chi Suen, MD, and Joanne Waltman, MD. Nominations forms were solicited from patients, co-workers and the entire community.
The evening program included remarks from Sister Mary Roch Rochlage, RSM, Dr. Junker, Dr. Kevin Enger, Mercy Jefferson president Eric Ammons, and Michele Meyer, vice president of Operations at Mercy Jefferson.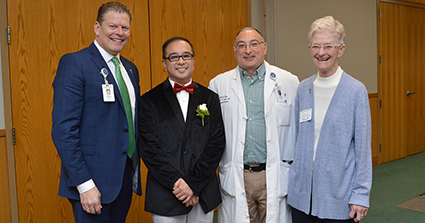 A nurse submitted one of the nominations forms recommending Dr. Cadiz for the award:
"I met Dr. Cadiz early on in my nursing career on night shift at Mercy Jefferson. Dr. Cadiz would round at night and answer his phone any time we called. I've since switched to days at Mercy Jefferson and see Dr. Cadiz just as much as he rounds during the days as well and takes all calls for patients.
Dr. Cadiz serves many people other physicians may not accept as patients because of their particular insurance or lack of. Dr. Cadiz treats them all equally with his considerable experience and intellect. Dr. Cadiz admits new patients that are strangers to him and treats them as his own, quickly learning their histories conditions and personalities and doing everything he can to treat them not just the disease.
I recall having to call Dr. Cadiz frequently at 2 or 3 a.m. for a patient. He would answer the phone and clearly remember the most specific details of their history and chart. I usually saw him working that previous evening rounding and usually saw him rounding in the morning after that late phone call.
I remember seeing Dr. Cadiz round on the floor in a tuxedo one night. One of his children had been married and he took the time between the wedding and reception to come see his patients.
Dr. Cadiz is also a man of faith. I've called Dr. Cadiz when he is at Mass, and after verifying that there is not an medical emergency, he answers, 'I'll get back to you as soon as I can. I'm at Church now.' That speaks volumes about him as a physician and person. The only time he isn't 100 percent accessible is when he is honoring God at Mass. It isn't when he's at the theater or on vacation; it's when he's listening to our Father in Heaven. That faith and dedication is exactly what the Sisters of Mercy stood for. Those beliefs in God and use of his gifts of talent and intellect are exactly what Sister Isador wanted at St. John's Mercy, and naturally Mercy today.
Dr. Cadiz gives everything of himself, with a cheerful attitude, ever present intellect, and astounding memory.  He works night and day, around the clock to care for his patients, as Christ would. Dr. Cadiz treats staff with mercy and care as well. I have never seen Dr. Cadiz in a bad mood, or lose his temper.
In short, Dr. Cadiz gives everything of himself every day, so it is impossible to give only one example of how he treats others with compassion, care and mercy. He is easily the best physician I have ever worked with and the most compassionate, intelligent physician I've worked with.
Therefore, without hesitation, I recommend Dr. Cadiz for the Catherine McAuley Physician Leadership Award."
See additional pictures from the event here.  
Media Contact