April 20, 2018
Surviving breast cancer is a difficult journey, but the experts at the Mercy Breast Center in Joplin are dedicated to making that journey easier each step of the way.
In March, the Mercy Breast Center earned accreditation from the National Accreditation Program for Breast Centers (NAPBC) through the American College of Surgeons. This prestigious accreditation is awarded to breast programs that meet high-quality standards of care throughout a patient's medical journey beginning at screening and diagnosis.
"NAPBC accreditation is the gold standard for breast centers," said Dr. Kenneth Watts, a breast surgeon and medical director of the Mercy Breast Center in Joplin. "This accreditation shows how we are delivering the same standard of care here in Joplin that patients receive at the very best hospitals all over the country."
The Mercy Breast Center features state-of-the-art imaging technology, including 3-D mammography (tomosynthesis), ultrasound, breast MRI and the region's only automated breast ultrasound system (ABUS).
"Unlike 2-D screening, 3-D mammography displays breast tissue in layers so we are able to see tissue more clearly and pick up smaller cancers earlier," said Dr. Sonu Suri, imaging director at the Mercy Breast Center.
If an abnormality is found that requires a biopsy, patients will get their results within 24 to 48 hours in person from a physician and the breast care navigator. This short turnaround for the biopsy results is Mercy's commitment to minimizing the amount of time that any woman has to wait for and worry about their results.
Multidisciplinary Approach to Care
Mercy's NAPBC accreditation also recognizes how well the Mercy Breast Center team of specialists work together to provide comprehensive care for patients.
The Breast Tumor Board brings together surgeons, oncologists, radiologists, a reconstruction surgeon, radiation oncologists, navigators, physical therapists, research nurses and other co-workers to develop a treatment plan that follows evidence-based guidelines for care.
"The most important thing about cancer treatment is having a multidisciplinary approach," said Dr. Watts. "Discussing all cases in these meetings ensures we have the same information and that there is a clear line of communication among all members of the patient's care team."
Dr. Suri is proud of the compassionate care and exceptional service provided by the Mercy Breast Center team.
"It gives me satisfaction, comfort and peace to know that we are providing the highest standard of care to patients in the Joplin area," Dr. Suri said. "It means so much to work with the dedicated technologists, nurses and surgeons to detect cancers at the earliest possible stage to save lives and give our patients hope."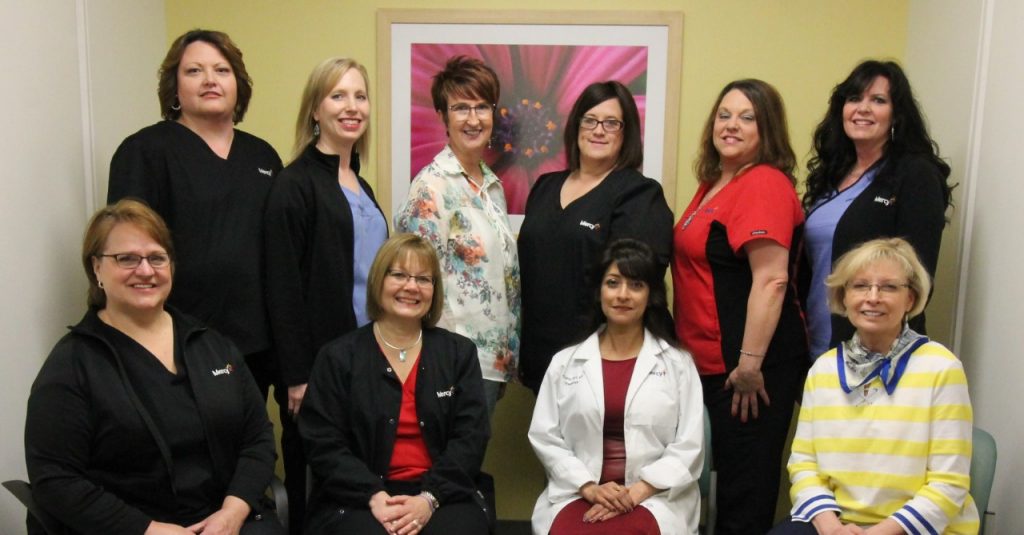 Mercy Breast Center team: Front (L-R): Jeanette Dunlap, registered mammography technologist; Kim Sanders, BS, registered mammography technologist; Soni Suri, MD, Mercy Breast Center imaging director; and Rita Glaze, certified breast care nurse Back (L-R): Crystal Pierce, certified mastectomy fitter; Jennifer Brown, registered diagnostic medical sonographer; Lisa Nelson, certified mastectomy fitter; Jennifer Triplett-Ritter, records support; Melissa Thomas, registered mammography technologist; and Carla Burns, registered mammography technologist Not pictured: Kenneth Watts, MD, medical director Mercy Breast Center.
Media Contact