April 23, 2018
Twelve Mercy nurses were selected as finalists from more than 200 nominations in the St. Louis Magazine Excellence in Nursing awards and four won their respective categories.
Each year, St. Louis Magazine honors nurses in its Excellence in Nursing issue. After a call for nominations, 57 finalists were selected and winners chosen in 19 categories.
Alison Morrison, a nurse practitioner with Mercy Kids Autism Center, won for the Neurology/Psychology/Behavioral Health category.
Christine Mathews, critical care nurse and preceptor, won for the Intensive Care category.
Amy McLean, family support manager, won for the Women's Health category.
Molly Eggleston, clinical nurse in the cardiovascular intensive care unit, won for the Cardiovascular category.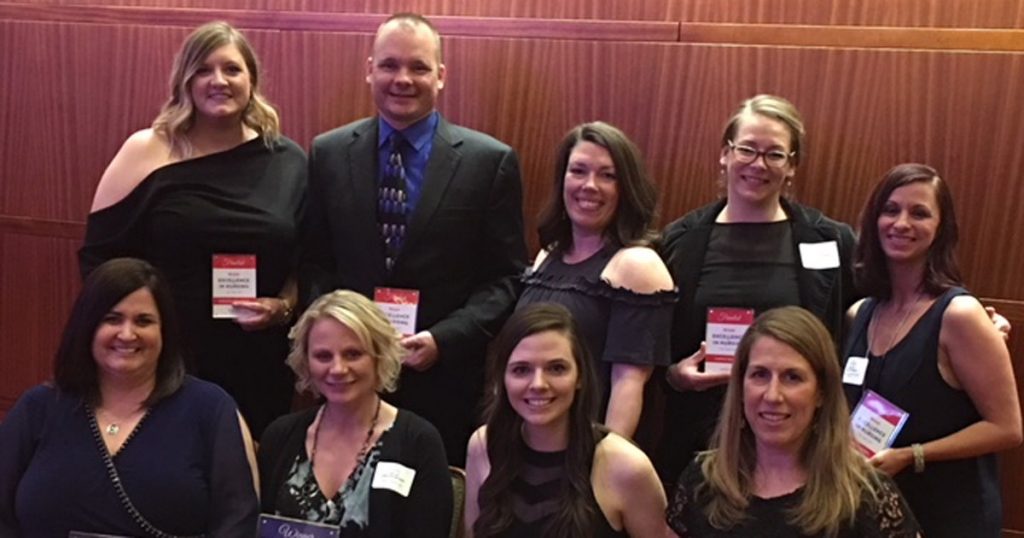 Front row, from left: Amy McLean, Christine Mathews, Molly Eggleston and Alison Morrison. Back row, from left: Stefanie Struckhoff, Christopher Boyer, Heather Miller, Lindsay Bilhorn, Sarah Conway. Not present: Jill Igou, Mary McCoy, and Mary Wilcox.
Mercy finalists include:
Jill Igou, Cardiovascular
Christopher Boyer, Emergency Department
Lindsay Bilhorn, Emerging Leader
Mary McCoy, Intensive Care
Stefanie Struckoff, Intensive Care
Sarah Conway, Orthopedics
Heather Miller, Pediatrics: Neonatal
Mary Wilcox, Research
To read more about the winners in each category, click here.
Media Contacts
Bethany Pope
St. Louis, St. Charles, St. Louis - South, Troy, Festus