May 29, 2018
Home Health nurse Angel Jennewein, BSN, RN, received the quarterly Daisy Award at Mercy Jefferson based on the nomination of one of her patients who cited Angel's concern and patience in helping with a new colostomy bag.
"She showed us how to put it on, take it off, empty it, etc.," the patient wrote in the nomination form. "She tried different pastes, rings, etc., until she found one that worked for me. It was quite a task."
"When my incision became infected, she stopped by after work to check it and show us how to pack it. The next day, a Saturday, she dropped off supplies on her day off. She gave me her phone number. She never acted like I was bothering her and answered every question I asked."
"We are so thankful that Angel was the one who came out. It would have been a horrible journey without her. She loves her job; you can tell it is not just a paycheck to her. She was here a few times bringing supplies on her own time. She is an extremely caring nurse."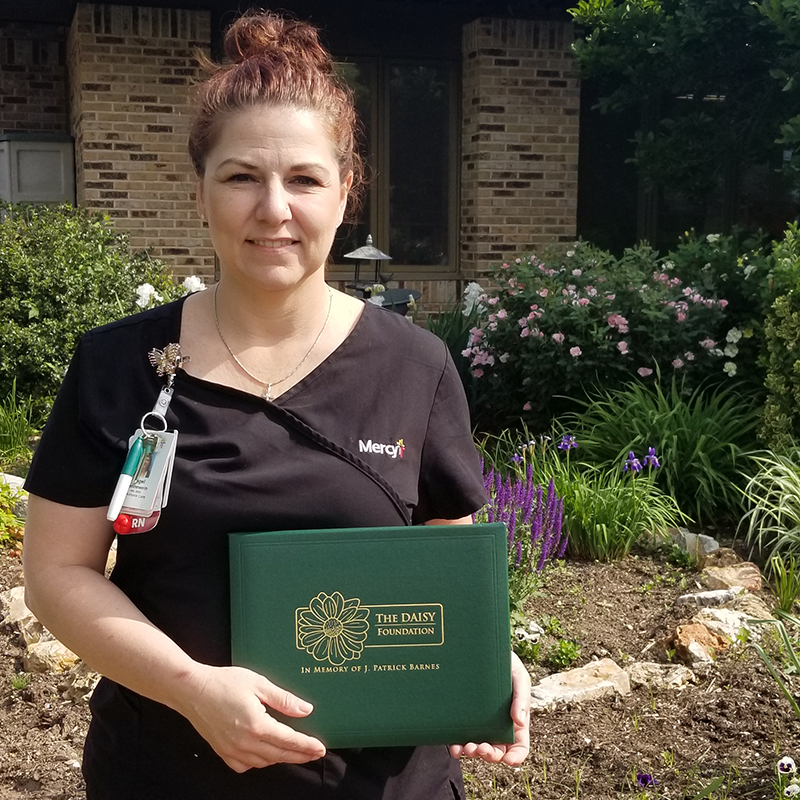 DAISY is an acronym for Diseases Attacking the Immune System. The family of Patrick Barnes established the Daisy Foundation in 1999 to express gratitude to nurses for the work they do for patients and their families every day. The award is presented in more than 1,900 healthcare facilities in all 50 states and 15 countries.
During the recognition ceremony, surrounded by her co-workers, Angel received an official DAISY pin, a certificate, and a hand-carved stone sculpture entitled "A Healer's Touch." Additionally the national award calls for a celebration for all co-workers in the unit with Cinnabon cinnamon rolls – a favorite of Patrick's during his illness.
"The Barnes family asks that whenever and where ever nurses smell that wonderful cinnamon aroma, they stop for a moment to think about how special they are."
For more information visit www.daisyfoundation.org.
Media Contact