June 15, 2018
Debbie Latham, Lebanon's quality manager, has helped earn Mercy Lebanon ministry-wide recognition for quality efforts. Here is what her nominator had to say:
Debbie's vast experience, depth of knowledge, calm professional demeanor and her "never say no" attitude makes her an ideal co-worker, always helping move our mission forward. Debbie's routine is to come in early and stay late to ensure others have what they need to be successful. From administrative and clinical data to patient safety issues, as well as physician challenges, Debbie handles all with professionalism.
Her personal dedication has been instrumental to ensuring the hospital meets all accreditation and quality requirements. Mercy Hospital Lebanon was also recognized ministry-wide for quality, partially because of Debbie's tracking and reporting, which helped operational leaders focus on areas that needed attention.
Debbie is a pleasure to work with and we will miss her dearly after retirement.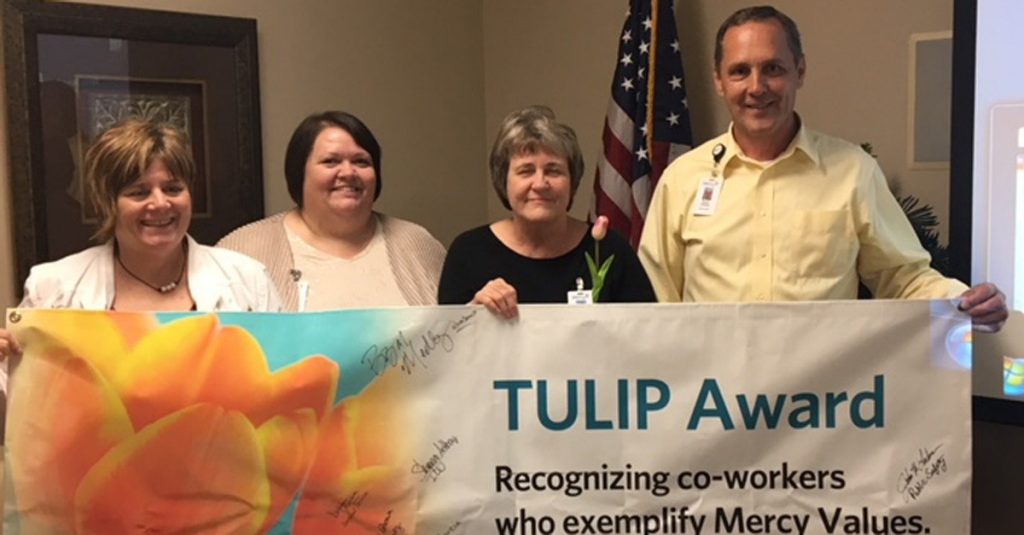 Debbie Latham (holding the tulip) was honored with a Tulip award for her "never say no" attitude and personal dedication.
The Tulip Award recognizes non-nursing health care co-workers, like techs, assistants and office workers. They can be nominated by patients, visitors and co-workers.
Media Contacts
Sonya Kullmann
Branson, Cassville, Lebanon, Mountain View, Rolla, Springfield, Aurora