August 3, 2018
Crystal Ray has served in a lot of roles during her time at Mercy Hospital Lebanon, but her passion for patients has brought her back to the bedside and won her a generous scholarship. WGU just presented her with a $5,000 scholarship, which she will use to pursue her Master of Nursing degree.
"This scholarship was a huge blessing to me," Ray said. "Not only does it help with the financial costs of school, but it also validates my decision for continuing my education. It has let me know that I am doing what I am supposed to and that I am on the right path."
Ray's been with Mercy for 16 years.  She began her career as a certified nurse assistant in labor and delivery, but she wanted to become a nurse, so she pursued her education and graduated from nursing school in 2010.   "During that time that I worked with many great nurses," Ray said. "They were all very influential and made a great impact on my decision to further my education."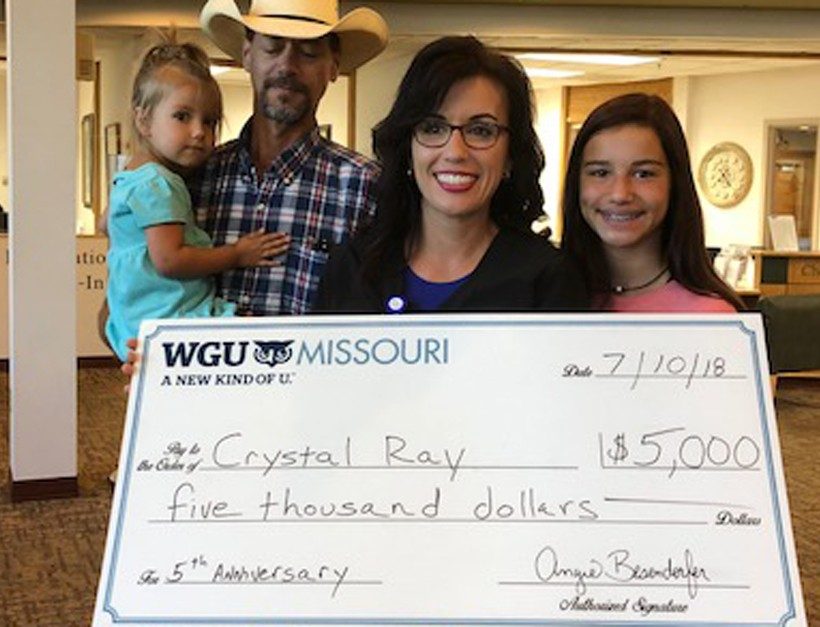 Crystal Ray proudly displays her scholarship check along with her husband, Robert, and daughters Abby and Lilly.
The desire for knowledge continued, as Ray received her Inpatient Obstetric Nursing Certification and then a Bachelor of Science in Nursing degree in 2015.
After spending some time as Mercy's Corporate Health Manager, the love of serving at the bedside brought her back to Labor and Delivery. 
"I truly give Mercy credit for molding me into the nurse that I have become," Ray said.  I have been here from the very beginning of my career. At that time I was just a girl off the street and they took a chance on me and gave me a job. I will always be grateful for that and for all the support I've had throughout my journey."
Once Ray receives her master's degree, she'll turn her attention toward helping others who want to learn. "I'm passionate about teaching," she said. "I love to take a brand new nurse and teach them all that I know and then watch them grow into a phenomenal nurse."
Media Contacts
Sonya Kullmann
Branson, Cassville, Lebanon, Mountain View, Rolla, Springfield, Aurora