August 20, 2018
ST. LOUIS - A different kind of drill occured at Parkway Central High School's football field earlier this month. Instead of getting student athletes in shape for the season, this drill focuses on getting Mercy's athletic trainers ready to respond to serious illness and injuries.
Mercy co-workers played the roles of victims as trainers treated conditions like heat exhaustion, cardiac arrest and spinal cord injuries.

"We prepare for the worst so we can keep our student athletes at their best," said Jason Muchow, ATC, director of Mercy Sports Medicine and Orthopedics. "We hope we'll never have to use the techniques, but the practice ensures we'll get those students the best care immediately."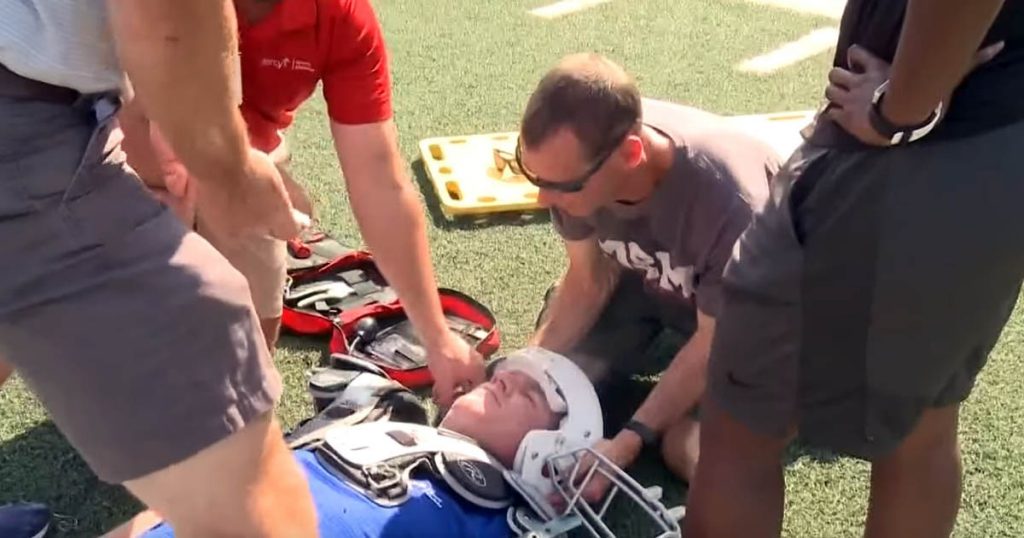 Mercy Sports Medicine athletic trainers practiced spine stablization and more during an annual drill before fall sports begin.
Mercy Sports Medicine provides a comprehensive medical team to coordinate care for student athletes and their families and ensure a continuity of care is provided.  Each school implements Mercy's policies, procedures and protocol, which provides structure and support as well as the best protection for the athletes and schools served by Mercy athletic trainers. 
In the St. Louis metro, Mercy Sports Medicine serves as the official medical provider for the St. Louis Cardinals, St. Louis FC, St. Louis Ambush as well as University of Missouri St. Louis. Local high schools include Parkway School District, Rockwood School District*, Christian Brothers College, Clayton*, De Smet Jesuit, Festus, Fox School District, Hillsboro, Ladue Horton Watkins, Pacific, St. Clair, Valley Park, Union, Westminster Christian Academy and Whitfield School. In addition, Mercy Sports Medicine works with St. Louis Scott Gallagher Soccer Club and Rawlings Tigers Baseball and Softball Club.
*New for 2018-2019 school year.
In the News
Learn More About Mercy Sports Medicine
Mercy Sports Medicine
Whether you're an elite athlete, a high school football player or a cycling enthusiast, you want to stay in top physical shape. And while your chosen activities help you stay fit and strong, they also increase your risk of injuries.
Media Contacts
Bethany Pope
St. Louis, St. Charles, St. Louis - South, Troy, Festus
Bethany Pope
St. Louis, St. Charles, St. Louis - South, Troy, Festus