August 22, 2018
JOPLIN, Mo. – High-quality wound care will be more easily accessible to Joplin residents with the re-opening of Mercy Wound Care and Hyperbaric Medicine. The new clinic celebrated with a ribbon cutting and blessing on Wednesday, Aug. 22, at 1905 W. 32nd St., Suite 103.
The clinic is part of a wound care community made up of over 700 clinics and will be led by Dr. Oluwatobi Yerokun, the new medical director of the Mercy Joplin wound center. Patients often refer to him as Dr. Tobi.
 "I appreciate the opportunity to use my knowledge and skills in wound management to serve the Joplin community. We are blessed to have access to some of the latest and most advanced technology to help improve wound healing rates and improve quality of life," said Dr. Tobi.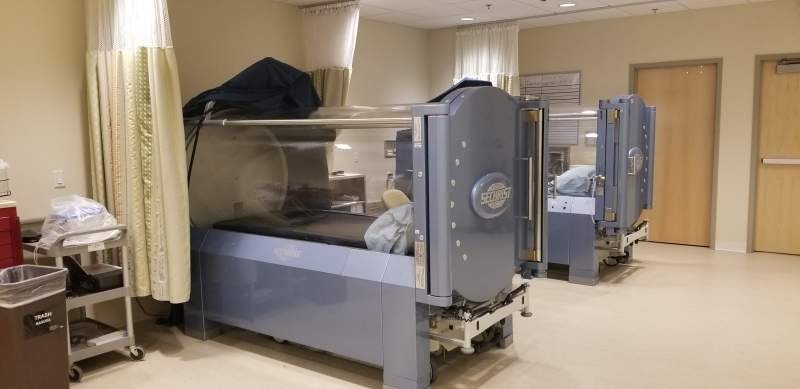 Hyperbaric oxygen chambers provide another treatment option to help heal wounds.
The clinic will treat patients with chronic, nonhealing wounds and address all aspects of a patient's well-being and quality of life. The clinic recommends coming in for a visit if a wound has not healed or progressed within 15 days. The faster a wound can heal, the faster a patient can get back to their everyday life.
Patients with wounds ranging from minor burns, diabetic ulcers, pressure ulcers and even nonhealing surgical wounds will be treated at this outpatient facility. Hyperbaric oxygen therapy, sometimes known as HBO therapy, is also offered at the clinic, and will be utilized if the wound meets the necessary guidelines.
To learn more about Mercy Wound Care and Hyperbaric Medicine or to schedule an appointment, call 417-556-6967. 
Media Contacts
Jordan Larimore
Joplin, Carthage, Columbus