September 10, 2018
ST. CHARLES, Mo. – With advantages like easy-to-use online check-in and pre-registration, a real-time wait clock, mobile x-ray and large exam rooms, the new Mercy-GoHealth Urgent Care location in St. Charles is designed to make health care effortless and convenient.
Following a blessing and ribbon cutting ceremony today, the St. Charles location is the fifth to open to patients in the St. Louis region. The St. Charles location opens tomorrow in Bogey Hills Plaza at 2031 Zumbehl Road. All centers will be open seven days a week -  Monday through Friday from 8 a.m. to 8 p.m. and Saturday and Sunday from 9 a.m. to 5 p.m.
"We are excited to open our first Mercy-GoHealth Urgent Care center in St. Charles as part of our multi-market joint venture with Mercy," said Todd Latz, CEO of GoHealth Urgent Care. "Partnering with an innovative and integrated health system like Mercy will enable us to provide more connected and comprehensive care, complete with integrated electronic medical records and same-day or next-day appointments with specialists when needed. We look forward to providing the highest level of care and quality to families across the St. Charles area."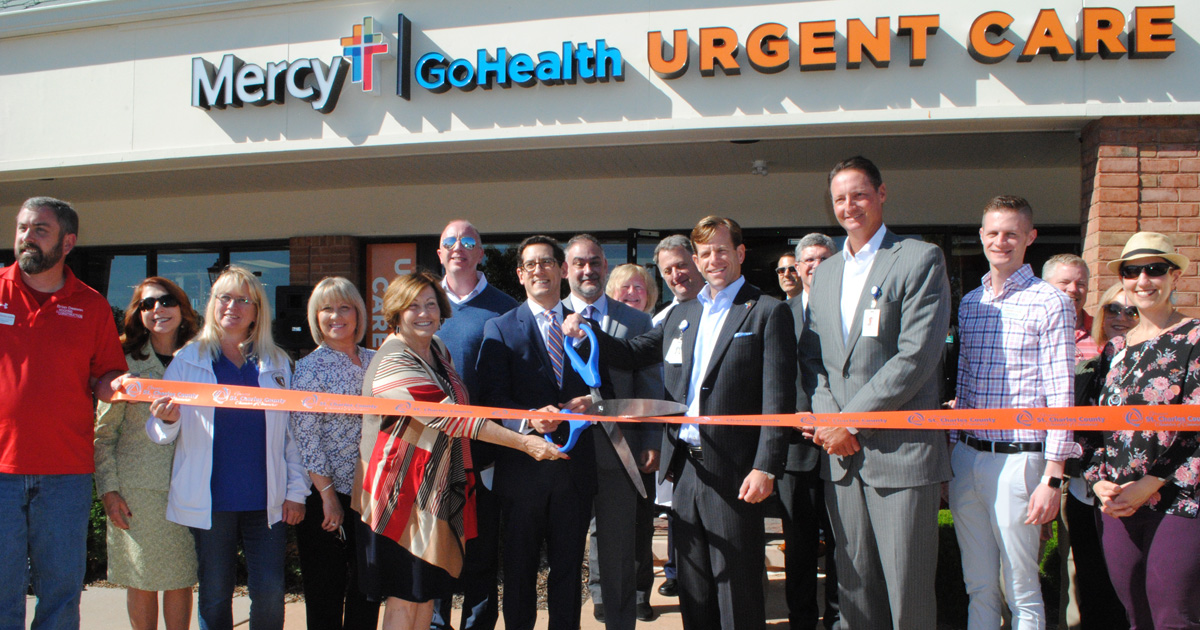 Mercy-GoHealth Urgent Care treats adults and children six months and older with non-life threatening illnesses and injuries such as colds, flu, fever, asthma, allergies, emphysema, minor skin lacerations, cuts, burns, urinary tract infections, sports injuries, fractures, sprains and strains. Mercy-GoHealth Urgent Care accepts most commercial insurance plans.
"Based on Mercy's many years of service in the St. Charles area, we know that patients want care close to home and available at times that are convenient for them. Mercy's partnership with GoHealth is a response to those needs," said Jeff Johnston, president of Mercy's eastern Missouri region. "Mercy-GoHealth Urgent Care brings a new type of urgent care experience to our patients, with expanded access to convenient and high quality care."
Mercy-GoHealth Urgent Care patients will experience visits that on average last less than an hour and will cost substantially less than a trip to the emergency room. The open floor layout of Mercy-GoHealth Urgent Care centers enables caregivers to directly engage with patients, and the spacious exam rooms can accommodate entire families. Every center is equipped with on-site X-ray and laboratory services for patient convenience, enabling rapid results. 
Mercy-GoHealth Urgent Care is currently developing at least 30 urgent care centers across Mercy's service area, including more locations around St. Louis and St. Charles County. As those sites are chosen, you will find them listed at www.gohealthuc.com/Mercy. This website is also where you can learn more about the conditions we treat at Mercy-GoHealth Urgent Care, see current wait times, check-in online, pre-register and confirm your insurance is accepted.
Media Contacts