September 18, 2018
Sharon Laws, LPN, was praised for her nursing skills, but it was her personal connection to a patient that led to her nomination and selection for the quarterly DAISY Award at Mercy Hospital Jefferson.
"Sharon you are my scarecrow in the Wizard of Oz: 'I think I shall miss you the most'," the patient wrote in the nomination form. "The times in the wee mornings, when I could not sleep or was lying in my room crying myself to sleep, it seems like you always knew when I needed a listening ear or friendly voice."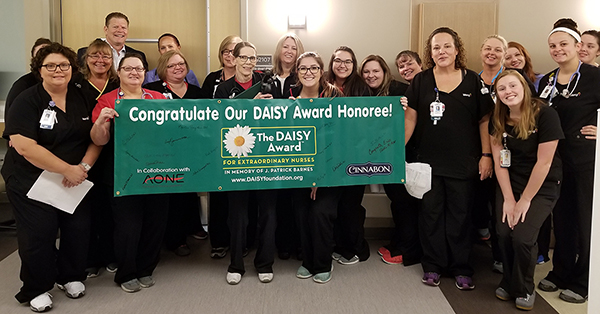 "We shared our stories, and you made me feel so comfortable and made my not so happy life, happy again. Through everything you still smile, and you are just an all-around cheerful person. I feel a certain connection to you even though I have only known you for nine days."
"Please don't ever change. You are an asset to Mercy Hospital Jefferson."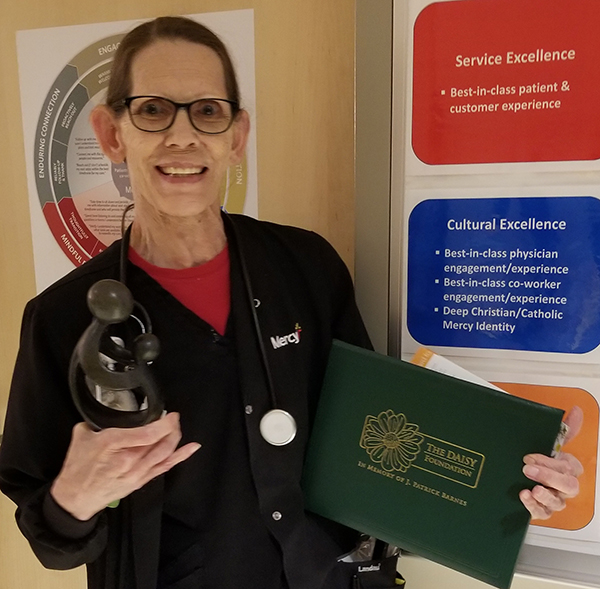 DAISY is an acronym for Diseases Attacking the Immune System. The family of Patrick Barnes established the Daisy Foundation in 1999 to express gratitude to nurses for the work they do for patients and their families every day. The award is presented in more than 1,900 healthcare facilities in all 50 states and 15 countries.
During the recognition ceremony, Sharon received an official DAISY pin, a certificate, and a hand-carved stone sculpture entitled "A Healer's Touch." Additionally, the national award calls for a celebration for all co-workers in the unit with Cinnabon cinnamon rolls – a favorite of Patrick's during his illness.
"The Barnes family asks that whenever and where ever nurses smell that wonderful cinnamon aroma, they stop for a moment to think about how special they are."
For more information visit www.daisyfoundation.org.
Media Contact