November 7, 2018
JOPLIN, Mo. (Nov. 6, 2018) – Mercy Inpatient Behavioral Health is moving into a newly finished space inside Mercy Hospital Joplin. A ribbon cutting and blessing was held on Nov. 6 on the eighth floor of the hospital.
The ribbon cutting and blessing provided media, public and co-workers with first-hand access to the new unit before it is closed to those who are not patients or co-workers involved in direct care.
After an EF5 tornado struck St. John's Regional Medical Center/Mercy in 2011, Inpatient Behavioral Health services moved to a temporary location on 32nd Street. This was to ensure the continual treatment of patients while a new location was constructed. With the completion of the new and advanced Mercy Hospital Joplin, the unfinished eighth floor of the hospital has been fitted to house inpatient behavioral health patients.
The 32-bed unit is designed with the latest in safety standards and improves patient and co-worker security while transporting patients from the emergency department to the inpatient unit. Private rooms are designed to care for patients with more severe symptoms separated from those with less severe symptoms. The eighth floor also provides patients and staff with beautiful views to the surrounding area all while maintaining convenient access to Interstate 44.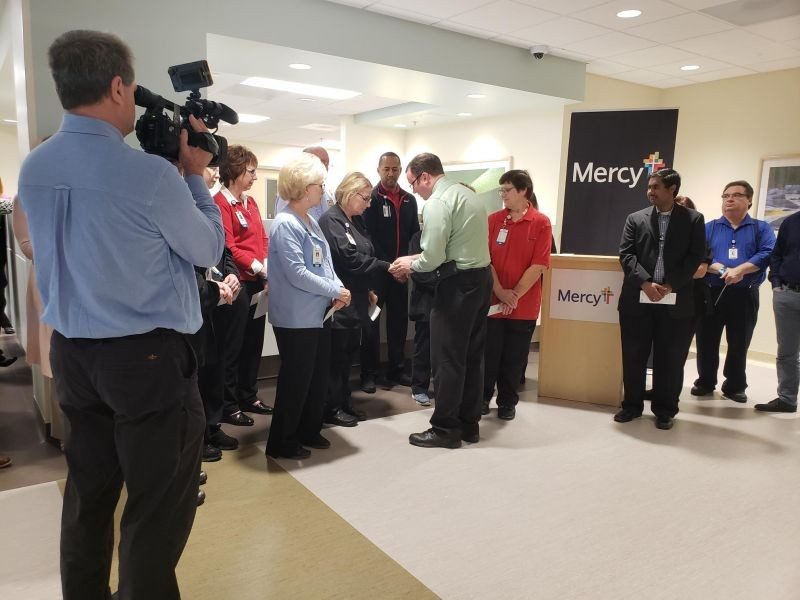 Chaplain Tyler Whipkey performs the blessing of the hands ceremony for co-workers.
"This move shows Mercy's commitment to treating the 'whole person'," said Dr. Tamon Paige, a psychiatrist with Mercy in Joplin. "Our new inpatient unit will have private rooms in a safe and calm environment. We will have a separate unit for more medically ill patients where we can better care for their needs. We will also have an acute unit for patients needing more intensive care and closer monitoring."
Mercy's behavioral health services provide evidence-based treatments such as psychotherapy, medication management and support in a biopsychosocial, or holistic and systemic, spiritual model of care.
Gary Pulsipher, president of Mercy Hospital Joplin, reiterated the importance of caring for those with mental health challenges. "Caring for the whole patient, especially those who need psychological assistance, has always been important to the Sisters of Mercy and their mission," he said. "This new unit will help us continue our support of community members with Mercy's exceptional care."
Mercy Clinic Behavioral Health, which provides outpatient services, will remain at 5615 W. 32nd St., Joplin.
For more information about Mercy Behavioral Health, please call 417-625-2354.
Mercy Joplin includes Mercy Hospital Joplin, a new hospital with the latest technology, unprecedented "storm-hardened" features and 240 beds, as well as 82 clinic and outpatient locations and more than 100 physicians. It's part of Mercy, named one of the top five large U.S. health systems in 2018, 2017 and 2016 by IBM Watson Health, serves millions annually. Mercy includes 44 acute care and specialty (heart, children's, orthopedic and rehab) hospitals, more than 700 physician practices and outpatient facilities, 40,000 co-workers and more than 2,000 Mercy Clinic physicians in Arkansas, Kansas, Missouri and Oklahoma. Mercy also has outreach ministries in Arkansas, Louisiana, Mississippi and Texas.
Staff and community members pose with the ribbon prior to cutting.
Media Contacts
Jordan Larimore
Joplin, Carthage, Columbus