November 14, 2018
CARTHAGE, Mo. (Nov. 13, 2018) – Mercy Clinic Pulmonology - Carthage reopened at Mercy Hospital Carthage under the guidance of John Venter, DO. A ribbon cutting and blessing were held in the front lobby of Mercy Hospital Carthage at 4 p.m. Tuesday, Nov. 13.
Two years ago, the pulmonology clinic at Carthage closed because of a retiring physician. Due to the increasing number of patients with lung diseases such as COPD and asthma, Mercy determined a need to reopen the clinic.
Dr. Venter has over 36 years of experience and has served the Four State area for much of that time. He sees patients experiencing breathing problems or those who have been diagnosed with a lung disorder and need a specialist to manage their care.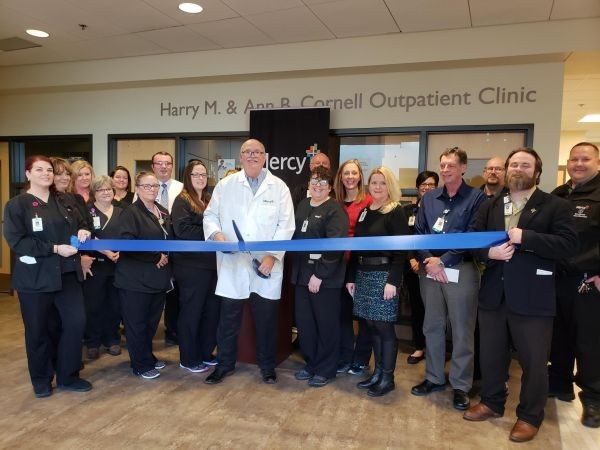 Dr. Venter prepares to cut the ribbon for the Carthage pulmonology clinic.
"I believe in a holistic approach to healthcare which focuses on the well-being of the patient as a whole," said Dr. Venter. "Each patient is evaluated as an individual in order to allow their healthcare plan to be personalized to achieve the best possible results for that person."
Dr. Venter started taking new patients Nov. 5 and is excited to continue seeing patients in the area. He also will see patients in Lamar one day a week starting at the end of December.
The Carthage clinic will provide individual care to patients and will offer same day, or next day, appointments depending on patient inquiry. 
For more information about Mercy Clinic Pulmonology, please call 417-359-1830. 
Mercy Carthage includes Mercy Hospital Carthage, with 25 beds, as well as clinic and outpatient locations and more than 250 employees. It's part of Mercy, named one of the top five large U.S. health systems in 2018, 2017 and 2016 by IBM Watson Health, serves millions annually. Mercy includes more than 40 acute care and specialty (heart, children's, orthopedic and rehab) hospitals, 800 physician practices and outpatient facilities, 44,000 co-workers and 2,100 Mercy Clinic physicians in Arkansas, Kansas, Missouri and Oklahoma. Mercy also has clinics, outpatient services and outreach ministries in Arkansas, Louisiana, Mississippi and Texas. In addition, Mercy's IT division, Mercy Technology Services, supply chain organization, ROi, and Mercy Virtual commercially serve providers and patients in more than 20 states coast to coast.
Media Contacts
Ellis Kmetzsch
Carthage, Columbus, Joplin