November 29, 2018
JOPLIN, Mo. (Nov. 29, 2018) – Mercy is taking up residence in Lamar, Missouri, with the opening of Mercy Clinic Primary Care – Lamar. A ribbon cutting and blessing were held at noon Nov. 29 in the lobby of the clinic, 115 12th St. West, Lamar.
The clinic will operate under the guidance of Thomas Hopkins, MD, who has been with Mercy since September. Dr. Hopkins has over 24 years of experience as a physician, and over 30 years of experience in medicine. Most recently, he has worked in urgent care in Joplin.
"I am excited to not only return to practicing family medicine, but to be back in Lamar, the town I call home," said Dr. Hopkins. "It has been wonderful meeting new patients and re-establishing with former patients who remind me why I chose this profession in the first place."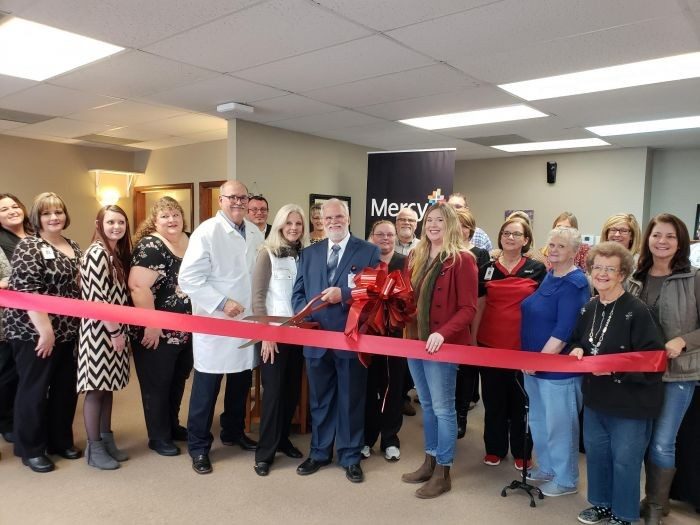 Dr. Thomas Hopkins prepares to cut the ribbon to officially open the primary care clinic.
The clinic began seeing patients Oct. 1 and beginning in December, patients may schedule appointments online. Clinic hours will be 8 a.m. to 4:30 p.m. weekdays. In addition to Dr. Hopkins, nurse practitioner Nancy Willis-Smith will be a part of regular staff. The clinic will also start providing specialty services, like pulmonology, led by Dr.  John Venter of Mercy Clinic Pulmonology – Carthage.
The core values and mission of Mercy contributed to Dr. Hopkins' desire to join the team in Lamar. "Like Mercy, I have always strived to provide care to anyone in need by treating acute and chronic disease, promoting wellness, preventing disease and treating the whole person," Dr. Hopkins said.    
For more information about Mercy Clinic Primary Care – Lamar, please call 417-682-6622 or click on the stethoscope below. 
Mercy, named one of the top five large U.S. health systems in 2018, 2017 and 2016 by IBM Watson Health, serves millions annually. Mercy includes more than 40 acute care, managed and specialty (heart, children's, orthopedic and rehab) hospitals, 800 physician practices and outpatient facilities, 44,000 co-workers and 2,100 Mercy Clinic physicians in Arkansas, Kansas, Missouri and Oklahoma. Mercy also has clinics, outpatient services and outreach ministries in Arkansas, Louisiana, Mississippi and Texas. In addition, Mercy's IT division, Mercy Technology Services, supply chain organization, ROi, and Mercy Virtual commercially serve providers and patients in more than 20 states coast to coast.
Media Contacts
Jordan Larimore
Joplin, Carthage, Columbus