November 30, 2018
Rhonda Philpott brought peace and compassion to a patient and his family during one of the most difficult times in their life. The family nominated Rhonda for the DAISY Award saying the following:
Rhonda has a true ministry. She is truly the hands and feet of Jesus. My dad was hospitalized since February and we have met a lot of nurses in that time. None have been more compassionate than Rhonda. She is smart, thorough, strong and sweet. She made such an impression on not only my dad, but my entire family.
Rhonda put everyone at ease. Even the day the "bomb" (diagnosis) was dropped, she was there to hold hands, answer questions—even if she didn't know the answer, she would find out.  I even caught a tear in her eye. I know she and my dad had lots of special talks that gave him peace about the future. I don't believe any other nurse ever did this. He was everyone's favorite patient because he was easy and not needy, but he only had one favorite nurse—Rhonda.

Even though we lost my dad, the care that he received has touched our hearts. I knew that leaving Mercy meant lots of unknowns, but I also knew in my heart there would never be another Nurse Rhonda.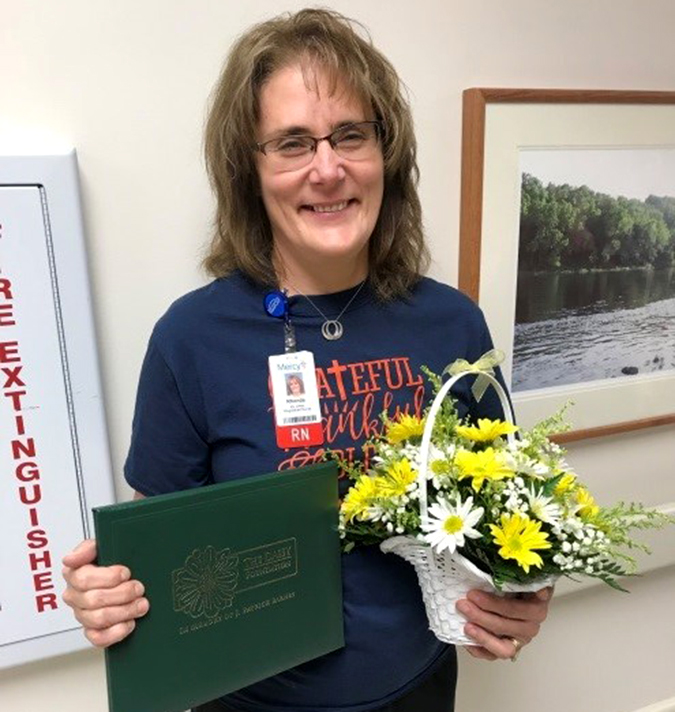 Media Contact
Sonya Kullmann
Berryville, Branson, Cassville, Lebanon, Mountain View, Rolla, Springfield, Aurora