December 6, 2018
Patients have made thousands of appointments via mercy.net since online scheduling began in 2017, and Mercy now offers online scheduling for mammography and four areas of practice: family medicine, internal medicine, general pediatrics and OB/GYN.
Expanding options for online scheduling reflects Mercy's desire to offer patients ease of access to exceptional health care. In just a few clicks, existing and new patients can select appointment times that work with their schedules, 24 hours a day, from a handheld device or computer.
"Our patients know their own schedules. Online scheduling allows them to pick and choose, rather than having to change their schedules to work around us," said Dr. Marc Gunter, president of Mercy Clinic. "We believe this is an important service because it's how our patients expect to interact with us."
For several years, established patients have had the option of going to Mercy's patient portal, MyMercy.net, to schedule appointments with their providers. The new online scheduling platform enables anyone to search for providers who are taking new patients and find out what types of visits can be scheduled online.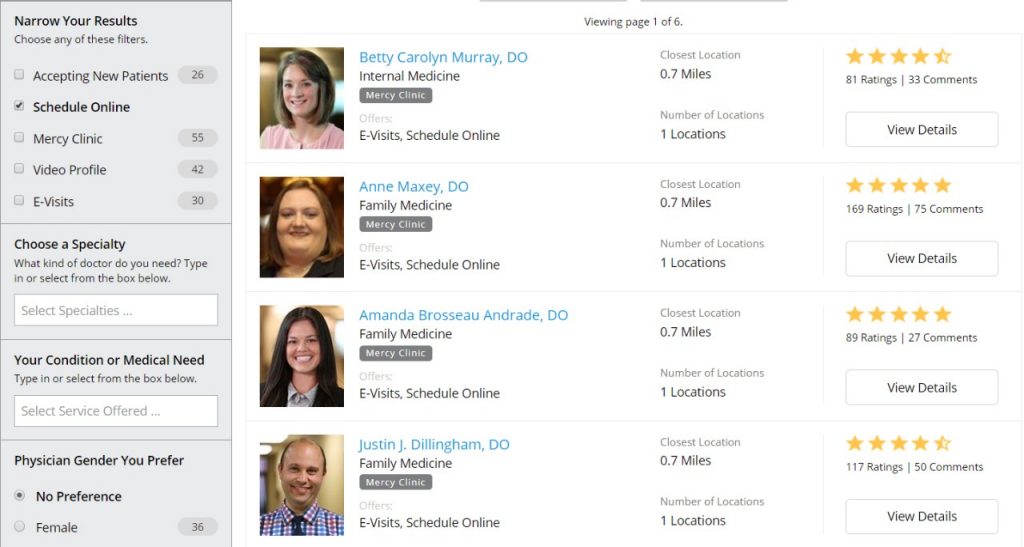 Image above displays view of what online scheduling looks like.
Online scheduling is particularly popular among existing and new patients seeking appointments in areas of women's health care. Numerous newly pregnant patients have scheduled their appointments via Mercy.net..
"Women are caretakers and often schedule appointments for themselves, their spouse and children. By going online to make appointments, they don't have to wait or sit on hold," said Teresa McCluskey, Mercy's director of strategic initiatives for ambulatory care.
Mercy's investment in electronic medical records paved the way for the health system to introduce online scheduling. Individual clinics manage their online appointment schedules to accommodate sick and well patients, and to keep wait times as short as possible.
Mercy will continue expanding the types of appointments available to schedule online, including specialty care, Dr. Gunter said.
"We embrace technology and how it can help us meet our patients where they are," he said.
To schedule an appointment online, go to mercy.net and click on "Find a Doctor." Follow prompts to select your location, narrow search results and choose a provider.
Mercy, named one of the top five large U.S. health systems in 2018, 2017 and 2016 by IBM Watson Health, serves millions annually. Mercy includes more than 40 acute care, managed and specialty (heart, children's, orthopedic and rehab) hospitals, 800 physician practices and outpatient facilities, 44,000 co-workers and 2,100 Mercy Clinic physicians in Arkansas, Kansas, Missouri and Oklahoma. Mercy also has clinics, outpatient services and outreach ministries in Arkansas, Louisiana, Mississippi and Texas. In addition, Mercy's IT division, Mercy Technology Services, supply chain organization, ROi, and Mercy Virtual commercially serve providers and patients in more than 20 states coast to coast.
Media Contacts
Jordan Larimore
Joplin, Carthage, Columbus