December 14, 2018
Congratulations to Cathy Briggs - RN - Springfield, for winning the DAISY Award. Cathy infuses every patient encounter with warmth and care—she brightens even the most difficult situations. Her nominator wrote: 
When looking for a nurse of DAISY Award caliber, look no further than Cathy. She embodies everything the DAISY stands for. Cathy has served Mercy for over 35 years with love, compassion, professionalism and the upmost poise. I have spent a great deal of time on her unit, and every time Cathy is there you feel the joy she brings to her patients and co-workers. 
Every patient interaction I have witnessed, has been given with the upmost respect and dignity for not only the patient, but their families too. On one occasion, I heard a patient feel uncertain about the tests and next steps of their care. I watched Cathy take the patient's hand, going over the information repeatedly with patience and tenderness until the patient felt confident in what would happen next. 

Her smile is infectious, as is her love for what she does. Cathy does not miss an opportunity to teach younger nurses, striving to lift them up and mentor them into their futures. Cathy was identified as one part of a two-person team to help stand up bedside shift report. She took her role seriously wanting to ensure all of nursing knew the importance of not only what is being asked, but the why behind it.

Cathy makes a personal connection with each and every patient she cares for, leaving a small piece of herself with them. Every patient of hers has raved about her, stating that she made their extremely difficult situation a bit brighter because of how she invests in their feelings and care.

Cathy IS Mercy nursing, and IS what the DAISY Award is all about. I cannot think of another who is more deserving of this award. Cathy embodies what every nurse should strive to be, and I for one am so grateful to serve with her.  We always look for that story that causes us to take a collective breath. Cathy delivers that type of care to every patient, every time.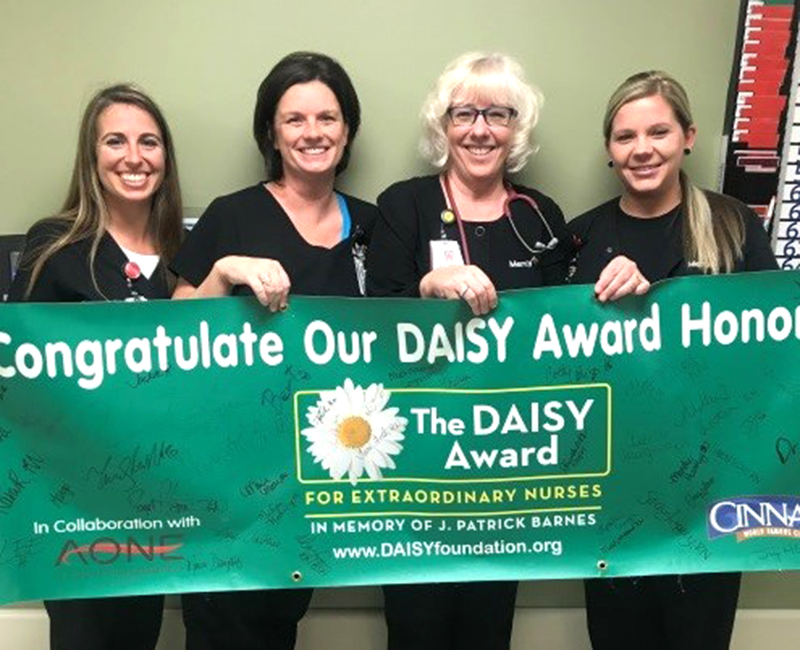 Media Contact
Sonya Kullmann
Berryville, Branson, Cassville, Lebanon, Mountain View, Rolla, Springfield, Aurora