January 7, 2019
Mercy's modern twist on mental health care has caught the attention of The Wall Street Journal.
In the article, "The Psychiatrist Can See Your Child Now, Virtually," Laura Landro reports that fewer communities across America have access to psychiatrists or psychologists who can respond when a child needs mental help. And that's why Mercy recently took steps to meet kids' needs in the place they're used to going: their pediatrician or family medicine doctor's office.
Because young patients are so familiar with iPhones, FaceTime and social platforms, they're "more comfortable with the idea of the video session," writes Landro, who also cites studies showing virtual care is "as effective as care delivered in person – and may even be superior to in-person sessions for children with such issues as attention-deficit hyperactivity disorder."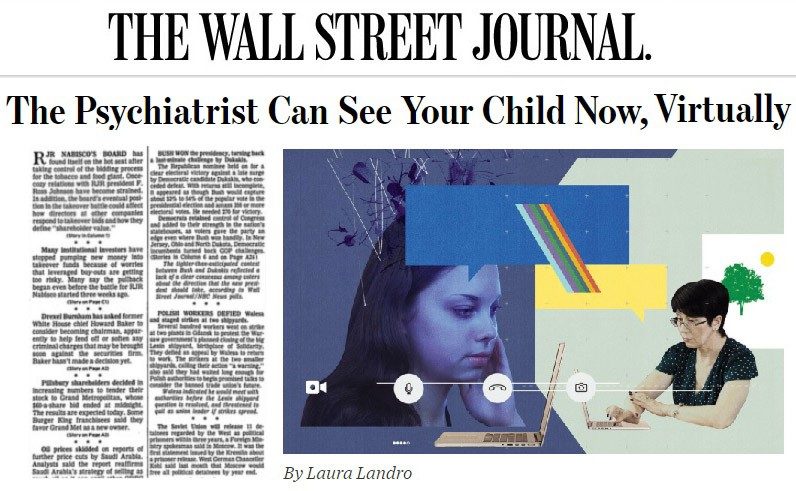 "Most pediatricians and family medicine doctors only spend a day in med school focusing on mental health, so we set out to provide them with the additional tools they needed," said Dr. Kyle John, Mercy pediatric psychiatrist.
After years with Mercy caring for kids in an office setting, Dr. John joined the team at Mercy Virtual – the world's first health care facility dedicated entirely to care outside its own walls – to create a training program they dubbed vMentalWellness Kids. As part of the program, Mercy pediatricians, pediatric subspecialists and family medicine doctors receive training to strengthen their skills in diagnosing the four most common mental issues in children:
ADHD (Attention Deficit Hyperactivity Disorder)
Depression
Anxiety
ODD (Oppositional Defiant Disorder)
Now, a year later, more than 1,200 patients have benefited from the program. Nearly 250 Mercy caregivers across Missouri, Arkansas, Oklahoma and Kansas have been trained. What makes vMentalWellness Kids truly innovative is that the Mercy Virtual team is always on standby to consult with local Mercy providers. They can get into the patient's electronic health record (EHR), review their history and medications and help make a diagnosis. In a few cases, when a patient with a more complicated issue comes in, the virtual team has provided an immediate, secure video visit to assess the symptoms firsthand.
Media Contacts
Sonya Kullmann
Branson, Cassville, Lebanon, Mountain View, Rolla, Springfield, Aurora