February 7, 2019
This month's DAISY Award honoree at Mercy Hospital South is Andrea Bubenik, RN, Medical Stepdown.
A patient nominated Bubenik by writing: "We love her! Andrea came in my room and right away demonstrated how kind, sweet and professional she is. She took care of me like no other nurse has at other hospitals. She was very gentle and understanding and even treated all of my family members as if she needed to take care of them, too. Not for one second did I feel like she wasn't taking care of me (or us)! She was always very quick to come in when asked. She wiped me down. She nursed me. I love her! We love her! Please consider her for someone who is going to teach others what she knows."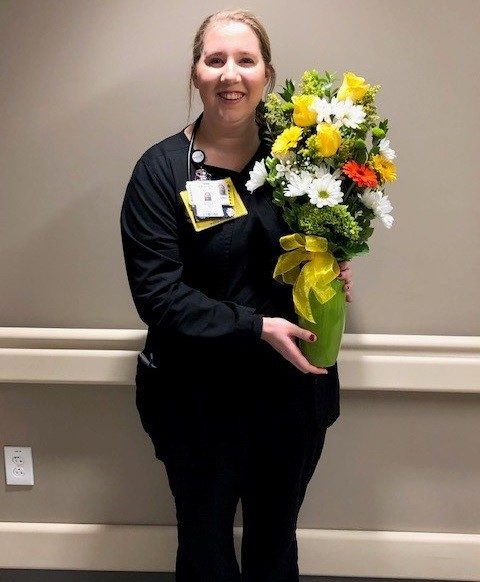 Andrea Bubenik, RN, Medical Stepdown, holds the flowers presented to her as part of winning the monthly DAISY Award at Mercy Hospital South.
The DAISY Award is an international program to honor and celebrate nurses who provide extraordinary, compassionate and skillful care every day. The DAISY Foundation established the award in memory of Patrick Barnes who died at age 33 from complications of an auto-immune disease. The care he and his family received from nurses while he was ill inspired the award. Each month, Mercy Hospital South nursing leaders choose an award winner for their facility.
Media Contact
Joe Poelker
St. Louis, St. Louis - South