February 14, 2019
The same Mercy Hospital Jefferson nurse was lauded in two separate DAISY Award nomination forms for her compassion to patients and her commitment to co-workers.
Tiffany Muellner, RN, was selected to receive the quarterly acknowledgement of extraordinary nurses. Tiffany works on the progressive care unit but had been assigned to the night shift on the second floor in the new patient tower at Mercy Jefferson at the time of her nominations.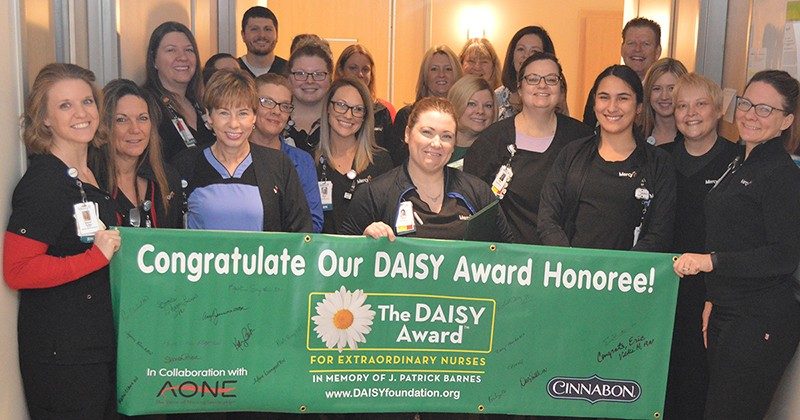 Surrounded by her co-workers in the progressive care unit and overcome with emotion from the surprise, Tiffany Muellner, RN, was acknowledged as the DAISY Award for Extraordinary Nurses winner at Mercy Hospital Jefferson.
In November, a patient wrote that she had spent nearly 12 hours waiting in a different hospital's emergency room. She was transferred via ambulance to Mercy Jefferson at 2:30 a.m.
"I was very ill and scared to death," the nomination form stated. "Tiffany was warm and friendly. She exuded humble confidence in the care she was providing to me. I felt like I had found a friend who responded to my needs before I even verbalized them."
"Too often care givers forget how frightened patients can be and simply respond to the physical needs," the patient said. "This is the best hospital experience I've ever had. All of my care was thoughtful and thorough. Everyone always walked into my room with a smile on their faces."
The nomination from co-worker Anna Turner recalled a night in January when Tiffany stepped up to help the patient care technicians who were left short-staffed by a snow storm that kept other co-workers from being able to arrive for the overnight shift.
"It was a rough night and Tiffany noticed," Anna said. "After passing her medications she came to our rescue and helped. She took vitals and helped give multiple patients their baths. She is always helpful and goes above and beyond to help everyone."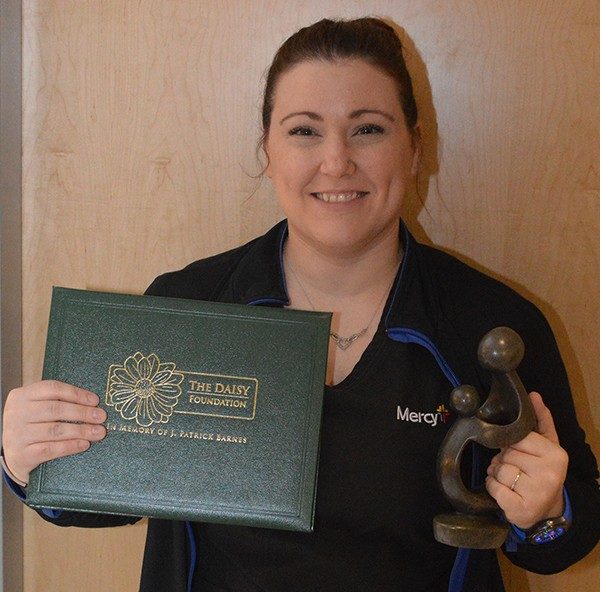 DAISY Award winner Tiffany Muellner, RN.
DAISY is an acronym for Diseases Attacking the Immune System. The family of Patrick Barnes established the Daisy Foundation in 1999 to express gratitude to nurses for the work they do for patients and their families every day. The award is presented in more than 1,900 healthcare facilities in all 50 states and 15 countries.
During the recognition ceremony, Kelly received an official DAISY pin, a certificate, and a hand-carved stone sculpture entitled "A Healer's Touch." Additionally, the national award calls for a celebration for all co-workers in the unit with Cinnabon cinnamon rolls – a favorite of Patrick's during his illness.
"The Barnes family asks that whenever and where ever nurses smell that wonderful cinnamon aroma, they stop for a moment to think about how special they are."
Media Contact