March 13, 2019
When Dr. Sneha Desai delivered Mariah Baptiste's son at Mercy Hospital Ardmore, she had no idea she was delivering her namesake.
Dr. Desai was the on-call obstetrician and gynecologist (OB/GYN) when Baptiste went into labor. Although it was her first interaction with the family, she made a lasting impression.
"She was a really good doctor, made me feel comfortable and took good care of me," said Baptiste, 22, of Ardmore.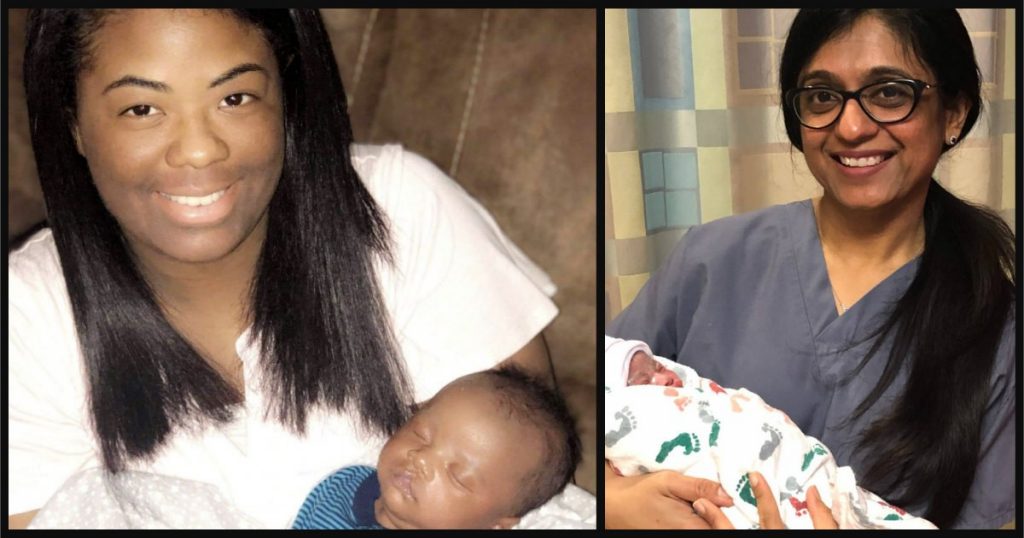 Mariah Baptiste and son Desai (left), Dr. Sneha Desai (right)
On Jan. 27 — about one month ahead of her due date — Baptiste gave birth to Desai Shawn Burley. He was small (weighing in under five pounds), yet mighty.
A few months prior to the birth, she had decided to name her son, Maddox, but changed her mind after meeting Dr. Desai.
"I was kind of iffy on the name," said Baptiste. "When I heard the name, 'Desai,' I knew that was it. The name felt right."
Dr. Desai has practiced medicine for 18 years and this was the first time someone named a baby after her.
"I was shocked, surprised and humbled when I heard that they were naming their son after me," she said. "I've only been in the community a short time and this was a welcoming gesture."  
Dr. Desai joined her husband, Dr. Pranjal Desai, at Mercy Clinic OB/GYN — 10th Avenue in Ardmore last July. The husband-and-wife team offers a comprehensive suite of services, including:
Annual check-ups, well-woman exams and other preventive health screenings
Complete prenatal care, including care for high-risk pregnancies
Gynecological services and surgery
Robotic surgery
Single-site (single-incision) hysterectomies
Treatment for pelvic-floor-support problems, menstrual irregularities and urinary incontinence
"Being part of special moments in people's lives is what I love most about being an OB/GYN," said Dr. Sneha Desai. "These moments are rewarding and motivate me to work even harder to give my best."
Dr. Sneha Desai and Dr. Pranjal Desai see patients at Mercy Clinic OB/GYN — 10th Avenue, located at 915 10th Ave. NW in Ardmore. They also see patients at Mercy's OB/GYN clinic in Pauls Valley twice a month. For an appointment at either of these clinic locations, call 580-220-6467. 
Media Contacts
Lindsey Treadwell
Ardmore, Healdton, Ada, Tishomingo