March 21, 2019
Mercy Hospital Jefferson celebrated Certified Nurses Day, March 19, with a breakfast hosted by the Nursing Professional Development Governance Council to honor our board-certified nurses, including 16 nurses who earned certification in the past year.
Mercy encourages national board certification for all its nurses. There are many nursing certification specialties such as medical-surgical, pediatric, pain management, operating room, oncology, hospice, case management, emergency nursing, critical care and many others.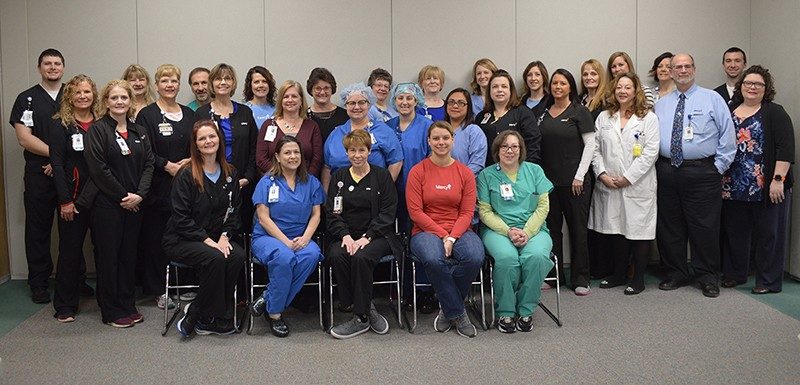 Nurses with national certification credentials were honored at a breakfast on March 19 at Mercy Hospital Jefferson.
The following nurses are being recognized for their professionalism, leadership, and commitment to excellence in patient care:
Lisa Axley, RN, WTA
Tisa Ayers, MSN, RN, CCRN
Dana Baldwin, RN, CHWS
Rebecca Barker, RN, BSHS, CCRN
Michelle Barton, BSN, RNC-EFM
Lisa Basham, BSN, RNFA, CNOR, CBN
Hunter Belfield, BSN, RN, CCRN
Megan Bell, MSN-APRN, WHNP-BC, C-EFM
Kelly Bishop, BSN, RN, CCRN
Dawnette Black RN, HCS-D, COS-C 
Stacy Blankenship, MSN, RN, CENP, NEA-BC
Randy Bohnert, BSN, RN, CCRN
Donna Boyer, MSN, RN, BC
Kelly Branscum, MSN, RNC-OB, C-EFM, FNP-BC
Rachelle Brown, BSN, RNC-EFM
Sarah Buechting, MSN, APRN, AGPCNP, CHPN
Laura Cage, RN, C-EFM
Marcia Carr, RN, WCC
April Cayou, RN, SANE
Janelle Chamberlin, BSN, RN, CNN
Debby Custodio, RN, CCRN
Amanda Darling, MSN, MBA, RNC
Angie DeLeal, RN, CCRN
Nancy Dennis, BSN, RNC-EFM
DJ Dill, RNFA, CNOR
Jessica Dutton, RN, TNS
Samantha Evens, BSN, RN, CCRN
Ami Faerber, BSN, RN, CCRN-K, CDE
Linda Ferrara, BSN, RN, CBIC
Sarah Foster, RNFA, BSN, CNOR
Jane Grass, BSN, RNC-EFM
Heather Harster, BSN, RNC-EFM
Christine Hays, BSN, IBCLC
Lisa Heath, BSN, RN, ACM
Kathy Hesketh, BSN, RN, CBIC
Jennifer Holt, BSN, RN, SANE
Amy Horrell, BSN, RNC-EFM
Judy Huffman, MSN, RN, CCRN-K
Heather Jewell, BSN, RNC-EFM
Chris Klittich, RN, CBN
Dianna Kornhardt, APRN, MSN, ANP-C
Mary Leonard, BSN, RNFA, MBSCR
Pamela Lopez, RN, OCN
Sondra Magee RN, CEN, TNS
Elena May, MSN, APRN, FNP-BC
Tara Messer, BSN, RN, PCCN
Victoria Moore, BSN, RNFA, CNOR
Susan Moser, APRN, MSN, FNP-C
Audrey Moyer-Harris, BSN, RN, CWCN, MBA
Anne Oldani, RN, CWCA
Teresa Pasley, BSN, RN, CMSRN
Stephanie Patek, BSN, RN, CCDS
Barbara Perkins, RN, BPS, CPHQ, CCDS
Sharon Picou, RN, SANE
Amanda Pinson, RN, SANE
Susan Priest, BSN, RN, CPSO
Kim Reed, BSN, RNC-EFM
Michele Richards, BSN, RNFA, CNOR
Betty Sansoucie, BSN, RN, SANE
Amy Schwent BSN, RNC-MNN, C-EFM, CCE
Jessica Sisson, RN, C-EFM
Sherry Smith, BSN, RNC-EFM
Amy Stark MBA, BSN, RN, CNOR
Patty Street, BSN, RN, CCDS
Sam Temperato, MSN, RN, CBN
Tom Tevlin, RNC
Brandie Tieken, BSN, RN, C-NPT, CMTE
Suzanne Turner, BSN, RN, CCRN
Amanda Usery RN, HCS-D 
Barbara Vancil, DNP, RN, CCRN-K
Christy Warner, BSN, RN, SANE
Melissa Weick, RN, C-NPT
Chastity Williams, MSN, RN, CCRN
Kelly Withington, BSN, RN, CEN
Tiffany Yates, BSN, RNC-EFM
Media Contact
Bethany Pope
St. Louis, St. Charles, Troy, Washington