March 29, 2019
Rachel Gaudet, RN, emergency department, has earned the latest DAISY Award for compassionate, extraordinary nursing care at Mercy Hospital South.
Molly Peters, a co-worker in radiology, nominted "I wanted to take a moment to let you know about an ER nurse, Rachel Gaudet, who I believe showed true compassion and understanding to a patient who was in her care. This patient was a fall risk knee injury and was set to have an exam of his knee done in our department, Radiology. He was very adamant that he did not need this exam performed and just wanted to go back to his nursing facility. Rachel was very kind and spoke very lovingly to this patient explaining to him why the exam was necessary for him so that he could get back home and back to his normal routine. Rachel, Dr. Gibson and the attending ER physician were all very patient with this gentleman and gave him time to think about having the exam done while they called his primary physician and consulted with his nursing home facility. I went back some time later to check with Rachel and she was once again in the room explaining the situation to the patient and informing him of what the next step in his care would be. The patient informed me that Rachel went out of her way to purchase him a piece of pie with money out of her own pocket after he stated to her that he was upset missing his pumpkin pie for lunch at the place where he resided. It was very sweet to see the way she took care of her patient and looked after his well-being, not only at Mercy South, but at his nursing facility as well. She truly exemplified the mission of the Sisters of Mercy."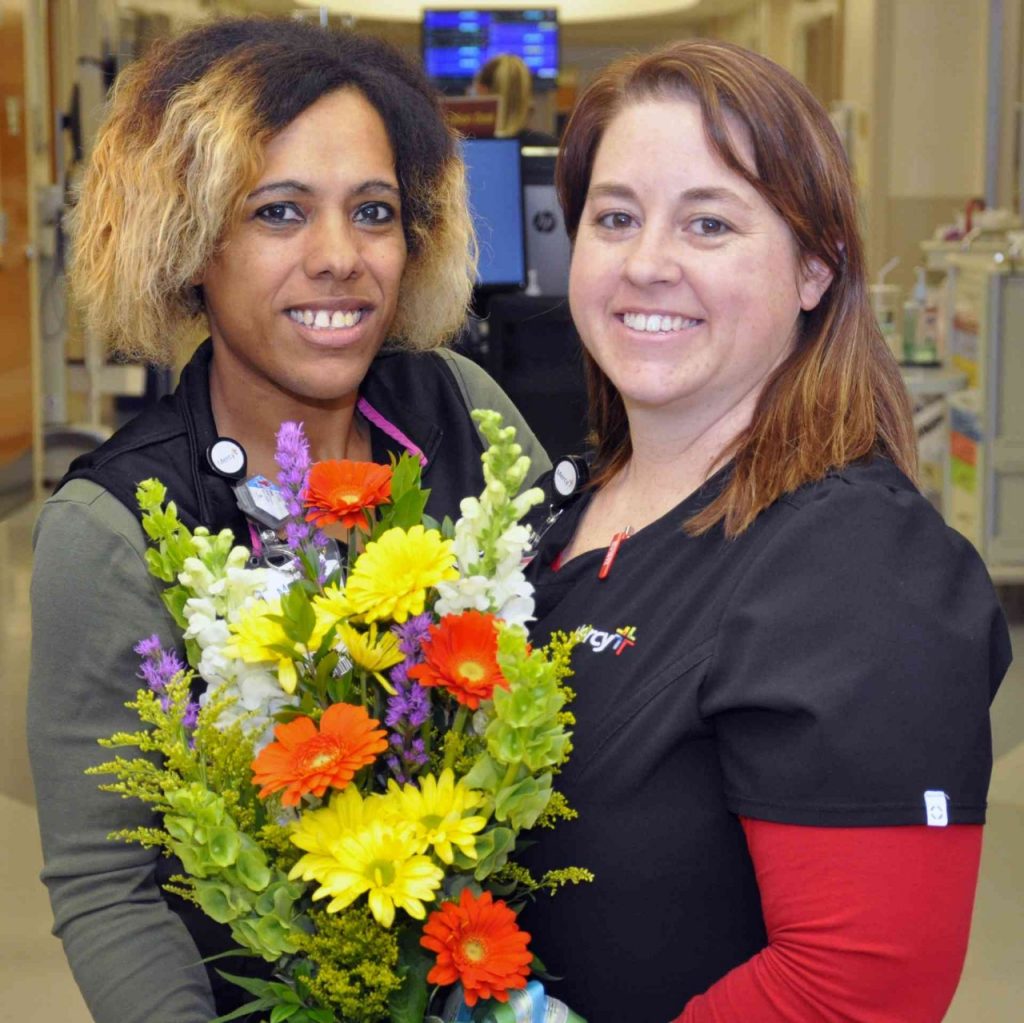 Rachel Gaudet, RN, emergency department, (right) poses with Molly Peters, radiology, (left) after Rachel was presented with a DAISY Award based on the nomination Molly wrote.
The DAISY Award is an international program to honor and celebrate nurses who provide extraordinary, compassionate and skillful care every day. The DAISY Foundation established the award in memory of Patrick Barnes who died at age 33 from complications of an auto-immune disease. The care he and his family received from nurses while he was ill inspired the award. Each month, Mercy Hospital South nursing leaders choose an award winner for their facility.
Media Contact
Joe Poelker
St. Louis, St. Louis - South