April 16, 2019
When Ginny Muse's 11-year-old son, Michael, took a fall while roller skating in January, she quickly whisked him away to the emergency department at Mercy Hospital Ada — a decision she is thankful she made.
"I could instantly tell that it was a bad break," said Ginny Muse, of Ada. "His wrist was going one way; his arm was bending another way; and his elbow was bending the opposite way. It was very traumatic."
As the mother of three, this wasn't Ginny Muse's first time heading to Mercy's hospital and clinics in Ada.
About four and a half years ago — shortly after moving to Ada — her oldest son, John David, had an emergency appendectomy at Mercy Hospital Ada. About two and a half years ago, he received care from Brian Freeland, a physician assistant at Mercy Clinic Orthopedic Surgery — Ada, after suffering a sports-related elbow injury.
During Michael's visit to the emergency department earlier this year, he was treated by Dr. Cody Curry, an orthopedic surgeon who has provided care to Ada and the surrounding communities for almost three years.
"I'd heard of Dr. Curry, but we didn't know him personally," said Ginny Muse. "He was so good to Michael and made us all feel very comfortable and at ease with what was going on. He knew just what to do."
Expert Care Close to Home
Michael's fall at the roller skating rink in January caused him to break both bones (the radius and ulna) in his right forearm. According to Curry, this type of break is one of the most common among children, representing about 40 percent of all fractures in pediatric patients. Unlike adult patients with a similar break, most children with this type of fracture do not require surgery if cared for correctly.
Curry was able to get Michael's bones in alignment and placed a splint on his arm to hold the bones in position while the swelling went down. About two weeks after the break, the team at Mercy Clinic Orthopedic Surgery in Ada placed a hard cast on Michael's arm after an X-ray revealed that the bones were in alignment and growing properly.
Ginny Muse felt grateful that Michael did not need surgery even though it was a bad break.
"If they had said that surgery was the best course of action, we knew we would be in good hands," she said. "I was hoping they could put his arm back in the right position from the get-go to avoid surgery. It's only natural to want the most minimally invasive procedures, especially when it involves your child."
Michael's arm has healed and he has resumed his active life. Ginny Muse credits the high level of care and compassion provided by Curry and the teams at Mercy Clinic Orthopedic Surgery and Mercy Hospital Ada. This included the chaplain who came in and prayed with their family — something that was especially important since her husband, Travis, is a minister in Ada.
"Faith is a really big part of our lives and it was really calming for our family when the chaplain came in and prayed with us," she said. "Everyone gave great care and was so nice, kind, friendly and willing to help."
Connected to the Community
Curry grew up in a town of about 6,000 people northeast of Tulsa and always knew he wanted to practice medicine in a small town like Ada. He hasn't been disappointed by his decision to move to the area.
"I feel a personal connection to all of my patients and feel gratified when I can make their pain go away," he said. "It is not always common to find orthopedic specialists in rural areas, so it is very special to me to provide those services in Ada. I enjoy being just a small piece of the puzzle to help meet the health care needs locally."
Curry and Freeland care for patients of all ages for a variety of musculoskeletal disorders and injuries to help restore strength, range of motion and function. They specialize in orthopedic care; sports medicine; orthopedic trauma; treatment of conditions affecting the shoulders, hips, knees, wrists and ankles; and total hip and knee replacement surgeries.
They also provide medical care for acute injuries for Ada High School and East Central University football players on the sidelines of football games.
After positive experiences at Mercy, Ginny Muse said she would not hesitate to seek care locally in the future. She is especially thankful to have orthopedic services available in Ada to care for her growing children.
"Ada has very prominent athletic programs and kids who are very active," said Ginny Muse. "It's very helpful to have local care that we trust so we don't have to drive to Norman or Oklahoma City to see a specialist. I feel very confident in Dr. Curry and Brian Freeland and the extra care they give our young people in Ada."
To make an appointment with Curry or Freeland at Mercy Clinic Orthopedic Surgery, located at 3101 Arlington Street in Ada, call 580-332-9100. To learn more about orthopedic services offered at Mercy, visit mercy.net/OrthoAda.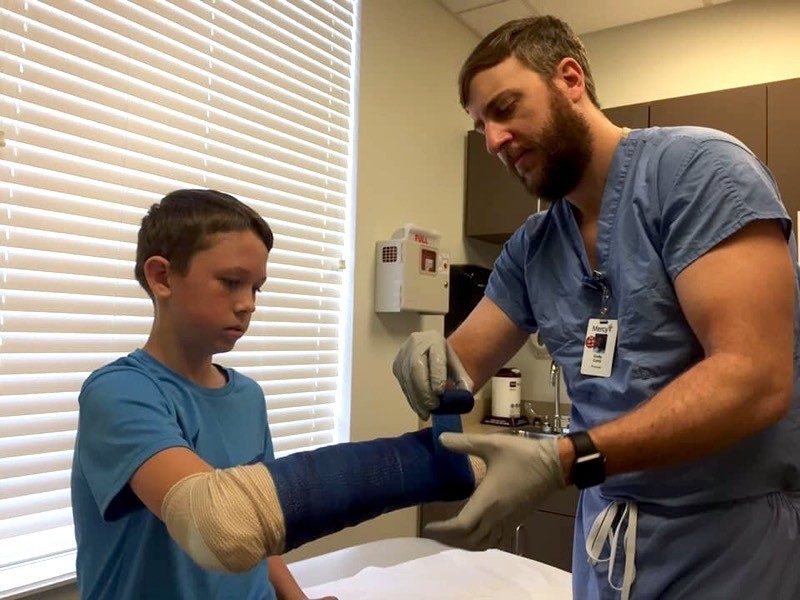 Media Contact