April 26, 2019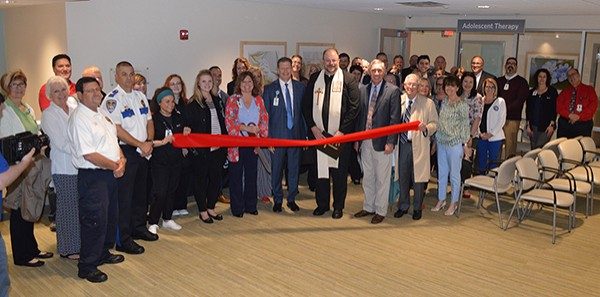 The community turned out for the ribbon cutting and blessing ceremony at the new Outpatient Behavioral Health Center.
More than 60 area residents, community leaders, co-workers and construction contractors were on hand for the blessing ceremony and ribbon cutting event for the new intensive outpatient behavioral health care center at Mercy Jefferson.
Father Gregory Klump, pastor of Our Lady Catholic Church in Festus, presided over the blessing event. The new center at 1420 U.S. Highway 61 had housed the cancer center on the campus of Mercy Jefferson, but it has been renovated since cancer treatment services moved to its new location at 1350 U.S. Highway 61.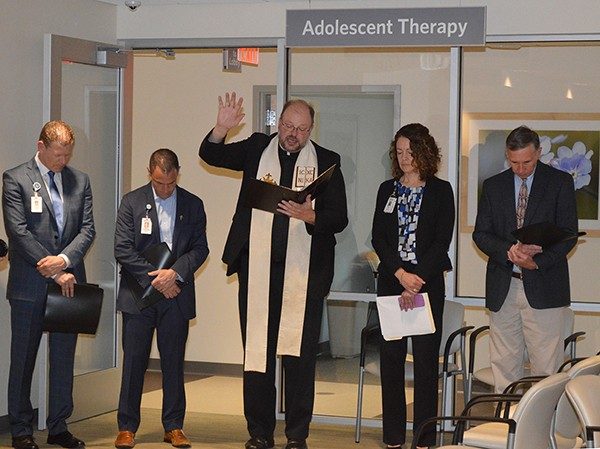 Father Gregory Klump from Our Lady Catholic Church in Festus presided at the blessing ceremony.
"The need is significant for behavioral health services in our community for adults and adolescents," said Eric Ammons, Mercy Jefferson President. "This new center provides a healing location for those patients in a facility that is uniquely their own. Our caring and dedicated co-workers will be able to provide for those needs with even greater resources available."
Mercy Jefferson has provided intensive outpatient services for adults for many years, but the addition of a program specifically for adolescents ages 12 to 18 is new to Jefferson County. The new center provides space for individual treatment plans and group therapy sessions. Because it is a standalone facility the center provides a private entrance and dedicated parking for those patients in need of behavioral health services.
Media Contact