May 2, 2019
Mercy Hospital Jefferson was well represented at the annual National Day of Prayer service hosted by the Twin City Area Ministerial Alliance. Hospital board member the Rev. Jack King, pastor of Good News Community Church, was the keynote speaker, and Sara Lee, Director of Mission at Mercy Jefferson, led one of the prayers.
Rev. Terry Simpkins, Pastor at Festus Church of the Nazarene, was the chairman and master of ceremonies for the event. Terry is an on-call chaplain and frequent volunteer at Mercy Jefferson.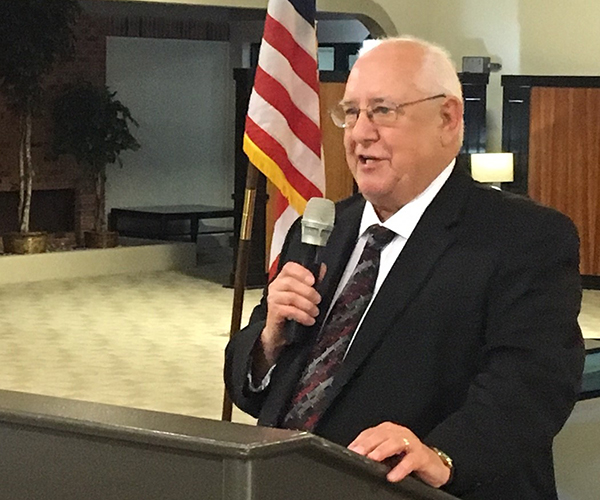 Rev. King's remarks followed the theme of the National Day of Prayer based on the Gospel of John 13:34, "Love one another as I have loved you."
Jesus called on us to pray for our oppressors and to not regard others as enemies, he said.
"I can't do anything to change their behavior, but I can change my reaction to their behavior," King said. "You can not pray for an enemy and be unchanged."
Pastor King said the National Day of Prayer called on us to seek unity with all others regardless of where they come from, how they pray or how they look.
"God loves variety. That's why he made so many different flowers. That's why he made so many different birds," King said. "He wants us to love everyone."
In addition to Sara Lee, prayers were led by Pastor Donna Evans Booker of Trinity Mount Carmel Church, Pastor Lari Grubbs of First Christian Church of Festus, Pastor Leslie Limbaugh, President of the Twin City Ministerial Alliance and Pastor of Selma American Baptist Church, Elder Arnold Mangus from United Pentecostal Church of Festus, Rev. Randy Starkey from Victory Church in Pevely, volunteer Sonja Stevenson, Deacon Jerry Stoverink from Sacred Heart Catholic Church in Crystal City, and Rev. Martinous Walls, retired pastor of Buren AME Church in Herculaneum.
The Festus High School Choir provided musical entertainment and Kirk Jackson led the group in singing the National Anthem and God Bless America. The color guard from the Jefferson County Sheriff's Office presented the colors and U.S. Army retired Jim Swyers, Commander of the VFW Post 3777 Festus, led the Pledge of Allegiance.
1400 US Highway 61
Festus, MO 63028
1400 US Highway 61
Festus, MO 63028
Media Contact