July 24, 2019
Personal experience led Dr. Kevin White to pursue a career in medicine, and he brings that empathy to his role as the newest OB/GYN at Mercy Lebanon.
"My wife and I struggled with fertility and a miscarriage," Dr. White said. "We had a great and compassionate obstetrician who helped us conceive our two healthy children. That's when I realized how important it is to have a caring provider."
Dr. White already had a degree and career in music education, so he wanted to be sure his newfound interest in medicine was the right path. He started working in an emergency room to gain exposure. "The experience was exhilarating!" he said. "I also had the privilege of working a second job as a researcher with the ovarian cancer screening program."
After his own experience, it's no surprise Dr. White's philosophy focuses on making the patient feel truly cared for. "That means providing an excellent experience from the time they call for an appointment throughout their care. I want my patients to know I'm there for them in their time of need. It's one of the reasons I came to Mercy – we have the same philosophy of treating all patients with dignity."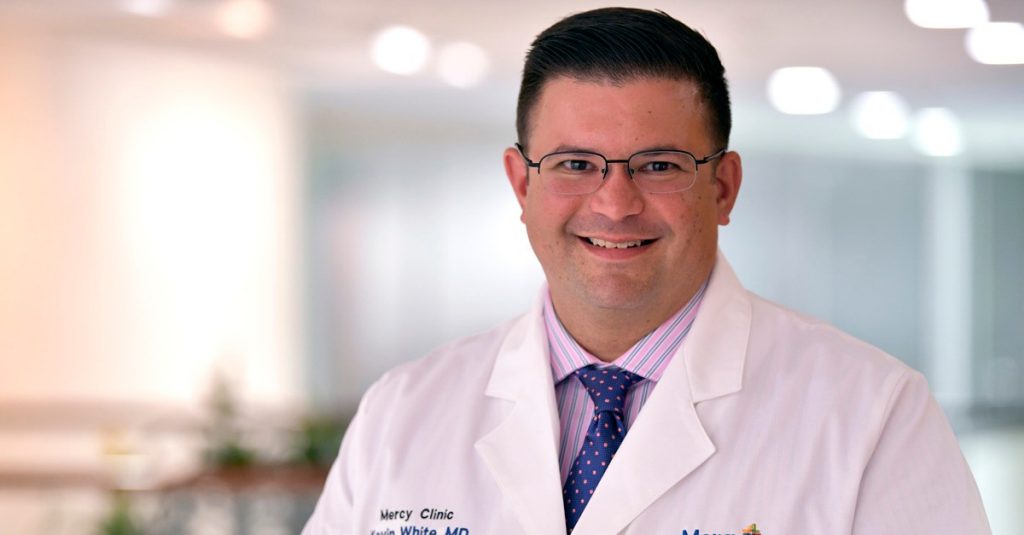 Dr. Kevin White is the newest OB/GYN at Mercy Lebanon.
With that in mind, Dr. White spent the past four years developing new pain management strategies so his patients wouldn't need as much medication. "We were able to reduce their use of opioid medications by half and still improve their pain control," he said. "It worked for those who'd had cesarean sections and those recovering from other gynecological surgeries."
Dr. White is originally from Lexington, Kentucky, and went to medical school at the University of Kentucky. Despite his roots in the Bluegrass State, it didn't take long for him to decide Lebanon would be his new home. "Everybody was so friendly!" he said. "I quickly fell in love with the people and the area."
Music is still a big part of Dr. White's life. When he's not at work, he enjoys playing the trumpet both in orchestral and jazz settings. He and his wife, Alice, also enjoy traveling and he's been on a medical mission trip to Haiti. They have two sons, Adin, age 11 and Daniel, age 9.
To make an appointment with Dr. White, either call Mercy Clinic OB/GYN - Lebanon at 417-533-6710 or click the link below.
Media Contacts
Sonya Kullmann
Branson, Cassville, Lebanon, Mountain View, Rolla, Springfield, Aurora