November 22, 2019
ST. LOUIS - Four co-workers were the first to be honored with the Sunshine Award, a new award to recognize co-workers and volunteers for their extraordinary services and care. 
The honorees receive a certificate along with a commemorative pin commending their extraordinary service. The Sunshine Award is part of a recognition and reward program for ancillary care, support services personnel and volunteers.
Four nominees are selected quarterly by the Sunshine Award Committee. Co-workers and volunteers can be nominated for this award by patients, co-workers, visitors and physicians. 
November 2019
Zaman (Xena) Al Rifaie (EVS) - Nominated by a patient's family member: "Most helpful person. Always brightens my husband's day. Did a great job of keeping room clean and asking about his well-being. She was far more than a housekeeper and is overall a good, loving person. I want her to be recognized for all she does."
Tara Anders (Child Life) - Nominated by a co-worker: "…we had a patient in Tests and Treatments that received a new cancer diagnosis. The patient's mother was upset, tired and needed to eat. After learning the mother hadn't eaten and didn't have money, Tara gave her lunch to the mother when the son (had) his procedure. Tara is a loving and caring individual that goes above and beyond for all her patients and their families."
Barbara Haskin (Mission Integration) - Nominated by a co-worker: "She has been the most supportive as far as giving me all options that are available here through Mercy. She has gone above and beyond with such care and with encouraging words. She has given me hope in the hardest times of my life. She is an amazing, warm-hearted woman. She helps support Mercy's love and care."
Steve Steurer (Security) - Nominated by a co-worker: "On July 9, around 7:30 a.m., Steve noticed the ER parking lot was littered with trash and broken glass. He took it upon himself to find a broom and dustpan, and cleaned the entire lot. He stated the parking lot is the first thing patients and visitors see when they arrive at Mercy and he wanted them to have a good first impression."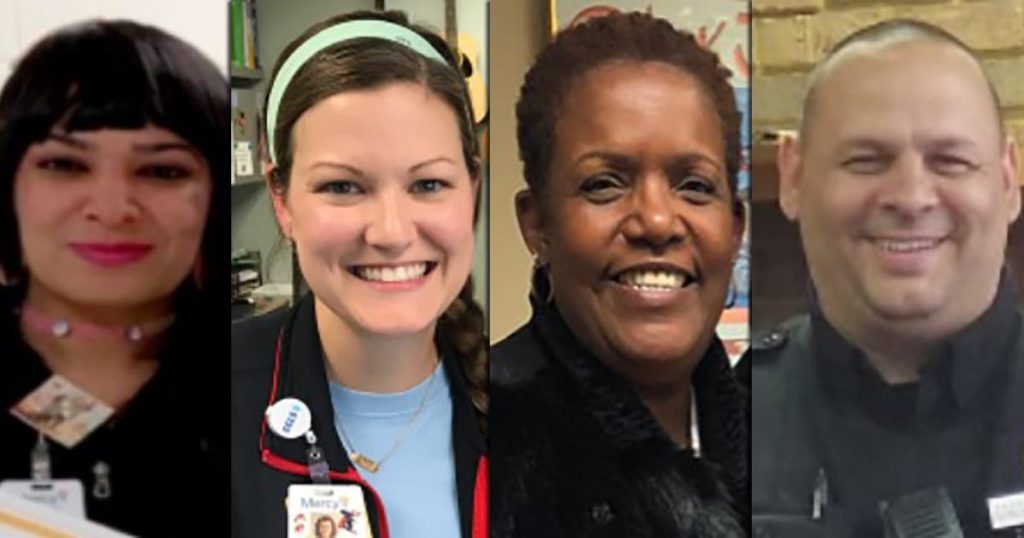 Sunshine Award recipients from left to right: Zaman (Xena) Al Rifaie, Tara Anders, Barbara Haskin and Steve Steurer.
August 2019
Congratulations to the first ever Sunshine Award recipients.
Ernie Blackburn (EVS)
Jonathan Charpentier (Sleep Lab)
Brandon Quilacio (Security)
Anika Reese (Lab)
"Our four Sunshine Award recipients are outstanding role models," said Steve Mackin, Mercy Hospital St. Louis president. "These co-workers personify the remarkable patient experience we provide. They consistently demonstrate excellence through their extraordinary compassionate care for patients and co-workers."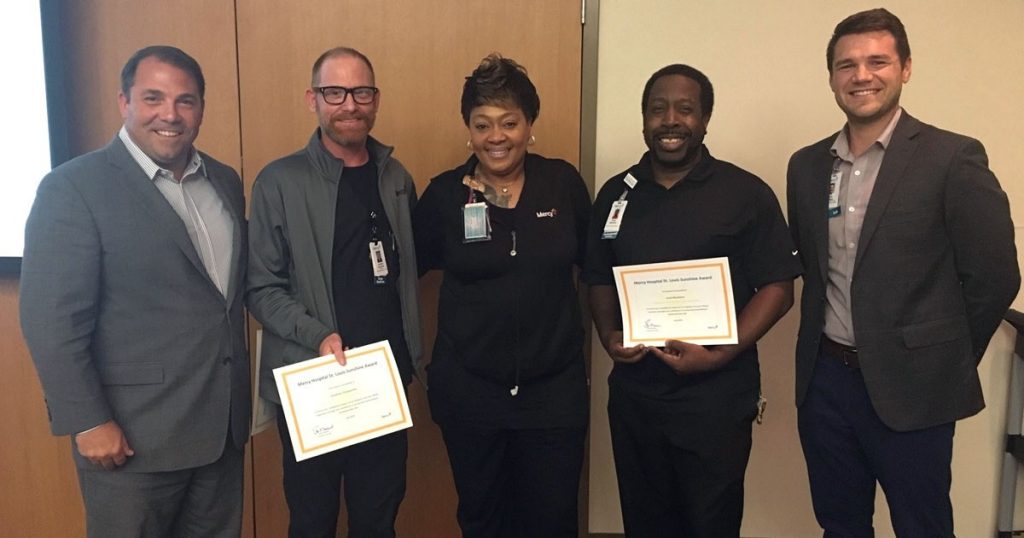 Steve Mackin, Mercy Hospital St. Louis president and Tyler Witges, executive director of Lab Services present the Sunshine Award. From left to right: Steve Mackin, Jonathan Charpentier, Anika Reese, Ernie Blackburn and Tyler Witges. Not pictured: Brandon Quilacio.
Media Contacts
Bethany Pope
St. Louis, St. Charles, St. Louis - South, Troy, Festus