August 6, 2019
ST. LOUIS - Four co-workers were the first to be honored with the Sunshine Award, a new award to recognize co-workers and volunteers for their extraordinary services and care. 
Congratulations to the first Sunshine Award recipients:
Ernie Blackburn (EVS)
Jonathan Charpentier (Sleep Lab)
Brandon Quilacio (Security)
Anika Reese (Lab)
"Our four Sunshine Award recipients are outstanding role models," said Steve Mackin, Mercy Hospital St. Louis president. "These co-workers personify the remarkable patient experience we provide. They consistently demonstrate excellence through their extraordinary compassionate care for patients and co-workers."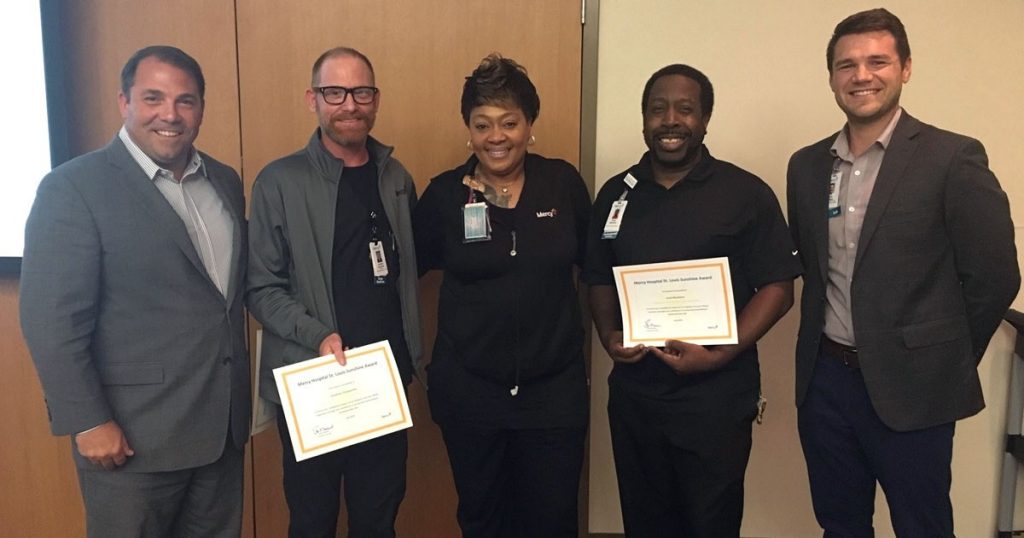 Steve Mackin, Mercy Hospital St. Louis president and Tyler Witges, executive director of Lab Services present the Sunshine Award. From left to right: Steve Mackin, Jonathan Charpentier, Anika Reese, Ernie Blackburn and Tyler Witges. Not pictured: Brandon Quilacio.
The honorees received a certificate along with a commemorative pin commending their extraordinary service. The Sunshine Award is part of a recognition and reward program for ancillary care, support services personnel and volunteers.
Four nominees are selected quarterly by the Sunshine Award Committee. Co-workers and volunteers can be nominated for this award by patients, co-workers, visitors and physicians. 

Media Contacts