September 28, 2021
ST. LOUIS - The Sunshine Award recognizes co-workers and volunteers for their extraordinary services and care at Mercy Hospital St. Louis.
The honorees receive a certificate along with a commemorative pin commending their extraordinary service. The Sunshine Award is part of a recognition and reward program for ancillary care, support services personnel and volunteers.
Four nominees are selected quarterly by the Sunshine Award Committee. Co-workers and volunteers can be nominated for this award by patients, co-workers, visitors and physicians. 
July 2021
Stacy Jones, a lab support technician in the Mercy Hospital St. Louis Core Lab, was nominated by a co-worker who said, "Stacy is a true ray of sunshine every day.  She always has a positive, helping attitude... Recently, a patient dropped off a specimen in the lab but did not go to Registration... Stacy took it upon herself to contact Registration, find out what was needed, and made sure the patient got registered, orders entered, and labels printed without having to come back into the hospital. I'm sure the patient was grateful because it saved him a trip and the Hematology department was grateful because we were able to perform testing in as timely manner, thanks to Stacy!"
Marty Kohlenberger, a food service technician in Catherine's Cafe (the hospital's main cafeteria), was nominated by a co-worker who said, "...to serve when no one is watching is when the motivation behind service is pure and truly selfless...My patient was feeling stir crazy and he wanted to leave the floor...to buy a soda for his night nurse. When it was his time to pay for the soda, his card did not go through. Marty smiled warmly at the patient and said, 'you're taken care of sir.' Seamlessly, with no hesitation...Marty pulled out his own wallet and paid for the soda. It was so seamless that I am sure this was not the first time Marty has done this. My patient was so thrilled to be able to thank is night nurse with a soda and Marty maintained his dignity and absolutely made his day. I was so touched by Marty's act of kindness. He was happy to serve with no recognition, and for that he should absolutely be recognized!"
Fikreta Bektic, a housekeeper at the Mercy Child Care Center on the Mercy St. Louis campus, was also nominated by a co-worker, who said, "Fikreta is a very devoted and extremely hardworking member of our staff. She comes to work each and every day with a positive attitude and a friendly demeanor. When the pandemic hit she didn't have to change her efforts job-wise at all. She already had a work ethic that had the building exceptionally clean. I have been in schools for 30+ years and have never seen this type of effort. The kids' toys, riding toys, balls, slides, mats in several areas, etc., were getting sanitized and wiped down. Trash gets emptied two times daily, sometimes more.  Special clean up jobs (some not fun) are always attended to quickly and with a positive attitude. Sometimes, a person in her position can go almost unnoticed, but, as hard as she works that is not the case here...She is a dedicated, extremely hardworking, friendly employee...It is my hope she can be recognized as the topflight employee that she is."
Starr McClain, a patient transporter at Mercy Hospital St. Louis, was noticed by a patient whose nomination read, in part, "I came into the Mercy Hosptial ER and soon was diagnosed with a stroke.  After spending some time in the ER, I was moved to ICU. I met Starr there when she came to give me assistance. Later, she helped me in my room. It was a time of confusion and stress for me, but Starr always had a smile on her face and a very upbeat, happy demeanor.  She brightened my day each time I saw her. She helped lighten my stress and made me feel comfortable.  She's an excellent worker on your staff."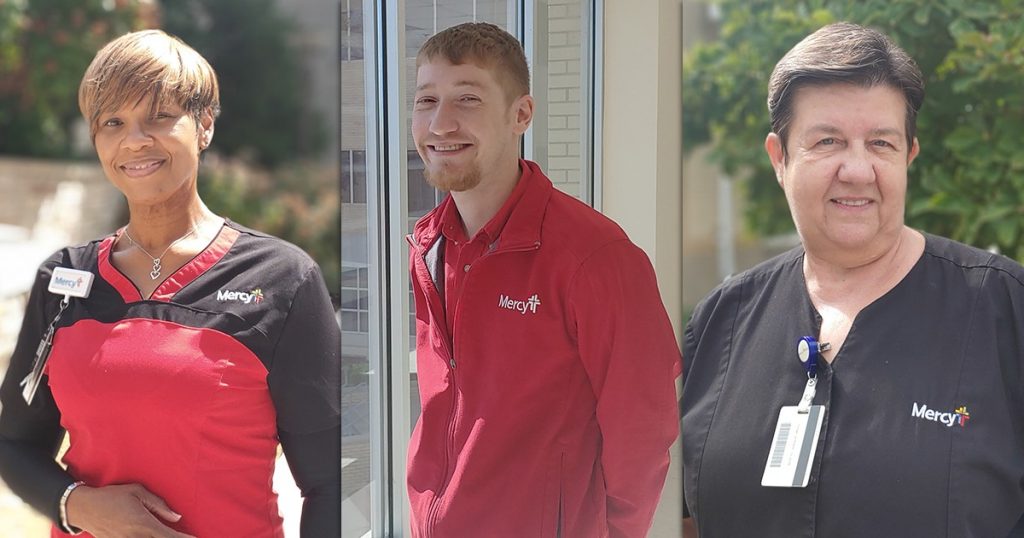 Stacy Jones, Marty Kohlenberger, Fikreta Bektic and Starr McClain (not pictured) were honored with the Sunshine Award.
April 2021
Cheyenne Pugh, a housekeeper with Environmental Services, was nominated by co-workers in the OB Triage area who said, "She does a lot of work in addition to a busy day cleaning rooms. She goes out of her way to dust blinds, move beds and sweep up dust to name a few. She is very pleasant and takes pride in her work."
Edis Seferagic, a housekeeper with Environmental Services, was nominated by a patient who said, in part, "The first day Edis strolled into my room he got to work with his happy smile. I had not seen such a thorough room cleaning in a month's time. He started working his way across the room...the entire time he kept the greatest attitude...What a delight, and he brightens up the patients with his happy attitude and smile, and a good feeling from his happiness."
Lakita Evans, a laboratory phlebotomist with Laboratory Services, was nominated by a patient who said, in part, "She deserves to be recognized and rewarded for being a fast worker. She came into my room three days in a row and found my vein within a minute. She is very sweet and pleasant. She also has an awesome attitude."
Erin Wallis, a nuclear medical technologist with Radiology, was nominated by a patient who said, in part, "Erin Wallis a gem and a great asset to your staff. Eye contact, reassuring touch, acknowledging delays, explaining and educating. Though here just two days a week, she added a lot to your staff. Her sense of presense and reassurance is healing. She went above and beyond transporting me by herself."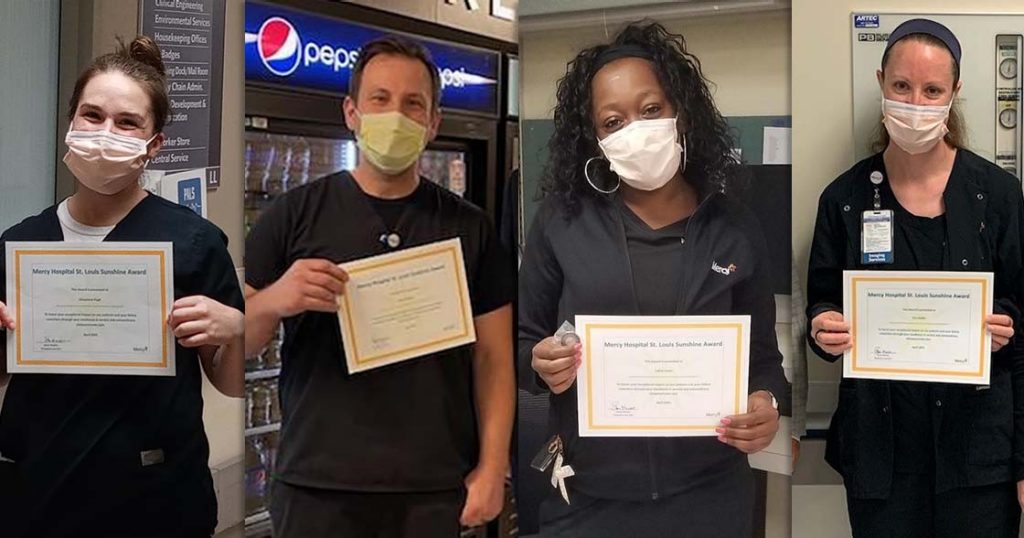 Cheyenne Pugh, Edis Seferagic, Lakita Evans and Erin Wallis were honored with the Sunshine Award.
January 2021
James Lee, an inventory manager, was nominated by a co-worker who said, "I want to let someone know how wonderful I think James Lee is. He's always extremely helpful with a great attitude. He works very hard to take care of our need department and I felt I should share this compliment so he knows his hard work and dedication do not go unnoticed."
Justin Lockridge, in environmental services, was nominated by a patient who said, "Justin brings so much "sunshine" into our lives every day when he comes in to clean our room. My daughter has been in the hospital for almost two months and Justin always brings a smile to her face. He does such a great job cleaning and is so genuinely concerned and very sweet. He brightens our days and we thank him for being so kind and sweet and doing the very best at his job."
Lisa Doyle, in radiology, was nominated by a patient who said, "Lisa in the CT scan department brightened by day. It was my first IV and CT scan experience and she made me feel so loved and comfortable when she said my name "was in lights" above the CT scanner, was cheerful and patient as she explained the procedure and answered my questions. We talked about normal things to help me relax. She even wheeled me to the cafeteria after!"
Carole Foots, in lab support, was nominated by a patient who said, "Carole is fantastic with patients. She came in my room while I was having a panic attack and prayed for me. She is amazing."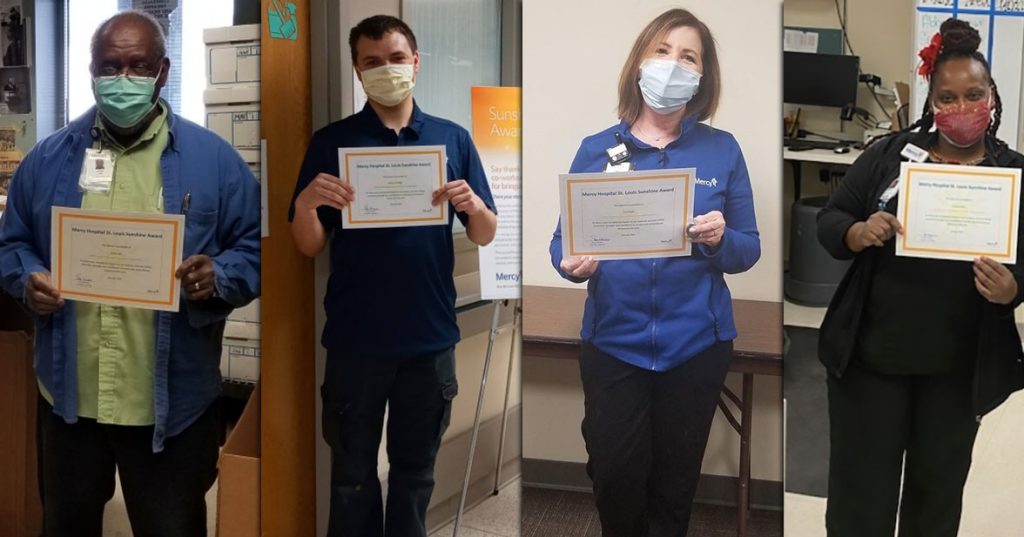 James Lee, Justin Lockridge, Lisa Doyle and Carole Foots were honored with the Sunshine Award.
September 2020
Emily Mazdra, an entrance monitor, was nominated by a co-worker who said, "She is very sweet and kind. She takes her job seriously and is dedicated to her work and family."
Ashley Green, enivronmental services, was nominated by a co-worker who said, "She went above and beyond cleaning a room! She even took out the instrument tray and food tray. She dusted behind the TV and worked very hard to clean the room. It's because of people like her that Mercy stays clean and safe."
Rubija Hadzic, environmental services, was nominated by a co-worker who said, in part, "Ruby always goes above and beyond for our patients and us. She is truly a joy to work with. She always sweeps, mops and completes all her housekeeping duties...At the end of her shift, she will help us by stocking dressing booths with patient gowns and fill blanket warmers."
Jerica Mosello, patient access representative, was nominated by a patient's parent who said, in part, "Jerica is truly outstanding! I attended an ultrasound with my 19-year-old son who has a diagnosis of autism. He was a bit anxious. During registration, Jerica was kind, patient, inclusive and tremendously helpful...My son visibly calmed down a bit during our interaction with Jerica. As the mom of a child with autism, Jerica's actions and efforts helped to ensure a great visit."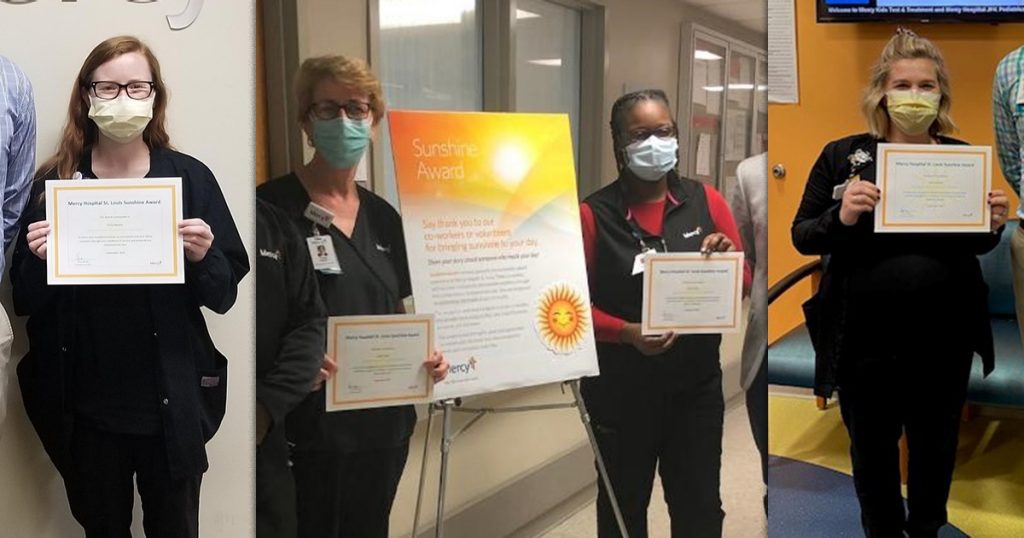 Emily Mazdra, Ashley Green, Rubija Hadzic and Jerica Mosello were honored with a Sunshine Award.
November 2019
Zaman (Xena) Al Rifaie (EVS) - Nominated by a patient's family member: "Most helpful person. Always brightens my husband's day. Did a great job of keeping room clean and asking about his well-being. She was far more than a housekeeper and is overall a good, loving person. I want her to be recognized for all she does."
Tara Anders (Child Life) - Nominated by a co-worker: "…we had a patient in Tests and Treatments that received a new cancer diagnosis. The patient's mother was upset, tired and needed to eat. After learning the mother hadn't eaten and didn't have money, Tara gave her lunch to the mother when the son (had) his procedure. Tara is a loving and caring individual that goes above and beyond for all her patients and their families."
Barbara Haskin (Mission Integration) - Nominated by a co-worker: "She has been the most supportive as far as giving me all options that are available here through Mercy. She has gone above and beyond with such care and with encouraging words. She has given me hope in the hardest times of my life. She is an amazing, warm-hearted woman. She helps support Mercy's love and care."
Steve Steurer (Security) - Nominated by a co-worker: "On July 9, around 7:30 a.m., Steve noticed the ER parking lot was littered with trash and broken glass. He took it upon himself to find a broom and dustpan, and cleaned the entire lot. He stated the parking lot is the first thing patients and visitors see when they arrive at Mercy and he wanted them to have a good first impression."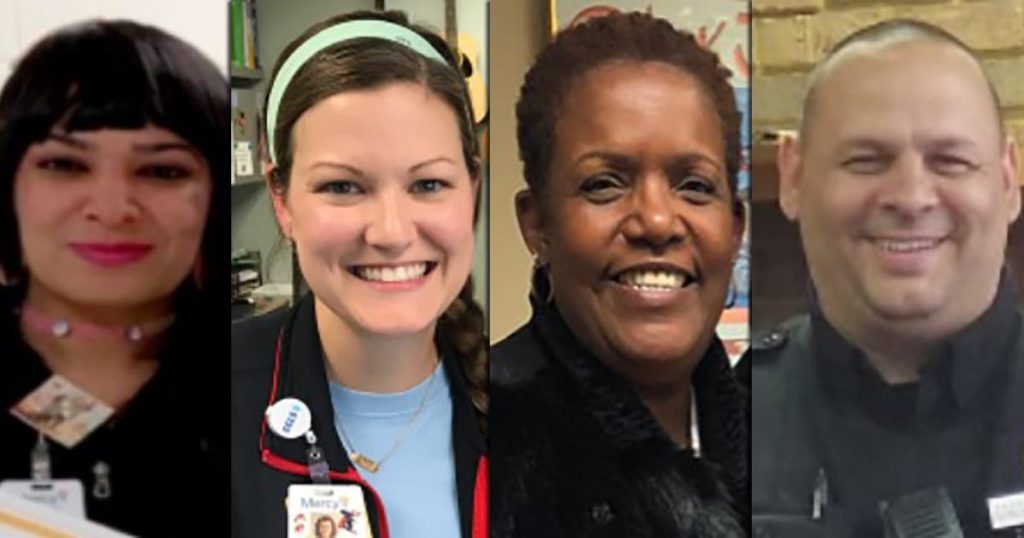 Sunshine Award recipients from left to right: Zaman (Xena) Al Rifaie, Tara Anders, Barbara Haskin and Steve Steurer.
August 2019
Congratulations to the first ever Sunshine Award recipients.
Ernie Blackburn (EVS)
Jonathan Charpentier (Sleep Lab)
Brandon Quilacio (Security)
Anika Reese (Lab)
"Our four Sunshine Award recipients are outstanding role models," said Steve Mackin, Mercy Hospital St. Louis president. "These co-workers personify the remarkable patient experience we provide. They consistently demonstrate excellence through their extraordinary compassionate care for patients and co-workers."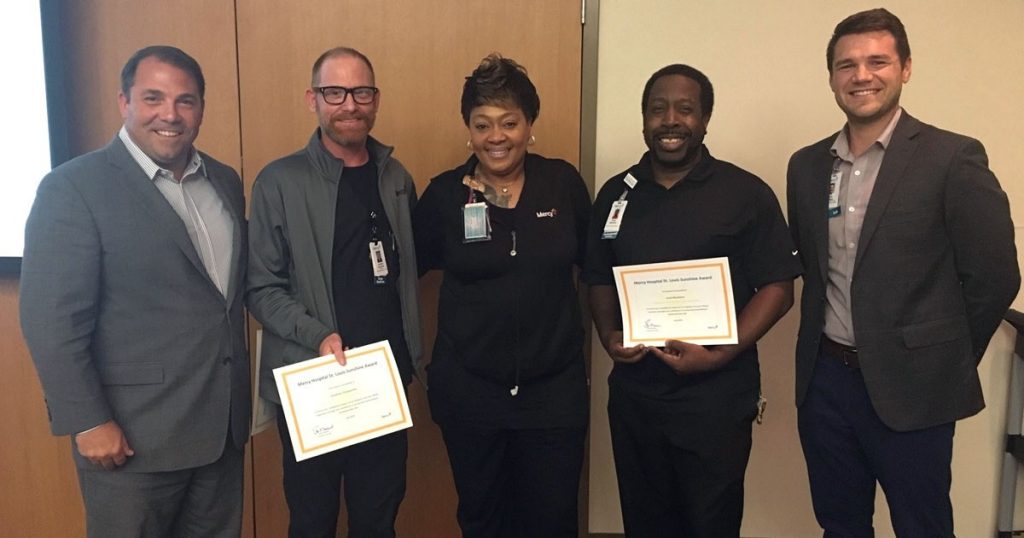 Steve Mackin, Mercy Hospital St. Louis president and Tyler Witges, executive director of Lab Services present the Sunshine Award. From left to right: Steve Mackin, Jonathan Charpentier, Anika Reese, Ernie Blackburn and Tyler Witges. Not pictured: Brandon Quilacio.
Media Contacts
Bethany Pope
St. Louis, St. Charles, St. Louis - South, Troy, Festus