September 10, 2019
Larry Foss has been hospitalized with chest pains before, but when they started again during the Vietnam veteran's Honor Flight trip, he was in an unfamiliar area with no family nearby.
"We were on the bus in Arlington and they started hitting pretty hard," Foss said.
That's why Honor Flight of the Ozarks staffs eight medical volunteers on each flight – four emergency room doctors and four registered nurses or paramedics. Dr. Tom Lewis, medical director for Mercy EMS, jumped in to help. "He really hoped to finish the day with his fellow veterans," Dr. Lewis said. "But his pain continued and I knew he needed further treatment. We called for an ambulance, which met us at the memorial and transported us to the Virginia Medical Center in Arlington."
Tests began, and Dr. Lewis stayed with Foss to help coordinate his care. "The staff there was able to access all of Larry's medical records from Mercy, because we have the same electronic health record," Dr. Lewis said. "The providers were great to work with, allowing me to suggest medications and treatments during his stay and for our travel home. I'm also glad I was there to help interpret medical information for him."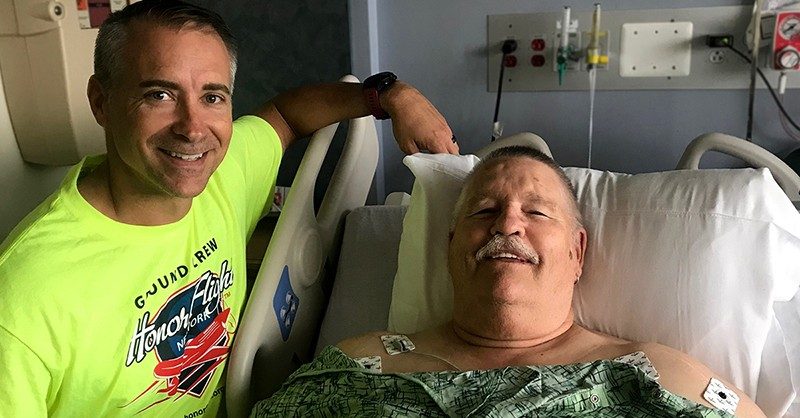 Dr. Tom Lewis, ER doctor and medical director for Mercy EMS, with Vietnam veteran Larry Foss.
Dr. Lewis' commitment extended beyond the treatment. "He stayed with me the whole time," Foss said. "He even slept on the couch in the room. It's just unbelievable how dedicated he was."
Dr. Lewis says anyone on the Honor Flight team would've done the same. "The Honor Flight network was amazing," he said. "Volunteers in D.C. brought us each a shirt and toiletries, and when we traveled home the next day, volunteers in Dallas made sure we had a wheelchair for our layover. Staff was even waiting to welcome us home when we arrived at almost midnight in Springfield."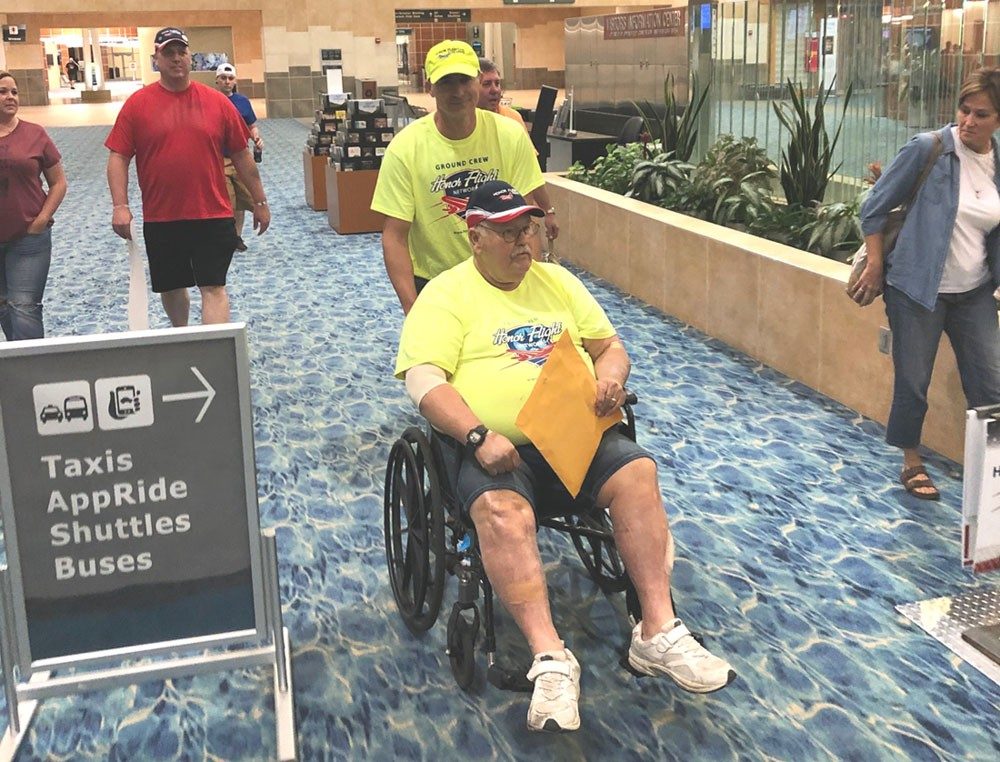 Now that he's back home, Foss has made follow-up appointments with his Mercy doctors to make sure there isn't further cause for concern. "Dr. Lewis is the real hero," he keeps insisting. "He stayed right by my side."
To help support Honor Flight of the Ozarks or to nominate a veteran to go on a flight, visit www.honorflightoftheozarks.org.

Media Contacts
Sonya Kullmann
Branson, Cassville, Lebanon, Mountain View, Rolla, Springfield, Aurora