September 17, 2019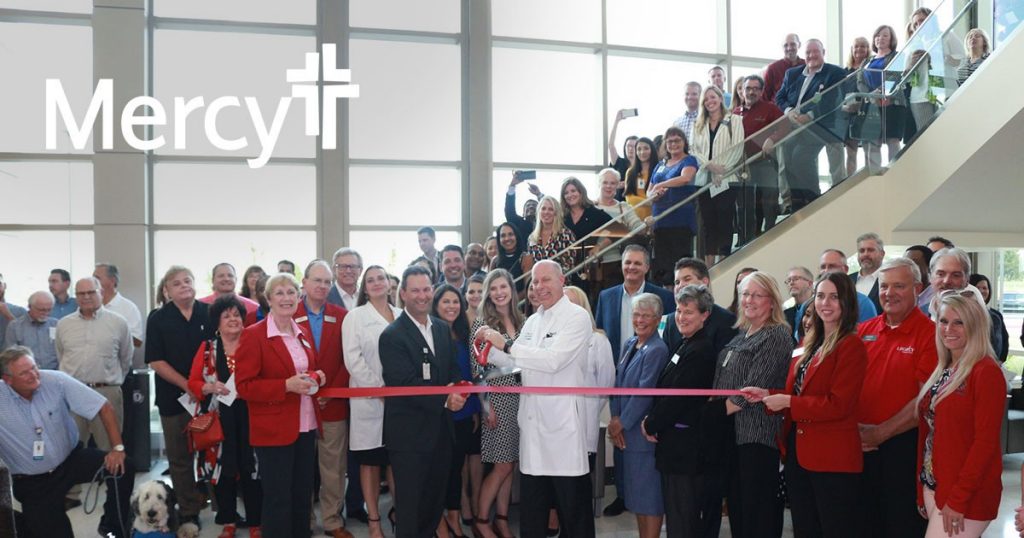 Mercy Hospital President Eric Pianalto and Dr. Larry Schemel prepare to cut the ribbon at the ceremonial opening of Mercy Springdale. The multispecialty clinic opens Sept. 18.
Mercy co-workers and community members gathered Tuesday to celebrate and bless the next-to-last piece in Mercy's multiyear expansion, a 63,000-square-foot clinic featuring primary and specialty care and a 24-hour ER just off Interstate 49. Called Mercy Springdale, the clinic opens Wednesday.
Mercy has invested $47 million in the clinic, its largest in Northwest Arkansas, as part of a $277 million expansion announced in April 2016. The last piece of the expansion is a seven-story tower at Mercy Hospital that will open in phases in October and November.
Mercy Springdale initially will add more than two dozen primary care and specialty physicians to an underserved area of Springdale, with more joining the clinic over time. Mercy determined the need for a medical campus in the area after a two-year study that looked at population trends, community health outcomes and limits in access to care.
The facility also includes a 22,000-square-foot emergency room featuring 12 exam rooms. In addition to a trauma room, the ER has two triage rooms, an isolation room (for infectious diseases or other issues) and three rooms to accommodate patients with behavioral health needs. A helipad on site will allow for critical care transports to Mercy Hospital Northwest Arkansas in Rogers and other facilities.
An imaging department will serve both the clinic and ER sides with X-ray, computed tomography (CT) and magnetic resonance imaging (MRI).
Mercy Hospital President Eric Pianalto, a native of nearby Tontitown, noted that the clinic's proximity to his hometown deepens the meaning of Mercy's effort to increase access to health care in the area.

"The people we will be caring for are my family, my friends and neighbors. That makes the work very personal," he said.
Taking the reins at the facility is Kerry Harper, campus administrator, who has more than three decades of experience in health care at Mercy Hospital and its predecessor, St. Mary's Hospital. A native of Springdale, Harper said the clinic will improve access to care, whether that's for a routine visit or an emergency.
"The growth in this area is phenomenal, and we're ready to step up to provide health care to newcomers and to families that have been here for generations," he said.
The facility's clinic side will feature 60-plus exam rooms, including 29 dedicated to primary care and 34 for specialty care. Specialties located permanently in the clinic include cardiology, endocrinology, neurology and pulmonology, and there will be rotating specialties. Primary care providers will include internal medicine and pediatrics.
Some providers at the clinic are new to Mercy, while others will transfer from other Mercy locations.
Cardiology: Dr. Kiran Kurichety
Endocrinology: Dr. Johnathan Stringer and APRN Katiutschka Reyes
Internal medicine: Dr. Mark Shelnutt
Neurology: Dr. Ryan Kaplan and Dr. Steven Moon
Pediatrics: Dr. Susan Sullivan and APN Rachel Angulo
Primary care: Dr. Larry Schemel and APN Taylor Kelamis
Pulmonology: Dr. Dan Paul
The Mercy Health Foundation has raised $2 million to support construction of Mercy Springdale, including a $1.5 million lead gift from the Shewmaker family and a $250,000 grant from the James M. Cox Foundation.
Other lead donors include the Sunderland Foundation, Schmeiding Foundation, Pete and Shirley Esch and Northwest Arkansas Pathology Associates.
"We're so grateful to all of our donors for their generosity in helping us open doors in a community in need of greater access to care," said Clark Ellison, vice president of Mercy Health Foundation.
Mercy, named one of the top five large U.S. health systems from 2016 to 2019 by IBM Watson Health, serves millions annually. Mercy includes more than 40 acute care, managed and specialty (heart, children's, orthopedic and rehab) hospitals, 900 physician practices and outpatient facilities, 45,000 co-workers and 2,400 Mercy Clinic physicians in Arkansas, Kansas, Missouri and Oklahoma. Mercy also has clinics, outpatient services and outreach ministries in Arkansas, Louisiana, Mississippi and Texas. In addition, Mercy's IT division, Mercy Technology Services, supply chain organization, ROi, and Mercy Virtual commercially serve providers and patients in more than 20 states coast to coast.
Media Contacts