September 24, 2019
ST. LOUIS - Dr. Tara Daming, a high-risk OB/GYN, recently joined Mercy Clinic Maternal and Fetal Medicine. A St. Louis girl at heart (graduated from Windsor High School), Dr. Daming went south for medical school but came back to her hometown. She is a second degree blackbelt in Taekwondo and enjoys running, scrapbooking and playing with her 1 1/2 year old.
Did you always know you wanted to be a doctor?
No, I always wanted to be a scientist or an engineer. I did not think I would have any interest in medicine and loved math! I went to University of Missouri-Rolla (now Missouri S&T) with the plans of becoming a biochemical engineer. During my junior year summer, I took a undergraduate research position sponsored by the National Science Foundation and worked in a lab that was studying Trypanosomiasis (African sleeping sickness). I was immediately drawn to the complexity of the biological processes and decided to shadow physicians. I loved the interactions with patients, combined with the science. My senior year, I decided that I wanted to be a physician and applied to medical school.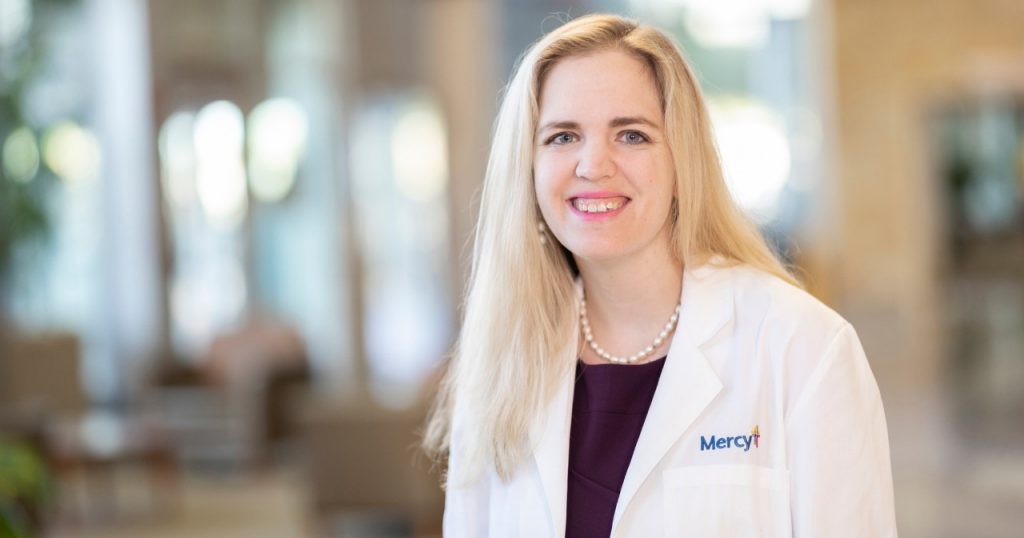 Dr. Tara Daming recently joined Mercy Maternal and Fetal Medicine.
What drew you to specialty? 
I have always had an interest in women and children's health. I was an advocate in college and was a trained volunteer and answered the crisis hotline for a women and children's family center. I initially thought I would go into pediatrics, because I love kids. My first year of medical school at Baylor (Houston), I had the opportunity to deliver a baby and began to consider obstetrics. I did consecutive clinical rotations in obstetrics and the neonatal intensive care unit, and realized, while I loved the neonatal part, all of my clinical questions went back to the pregnancy.  
Maternal and fetal physiology fascinated me, and I went on to complete a residency in OB/GYN in New Orleans, at Tulane University School of Medicine. With maternal mortality climbing and my interest in maternal-fetal outcomes, I went on complete a fellowship in Maternal-Fetal Medicine at the University of Missouri-Kansas City. This gave me the opportunity to focus on the women with at highest risk and help optimize their pregnancy outcomes. 
What made you want to join Mercy?
I was born and raised in St. Louis and most of my family is still here. Mercy Hospital is the largest delivery hospital in the state, which gives me an opportunity to care for many high risk pregnancies. I have a long history of volunteer work, and Mercy's mission of providing care and charity work allows me to continue providing services to those in need.
Media Contacts