February 18, 2020
ST. LOUIS - Athletic trainers with Mercy Sports Medicine are embedded inside many St. Louis metro area high schools. They are there when needed and get to know the student athletes throughout the year. As a way of highlighting outstanding students from these schools each month, a new Mercy Sports Medicine Athlete of the Month will be recognized. Athletes are nominated by coaches and selected by a committee.
Here are the Mercy Sports Medicine Athletes of the Month for the 2019-2020 school year:
February 2020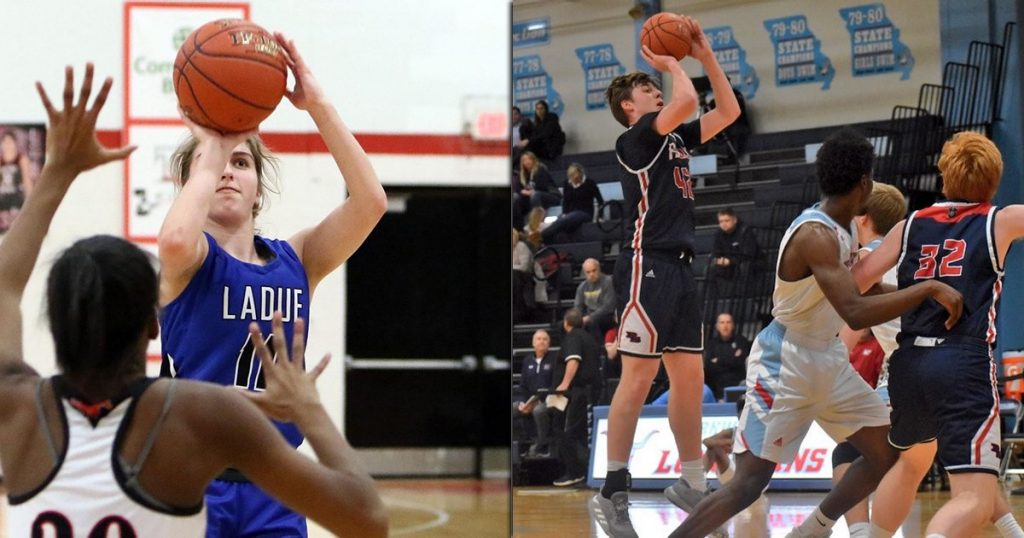 Katie Minkler and Isaiah Esker - Mercy Sports Medicine Athletes of the Month - February 2020
February Athletes of the Month
Katie Minkler, a senior basketball player at Ladue Horton Watkins High School, has played varsity basketball since her freshman year and earned all-academic team, all-conference second team and all-tournament teams in grades nine through 11. Additional honors include Offensive Player of the Year, Schnucks Athlete of the Week and Class of the Suburban Sportsmanship. In January, she reached her 1000th career point with 714 of those points being three pointers. As a captain, she helped lead her team through an emotionally rough start to the season to the current 15-2 record. She will play at Washington University next year.
Isaiah Esker, a senior basketball player at Parkway South High School, is a leader on the court as captain and off the court leading by example helping with youth basketball, the school's Special Olympics team and as a member of National Honor Society. With a record setting year, Esker now holds the school title for career blocked shots and most blocked shots in a season. Currently undecided, he has received multiple offers from colleges and universities to continue playing basketball at the next level.
January 2020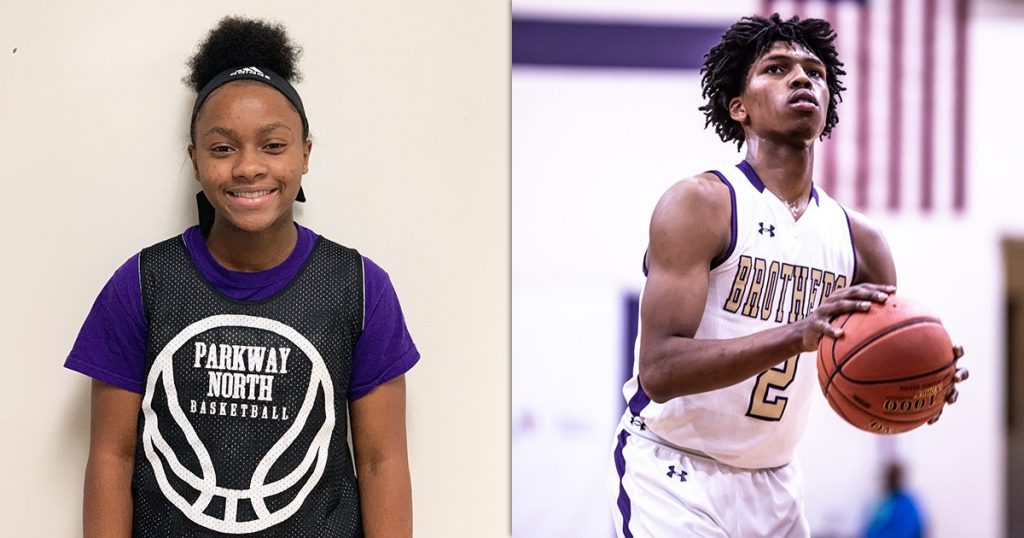 Aliyah Williams and Caleb Love (photo by Evan McClintock) - Mercy Sports Medicine Athletes of the Month - January 2020.
January Athletes of the Month
Aliyah Williams, a junior basketball with Parkway North High School, is the point guard and among the area's leaders in scoring and assists. She was named to the all-tournament team of the 16-team field at the recent Visitation Tournament, had 24 points in a win over state-ranked Kirkwood, had 27 points in a game against number one ranked Incarnate Word Academy and 35 points against state-ranked Whitfield School. She is a very good student and well liked by the school and her community.
Caleb Love, a senior basketball player at Christian Brothers College High School, started varsity all four years, serving as captain this year, and played USA basketball for two years. He's ranked 18th in the country according to ESPN, averages 27.7 points per game. He was named to the All Tournament Team at the Winter Roundup Classic. He has signed with University of North Carolina for next year.
December 2019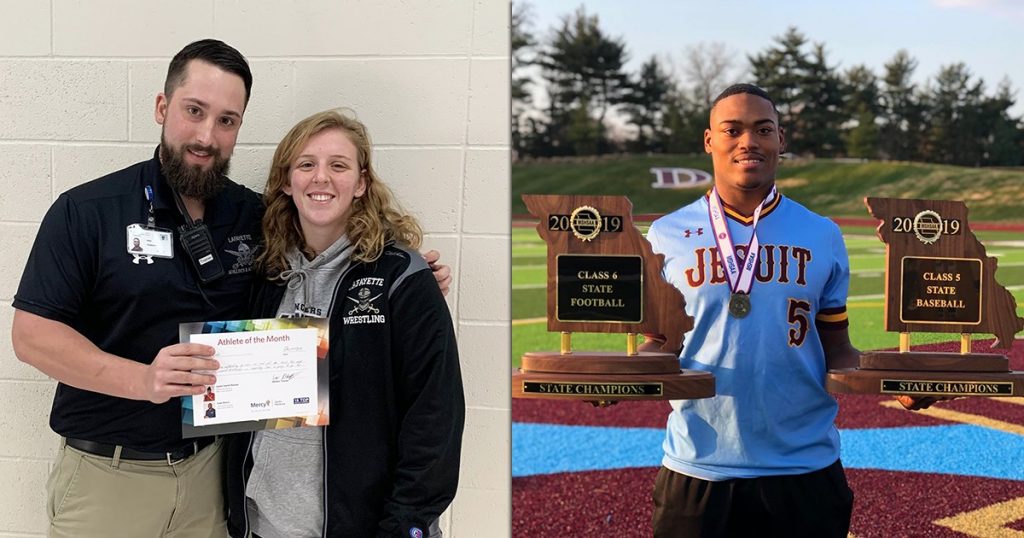 Emma Cole, with athletic trainer Eric Doherty, and Anthoine Shell - Mercy Sports Medicine Athletes of the Month - December 2019
December Athlete of the Month
Emma Cole, a senior wrestler at Lafayette High School, participated in Missouri's first year of girls' high school wrestling in 2018 and came out on top. Even with the first place finish, Cole always strives to do better. Noted for her work ethic, attitude, maturity and personality, her overall demeanor inspires those around her. She plans to pursue wrestling in college.
Anthoine Shell, a senior multisport athlete at De Smet Jesuit High School, is talented in many ways on and off the field. Shell was a two-year starter at center for the Spartans football team and a crucial part of the offensive line, leading to the school's first football Class 6A state championship since 2005. He was also on the school's state champion baseball team, playing first base throughout the season. Shell earned honors in the classroom and is involved with various service projects.
November 2019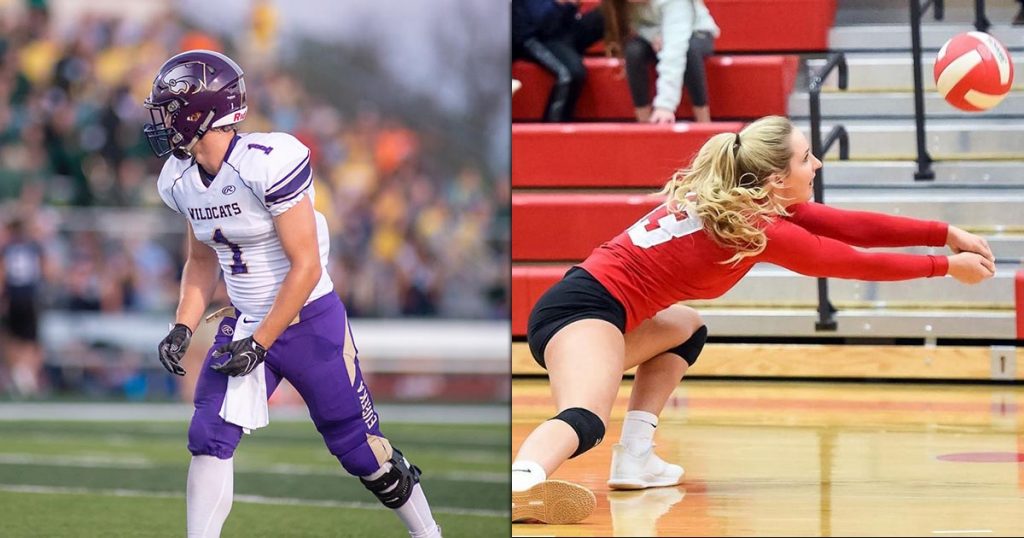 Zach Valentine and Gracie Sohn - Mercy Sports Medicine Athletes of the Month - November 2019
November Athletes of the Month
Zach Valentine, a senior football player at Eureka High School, works hard on and off the field. His freshman year, he started varsity and made second team all conferecne as defensive back. After a significant injury set back his sophomore year and sitting out his junior year, Valentine was back on the field leading the team on many stats. He is on the board for Best Buddies, a group that offers activities and assistance for kids with special needs, and helps with the group's many activities. Valentine is committed to make sure all students are positively included as visible members of the school. He is also a member of National Honor Society and National Leadership Academy and Equity.
Gracie Sohn, a senior three-sport athlete at St. Clair High School, is a leader in the classroom and on the court. She's ranked second in her class with a 4.0 GPA and leads her volleyball team in kills this season with 280 as well as in serve receive with 80.19% efficiency. She dominated all six rotations this year and made herself a threat in all three positions in the front row. Coaches say she is a selfless player who will do anything to make her teammates better, including stop a drill to explain. In addition to her school sports, Sohn also plays club volleyball with H2 Under Armor. She led the team to a 28-4-2 season. She plans to play volleyball in college and pursue a career in medicine.
October 2019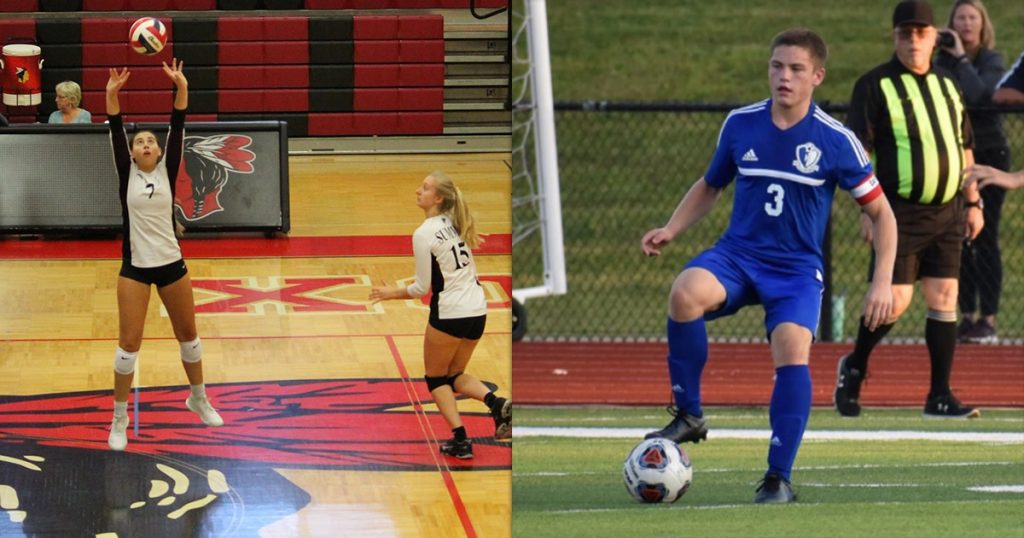 Abby VanBuskirk and Mark Moore - Mercy Sports Medicine Athletes of the Month - October 2019
October Athletes of the Month
Abby VanBuskirk, a junior volleyball player at Rockwood Summit High School, has recorded 358 assists and 14 blocks so far this season. She is leading the conference and is fifth in the St. Louis area in assists per set (9.5/set). She recently broke the school record for assists in a career (1,296) as a junior, working toward 2,000 before graduation. When not playing for Summit, VanBuskirk plays club volleyball with Rockwood Thunder, helps coach a u8-10 team and is a member of the National Honor Society.
Mark Moore, a senior four sport athlete at Hillsboro High School, competes in soccer, football, basketball and baseball. This soccer season, he has 16 goals and five assists in the first nine games, with six multi-goal games. In football, Moore does kickoffs and extra point attempts for the varsity team. When not playing sports, Moore is involved in the community through the Art of Manliness, A+ program, mentoring intermediate school students, coaching young athletes, tutoring and helping serve meals. He displays great sportsmanship in all his games, hasn't missed a day of school since second grade and is a member of the National Honor Society and Future Business Leaders of America. 
Mercy Sports Performance
Sign up for performance training, nutrition services and other sports medicine services for athletes, young adults, youths and teams to reach peak performance.
Media Contacts
Bethany Pope
St. Louis, St. Charles, St. Louis - South, Troy, Festus