October 9, 2019
ST. LOUIS - Athletic trainers with Mercy Sports Medicine are embedded inside many St. Louis metro area high schools. They are there when needed and get to know the student athletes throughout the year. As a way of highlighting outstanding students from these schools each month, a new Mercy Sports Medicine Athlete of the Month will be recognized. Athletes are nominated by coaches and selected by a committee.
Here are the Mercy Sports Medicine Athletes of the Month for the 2019-2020 school year: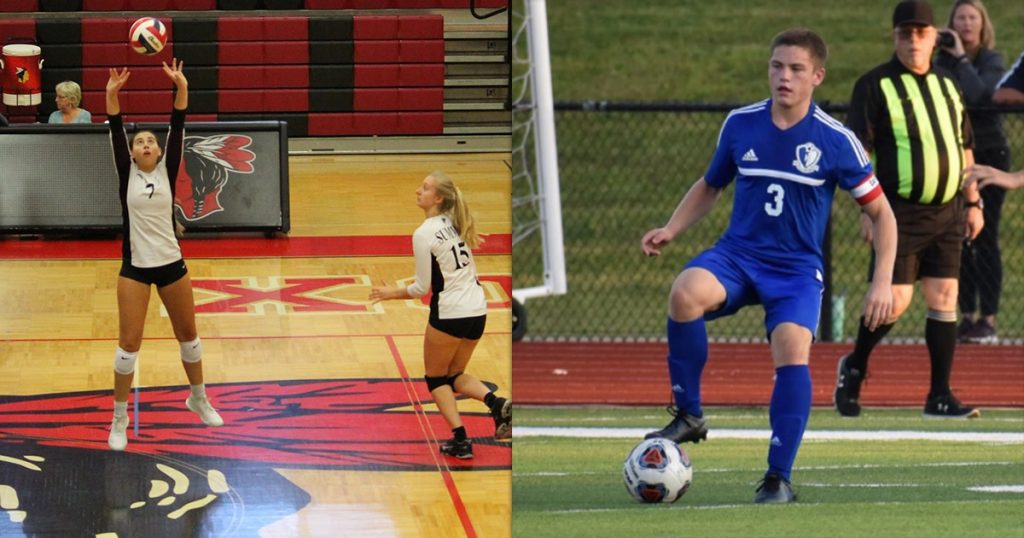 Abby VanBuskirk and Mark Moore - Mercy Sports Medicine Athletes of the Month - October 2019
October Athletes of the Month
Abby VanBuskirk, a junior volleyball player at Rockwood Summit High School, has recorded 358 assists and 14 blocks so far this season. She is leading the conference and is fifth in the St. Louis area in assists per set (9.5/set). She recently broke the school record for assists in a career (1,296) as a junior, working toward 2,000 before graduation. When not playing for Summit, VanBuskirk plays club volleyball with Rockwood Thunder, helps coach a u8-10 team and is a member of the National Honor Society.
Mark Moore, a senior four sport athlete at Hillsboro High School, competes in soccer, football, basketball and baseball. This soccer season, he has 16 goals and five assists in the first nine games, with six multi-goal games. In football, Moore does kickoffs and extra point attempts for the varsity team. When not playing sports, Moore is involved in the community through the Art of Manliness, A+ program, mentoring intermediate school students, coaching young athletes, tutoring and helping serve meals. He displays great sportsmanship in all his games, hasn't missed a day of school since second grade and is a member of the National Honor Society and Future Business Leaders of America. 
Mercy Sports Performance
Sign up for performance training, nutrition services and other sports medicine services for athletes, young adults, youths and teams to reach peak performance.
Media Contacts