October 17, 2019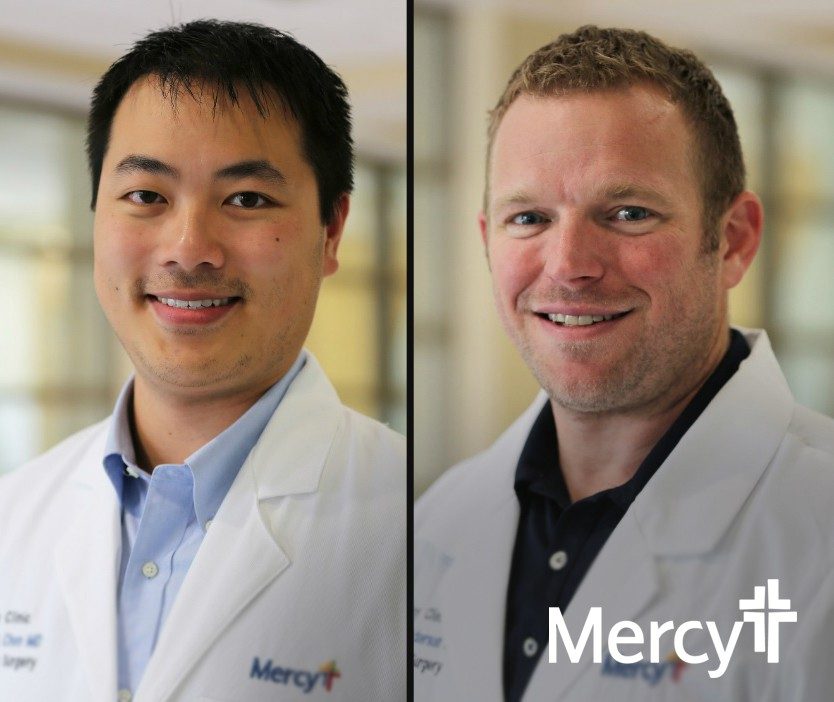 Mercy Clinic Orthopedics - Rogers has added two new surgeons to its roster of providers offering comprehensive orthopedics care to the community. With the additions, the clinic has nine surgeons, six physician assistants and a sports medicine specialist.
Dr. Andreas J. Chen will specialize in orthopedic hand and upper extremity surgery. Dr. Chen earned his medical degree from the University of Arkansas for Medical Sciences. He completed a residency in orthopedic surgery at Louisiana State University Health Sciences Center and Shriners Hospital for Children in Shreveport, Louisiana. In addition, he completed a fellowship in hand and upper extremity surgery at the State University of New York at Buffalo.
Dr. Patrick Dickerson will specialize in orthopedic surgery. Dr. Dickerson earned his medical degree from the University of Texas Health Science Center at San Antonio. He completed a residency in orthopedic surgery at Dartmouth Hitchcock Medical Center in Lebanon, New Hampshire, and a fellowship in sports and shoulder reconstruction at Steadman Hawkins Clinic of the Carolinas in Greenville, South Carolina. Dr. Dickerson also earned a Master of Science in health care research from Dartmouth Institute for Health Policy and Clinical Practice in Lebanon, New Hampshire.
Dr. Chen and Dr. Dickerson join a robust orthopedic surgery group that includes Dr. Scott Cooper, Dr. W. Cody Grammer, Dr. Michael Griffey, Dr. Chad Jones, Dr. R. Jacob Kaler, Dr. John Mertz and Dr. Gannon Randolph. In addition, Dr. Dominic Jacobelli offers non-operative sports medicine.
The clinic has a full complement of subspecialties, treating everything from fractures, knee injuries, carpal tunnel syndrome, spine problems and bunions. The group offers joint replacement and other treatments that are minimally invasive, enabling patients to recover in much less time.
The team's board-certified physician assistants are Corey Carver, Amanda Hartman, Farrah Jennings, Kindle Simon, Julie Slavik and Lindsey Smallridge.
Open 8 a.m. to 5 p.m. Monday-Friday, Mercy Clinic Orthopedics is located at 1000 S. 52nd St. in Rogers. To schedule an appointment, call 479-271-9607. 
Mercy, named one of the top five large U.S. health systems from 2016 to 2019 by IBM Watson Health, serves millions annually. Mercy includes more than 40 acute care, managed and specialty (heart, children's, orthopedic and rehab) hospitals, 900 physician practices and outpatient facilities, 45,000 co-workers and 2,400 Mercy Clinic physicians in Arkansas, Kansas, Missouri and Oklahoma. Mercy also has clinics, outpatient services and outreach ministries in Arkansas, Louisiana, Mississippi and Texas. In addition, Mercy's IT division, Mercy Technology Services, and Mercy Virtual commercially serve providers and patients from coast to coast.
Media Contacts