October 28, 2019
Mercy Hospital Jefferson is bringing back its popular Lunch and Learn series to offer health education topics for community residents. The November program will focus on the challenges and management of diabetes.
A Mercy doctor, dietitian and diabetes education specialist will lead the presentation on Monday, Nov. 4, in the conference center at Mercy Hospital Jefferson. The program is free, but online registration is required by Friday, Nov. 1. To register visit: www.mercy.net/DiabetesLunchLearn.
Dr. Nawras Makhsida is a diabetes specialist at Mercy Clinic Endocrinology - Jefferson.
Endocrinologist Dr. Nawras Makhsida and nurse practitioner Katie Casey will be the featured presenters, and registered dietitian Jackee Bauch will offer a cooking demonstration with recipe tips and ideas.
The event will begin at 11 a.m. with a Diabetes Health Fair segment for caregivers or patients diagnosed with diabetes, pre-diabetes or at risk for developing diabetes to visit tables to gather information on healthy eating, reducing risks, being active, blood glucose monitoring, medications and much more.
A cooking demonstration creating Pasta with Thai sauce will begin at 11:45 a.m. followed by Dr. Makhsida's presentation on the causes of diabetes, how to prevent or delay onset, and how to live a healthy life following a diabetes diagnosis.
For more information about the program call Certified Diabetes Educator Ami Faerber at 636-933-8071 or email ami.faerber@mercy.net.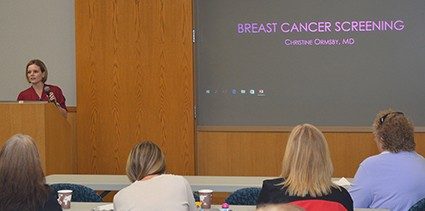 Radiologist Dr. Christine Ormsby spoke on breast cancer and the importance of screening mammograms at the October Lunch and Learn program at Mercy Jefferson on Oct. 2.
The Lunch and Learn programs are free to community residents, and lunch is provided for all registered attendees. Community residents can request email notifications of upcoming Lunch and Learn programs. Email invitations will include direct links to the online registration portal. To sign-up, email donna.masters@mercy.net or call Donna at 636-933-5747.
The Spring Lunch and Learn series will begin with a program on Healthy Hearts scheduled for Tuesday, March 3. To register for the Nov. 4 diabetes program visit: www.mercy.net/DiabetesLunchLearn.
Media Contact