March 6, 2020
ST. LOUIS – Newsweek magazine ranked Mercy Hospital St. Louis as one of the Nation's Best Hospitals for 2020. Of more than a thousand hospitals evaluated, Mercy St. Louis ranked No. 36 in the top 50 U.S. hospitals and was also listed as a Best-In-State Hospital in Missouri, ranking No. 2.
"This honor spotlights the way our patients and peers view our care," said Stephen Mackin, Mercy Hospital St. Louis president and senior vice president of operations. "It is further affirmation of the great work done by our physicians and co-workers who strive to continuously improve the quality of patient care."
Newsweek and Statista, the world-leading statistics portal and industry ranking provider, developed a rigorous methodology to ensure the quality and validity of the ranking. Three data sources were used: hospital recommendations from peers, patient experience and various medical key performance indicators. The complete methodology is available here.
In addition to the Newsweek ranking, Mercy St. Louis is a CMS Five-Star Hospital, a 100 Top Hospital by Watson Health and a Leapfrog Straight A hospital.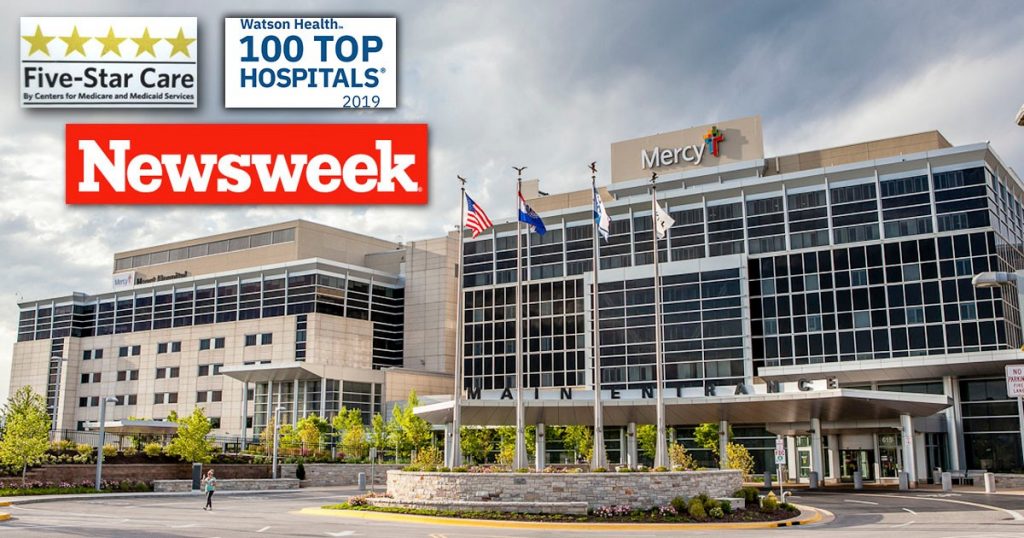 Mercy Hospital St. Louis is a CMS Five-Star Hospital, a Watson Health 100 Top Hospital and a Newsweek Top 50 Nation's Best Hospital.
Media Contacts
Bethany Pope
St. Louis, St. Charles, St. Louis - South, Troy, Festus