March 6, 2020
March is National Professional Social Work Month and the social workers in Care Management at Mercy Jefferson are celebrating by collecting donations of clean used or new tennis shoes to be given to patients in need of appropriate footwear at discharge from the hospital.
The shoe drive needs new tennis shoes or clean athletic shoes that are in good condition in all sizes for men and women. Children's shoes and dress shoes are not needed. Marked barrels are available in the Care Management Office and Mercy Jefferson Cafeteria. Tennis shoe donations are accepted all year in the Care Management office.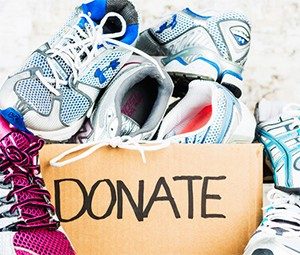 Mercy Jefferson's social workers and almost 700,000 other social workers in America are celebrating National Professional Social Work Month in March. Mercy Jefferson social workers assist patients in care management, rehabilitation, palliative care, behavioral health, home care and hospice.
They work closely with other disciplines to provide health education, crisis intervention, supportive counseling, and case management to patient populations that are having difficulty understanding an ever increasingly complicated health care system.
For more than 100 years, the primary mission of social work has been to enhance human well-being and help meet the basic needs of all people, especially the most vulnerable.  Social work is an integrative field which seeks to improve social functioning and social conditions for people in emotional, psychological, economic, and/or physical need.
Social workers in health care firmly hold that patients and families should lead healthy and productive lives. Their training and expertise can assist others to navigate major life challenges and to find hope and new options for achieving their full potential.
For more information call Care Management at 636-933-1653.
Media Contact
Bethany Pope
St. Louis, St. Charles, St. Louis - South, Troy, Festus