April 16, 2020
After more than three weeks of service to the community, the temporary COVID-19 test collection site in Hillsboro will be transitioning to the new drive-through dedicated care area established at Mercy Urgent Care in Festus.
In addition to providing COVID-19 testing, the new temporary acute care site has a doctor or nurse practitioner to assess a patient's symptoms. Because it's open seven days a week, area residents will have more opportunity to get appointments to be seen.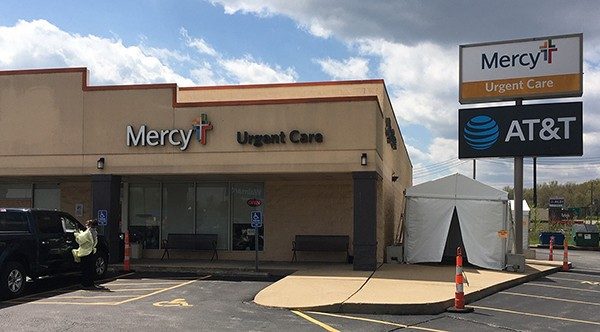 Mercy Urgent Care – Festus, 660A Truman Blvd., has been converted to a drive-through temporary acute care site.
"We are so proud and appreciative of the cooperation we had with the Jefferson County Health Department, the city of Hillsboro and county administration in quickly getting the testing center open last month," said Eric Ammons, Mercy Jefferson president. "Everyone has been helpful in making that site successful."
The testing site opened on March 25 at the Hillsboro Community Civic Club's Jefferson County Fairgrounds at 10349 Business 21 in Hillsboro. The site was open from 8 a.m. to 4 p.m. Monday through Friday, but reduced its schedule to 9 a.m. to 2 p.m. The Jefferson County Health Department mobile unit served as the base office for the temporary tent set up at the fairgrounds.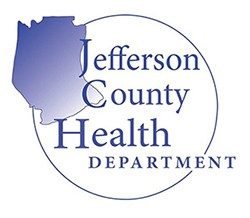 "We are extremely grateful to Mercy Jefferson for providing testing resources and to our local leaders in Hillsboro and the county for supporting the operations of the temporary site," said Kelley Vollmar, Jefferson County Health Department Director. "It is a shining example of the power of local collaboration to address the immediate needs of our residents."
The dedicated space in Festus is open daily from 9 a.m. to 5 p.m. Patients with respiratory illnesses who need care that cannot be provided virtually or in their homes will be directed to the location by their primary care physician. The area is for these referrals only in order to keep care teams and patients safe, as well as ensure patients are served in a timely manner.

Referrals for COVID-19 testing are required through the Mercy Clinical Support Line at 314-251-0500. The Hillsboro test collection site will schedule appointments through noon on Friday, but beginning Saturday, April 18, all patients will be directed to 660A Truman Blvd., in Festus. Health department guidelines for testing require a fever of at least 100.4 degrees and respiratory symptoms including cough or shortness of breath or contact with a confirmed COVID-19 patient.

The telephone number at the Mercy Urgent Care Festus is 636-931-3800 for referrals to the temporary acute care site. 

Media Contact
Bethany Pope
St. Louis, St. Charles, St. Louis - South, Troy, Festus