A lifelong South County resident and engineer, Jim Hoffmann was among the first patients with the novel coronavirus (COVID-19) to be treated at Mercy Hospital South in late March. Unfortunately, Jim also became among the sickest. His life was saved after he became the first patient in St. Louis to receive experimental convalescent plasma treatments, containing antibodies from patients who successfully fought the disease and recovered.
Last week, Hoffmann and his family gathered outside the hospital for a special visit, Mercy's first "Sunshine Visit." It was the first time they have been together face-to-face in five weeks. Hoffmann now is regaining his strength in Mercy South's acute rehabilitation unit.
"I'm under the impression that, had that plasma not shown up, I was maybe limited to days," said Hoffmann, 61, who was unconscious through most of the ordeal. "When you're basically in a coma for two weeks, you lose everything. My kidneys shut down and I was needing dialysis; a lot of things had to go right, and they did. The turnaround was incredible."
Sameer Rana, MD, FCCP, critical care physician at Mercy South, applied for the experimental convalescent plasma therapy for Hoffmann from the federal Food and Drug Administration in early April. Within hours, the application was approved and Hoffmann's blood type was a match for the plasma.
"Jim was one of the first cases of COVID-19 admitted to our ICU," Dr. Rana said. "He unfortunately developed the most severe form of the disease – called Acute Respiratory Distress Syndrome (ARDS) – in which the lungs are severely affected and suffer with severe oxygen deficiency. He required mechanical ventilation to support him during this. He also required a form of treatment known as proning, in which a person is placed on his stomach for 18 hours a day to help with increasing the oxygen supply.
"Despite the treatment, Jim had a fluctuating course and developed complications like kidney failure and shock. He even required dialysis. Studies and experience in the Intensive Care Unit (ICU) have shown that when a person is this sick, his or her chances of dying are extremely high. It was like we were fighting a losing battle.
"Due to the hard work of the research staff who worked behind the scenes to get this application process moving and approved, Jim became the first recipient of convalescent plasma in St. Louis. He made a remarkable recovery after receiving the plasma, and soon stabilized and was liberated from mechanical ventilation and was breathing on his own."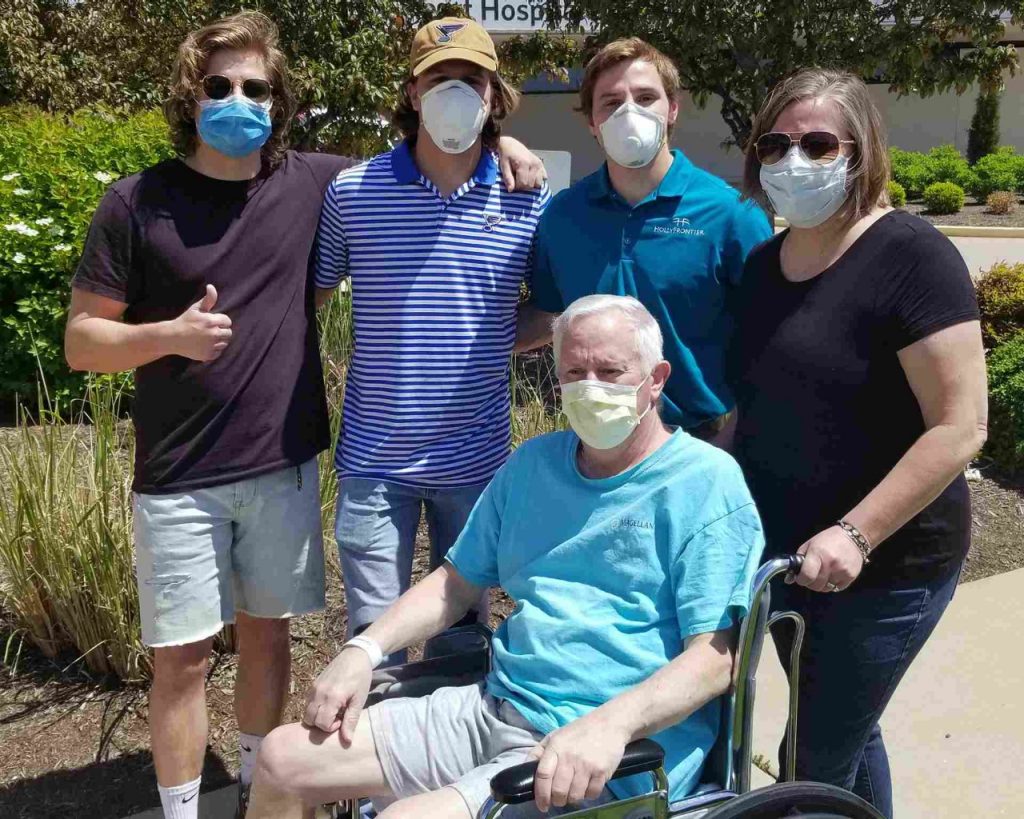 Jim Hoffmann sits during his Sunshine Visit surrounded by his family standing from left to right: sons Michael, Joe and Andrew Hoffman, and his wife, Robyn Hoffmann.
Robyn Hoffmann, Jim's wife of 29 years, documented the details of her husband's COVID-19 journey in Caring Bridge posts to family and friends. He had started feeling under the weather on St. Patrick's Day, was tested and treated originally for flu-like symptoms, and later developed a severe cough and had trouble breathing. Three hours after he entered the hospital at the end of March, he was sedated and put on a ventilator. He spent two weeks in the ICU.
Through it all, she never gave up hope and was buoyed by her faith and by the support of the couple's three sons, Michael, Andrew and Joe. Fellow parishioners and clergy from St. Simon the Apostle Catholic Church prayed for Jim, sent cards and brought food, as did concerned friends from Keysor Elementary School in Kirkwood, where Robyn teaches.
"For us, it is a miracle," Robyn said. "We are grateful for the outstanding care the staff at Mercy gave to Jim; they never made me feel like they didn't have time to talk with me. The doctor applied for the plasma; God connected the pieces for us and made it work."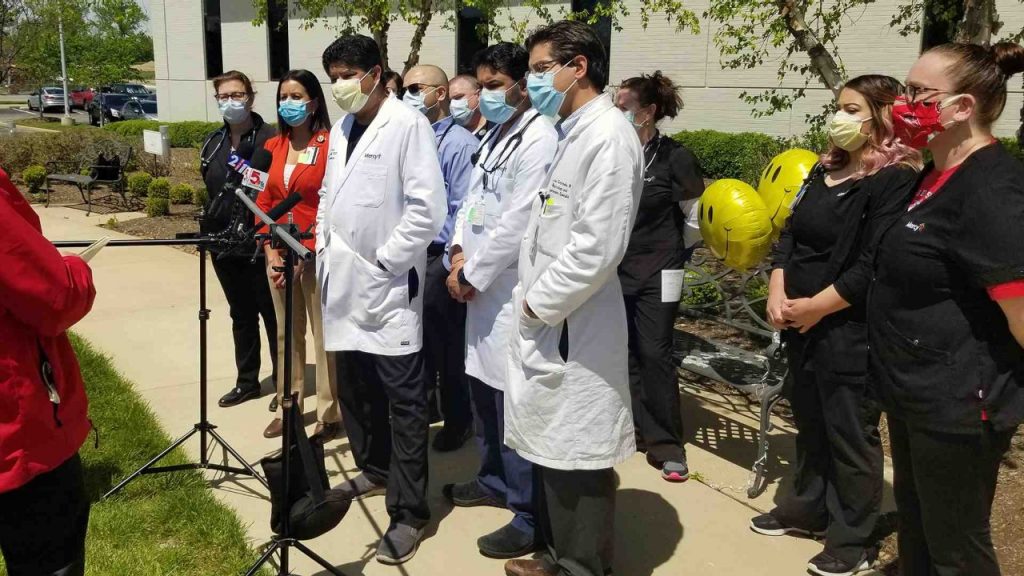 Jim Hoffmann's care team at Mercy Hospital South addresses reporters about Hoffmann's care and the use of convalescent plasma as part of the treatment.
Jim has no clue as to where he might have contracted the virus. An otherwise healthy non-smoker, he had been doing yard work all day on the evening he first started getting flu-like symptoms. On April 14, five days after his plasma treatment began, he was taken off the ventilator in the ICU. He remembers waking up in a plastic bubble and seeing the caregivers fussing over him.
Jim looks forward to returning home and sitting on his deck in the evening, enjoying life with his family.
"Since Jim's treatment, we have transfused more than a dozen other patients with convalescent plasma and have seen some success," Dr. Rana said. "Convalescent plasma is basically plasma from patients who have successfully fought off the COVID-19 infection that contains good antibodies. The theory is that these good antibodies directed against COVID-19 will help the person receiving this plasma fight off the infection and recover.
"As a scientist, I cannot guarantee this will work 100% of the time, but for persons like Jim who are fighting a losing battle, any ray of hope is welcome. Hopefully we will have more data at the end of this crisis. I wish Jim and his family all the best and continued good recovery. I am also proud to be part of a team that gave everything to help Jim and other persons like him recover."
Jim Hoffmann says throughout his time at Mercy South, he was just along for the ride.
"The big story really is the random act of some guy who came in and donated some plasma and saved my life."
Learn more about Mercy's participation in the program and how to donate.