June 28, 2021
Mercy has adopted leading industry protocols to ensure the highest quality and safety standards that keep our patients, co-workers and visitors as safe as possible while on our campus. As community COVID-19 cases fluctuate, Mercy is revising its visitation policies, as well as campus guidelines in certain areas.
We appreciate your patience and understanding as Mercy's response evolves and various protocols are updated. Ultimately, the goal is to maintain the safest environment possible for our patients and co-workers.
Please review the following guidelines, which are effective June 28, 2021 at these locations:
Mercy Hospital Springfield
Mercy Hospital Aurora
Mercy Hospital Cassville
Mercy Hospital Lebanon
Mercy St. Francis Hospital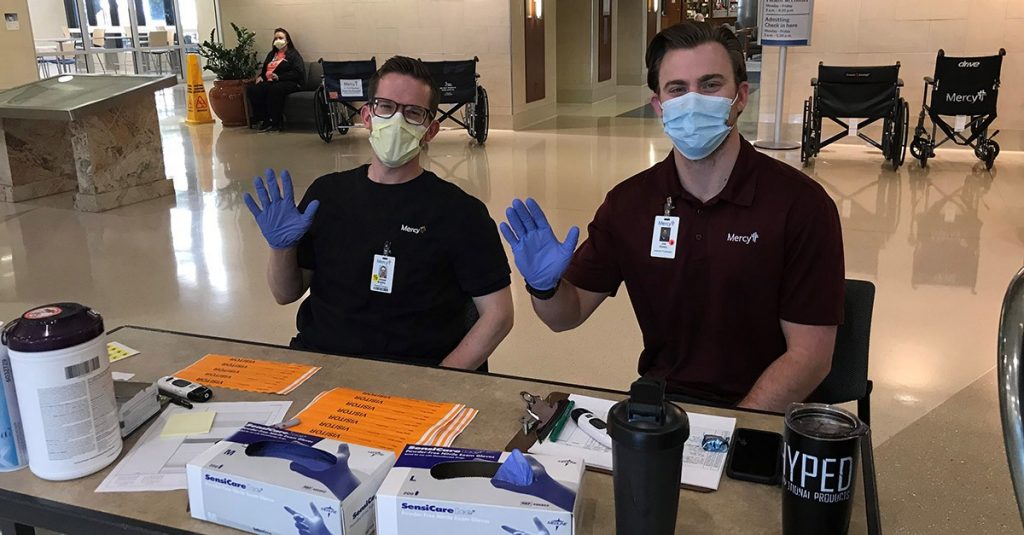 Our friendly screeners will provide you with a mask if you do not have one.
Hospital Visitor Restrictions: 
Hospital Visiting Hours (general):  7 a.m. to 9 p.m.
Intensive Care Unit Visiting Hours:  8:30 a.m. to 2 p.m., 4 p.m. to 6 p.m., 8 p.m. to 9 p.m. 
Patients receiving inpatient care may now have one patient representative per day.
Patients receiving outpatient procedures may be accompanied by one patient representative per day. 
Emergency department patients may be accompanied by one patient representative per day.
Labor and Birth patients may have one patient representative.
Postpartum patients may have one patient representative during visiting hours, and only one overnight.  
NICU and PICU patients may have two patient representatives.
Due to space constraints and the goal to make safe social distancing possible, infusion patients may not have patient representatives/visitors with them for infusion appointments; however, one patient representative is welcome to accompany them for consults and follow-up appointments.
Inpatient Behavioral Health will continue with no visitors at this time, with the exception of inpatient child/adolescent areas where one parent is allowed.
Out of an abundance of caution, patients who have tested positive for COVID-19, as well as those with pending test results, may not have a patient representative at this time.
All patient representatives must be ages 14 and up.
Campus Guidelines 
All individuals entering Mercy Hospital campuses will be asked screening questions upon arrival. Co-workers, patients and campus patient representatives are required to wear face masks at all times. Patient and their representatives are encouraged to bring their own masks with them, in addition to practicing proper hand hygiene. Effective March 10, Mercy will not be screening visitors' temperatures, as research shows temperature screening alone is not an effective way to stop the spread of COVID-19.
The Mercy Hospital cafeterias are open, but individuals in this area are asked to observe safe social distancing practices, standing at an appropriate distance from others. Individuals making food selections or waiting in lines are asked to wear a mask until they begin eating.
Social distancing measures should be observed when using elevators.
Furniture has been spaced at appropriate distances throughout the campus. Individuals are asked not to congregate in groups in common areas.
Mercy will be continuing to maintain rigorous cleaning protocols at all locations during the COVID-19 pandemic.
Clinic Visitor Restrictions
One visitor per clinic patient.
Those serving as interpreters or acting as health care power of attorney are not considered visitors and are welcome in our clinics.
Young children may also accompany parents/guardians if childcare isn't available.
Media Contacts
Sonya Kullmann
Branson, Cassville, Lebanon, Mountain View, Rolla, Springfield, Aurora