July 17, 2020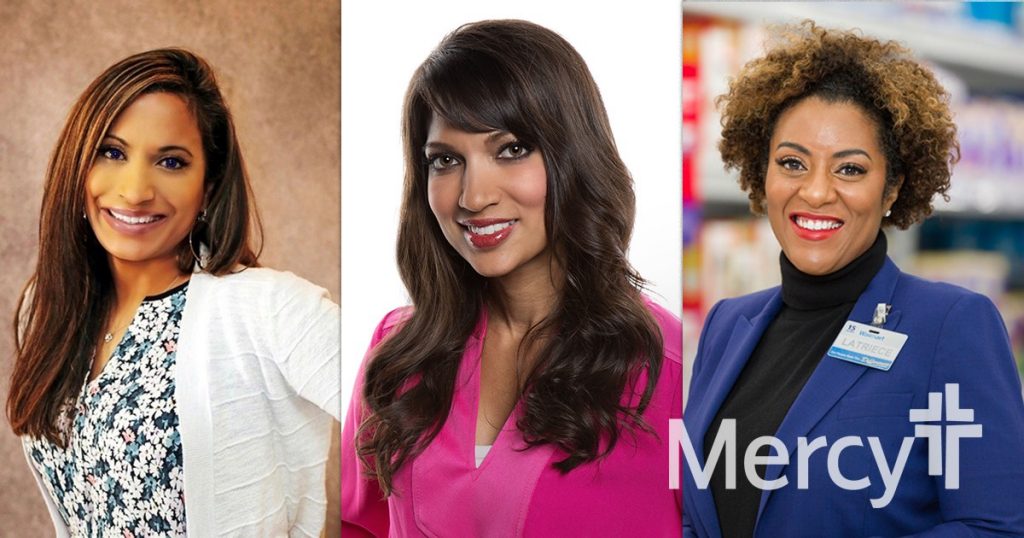 Pictured are Dr. Sonal Bhakta, Chandra Holt and Latriece Watkins
Mercy Health Foundation Northwest Arkansas has added three new members to its 24-member board of directors.
Joining the board are: Dr. Sonal Bhakta, vice president for medical affairs at Mercy Hospital Northwest Arkansas in Rogers; Chandra Holt, executive vice president and chief merchandising and integration officer for Walmart.com in Bentonville; and Latriece Watkins, executive vice president of consumables for Walmart U.S. in Bentonville.
Dr. Bhakta and Watkins joined the board July 1, while Holt started her term with the board in May.
The board also elected a new slate of officers. Chair is Pat Curran, former chief operating officer, Walmart. Vice chair is Karen Parker, retired, Walmart Foundation. Treasurer is Tim Gossett, vice president, Walmart, Anheuser-Busch, and secretary is Susan Peacock, strategic advisor, Runway Group. Immediate past president is Mary Zettle, director, perishables Walmart, General Mills.
Additional board members are:  Sr. Lisa Atkins, Sister of Mercy, Mercy Health System; Kerry Bailey, vice president Walmart, enterprise business development, WestRock; Christy Blackshear, volunteer, Mercy Hospital Auxiliary; Ben Blakeman, president, Blakeman's Fine Jewelry; Clark Ellison, vice president, Mercy Health Foundation; Kelli Huntley, vice president, finance, Mercy Hospital Northwest Arkansas; Rick Kirk, JUUL; Chris O'Brien, director and client relationship executive, PricewaterhouseCoopers LLP; Eric Pianalto, president, Mercy Hospital Northwest Arkansas; Loriane Pickell, senior counsel II, Tyson Foods Inc.; Eric Scott, business leader and philanthropist; Heather Shell, vice president of logistics, JB Hunt Transport; John Short, senior vice president and general manager, global Walmart Inc. team, PepsiCo; Reg Yarbrough, president, the Consumer Products Group LLC; and Kasie Yokley, co-founder, 3W Magazine.
Board members serve as ambassadors for Mercy Hospital Northwest Arkansas and guide Mercy Health Foundation Northwest Arkansas in its pursuit of collaborative partnerships to enhance quality of life and strive toward making health care accessible for all.
Media Contacts