July 27, 2020
Since the age of 9, Gina Dill knew she wanted to serve patients – because she was a patient herself at the time.
"I had stage 4 Burkitt lymphoma," she said. "I lived in the hospital for seven months, plus about five years of dealing with the effects of cancer treatment. I was always highly interested in what was being done to me and why, and I developed a strong interest in encouraging and helping others."
With no doubt in her mind that health care was her future, Dill was already a practicing registered nurse by age 20. This past May, she graduated with a doctor of nursing practice – family nurse practitioner degree from Missouri State University.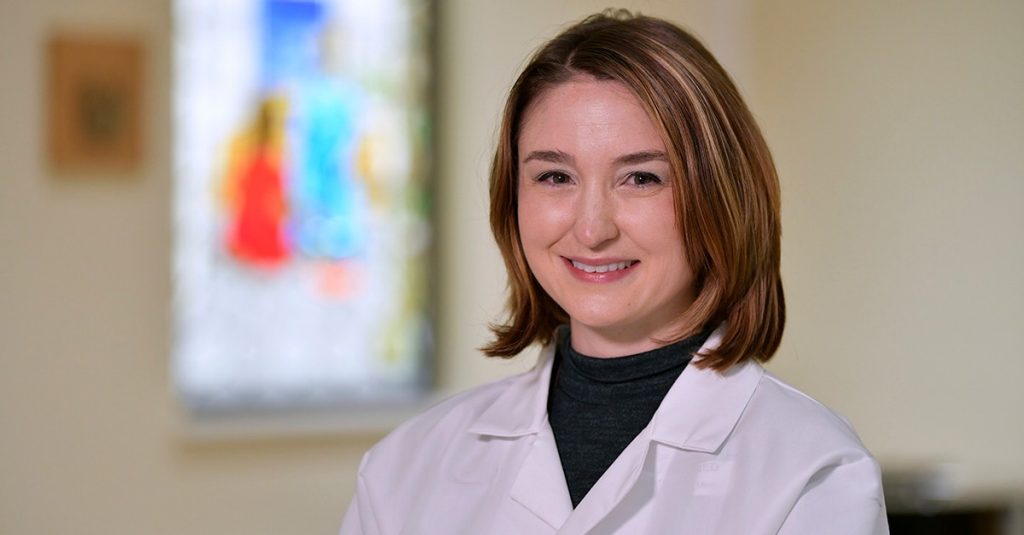 Gina Dill, NP, sees patients at Mercy Clinic Internal Medicine - Lebanon.
Now, Dill is not only focused on her own good health, but also helping her patients achieve the same thing. "I believe chronic wellness should be just as much, if not more, of a focus as chronic illness," she said. "Just a few years ago, I was diagnosed with cardiovascular disease, which you would never know from my lifestyle. I have a passion for a healthy lifestyle through physical activity, proper nutrition, and mental health well-being. I love to help patients personalize these strategies for their particular situation."
When she's not in the office, you'll find Dill helping her husband work cattle on their area farm or chasing her toddler son. "I grew up in the Brighton and Pleasant Hope, Missouri, area, and I love the smaller town, family feel of Lebanon," she said. Dill also enjoys cooking and playing the piano.
Dill often has same or next-day appointments available. You can schedule your visit online by clicking on the link below.
Media Contacts
Sonya Kullmann
Branson, Cassville, Lebanon, Mountain View, Rolla, Springfield, Aurora