August 10, 2020
It may have begun around the kitchen table. As Dr. David Barbe and his wife, Debbie, a nurse, talked about their workdays, their son Nathaniel listened closely.
"He was bright and inquisitive and liked to hear about interesting cases I'd seen," Dr. David Barbe remembered. "I hoped he would eventually end up in medicine. Debbie and I encouraged his interest but were very careful not to say or do anything to suggest it was an expectation."
Others in town often asked the question, though. "I'd usually say I wanted to be a paleontologist when someone asked," Dr. Nathaniel Barbe said. "But when adults would ask a more direct question about whether I wanted to be a doctor like my dad, I always answered yes. In my mind, the word 'doctor' and what my dad did serving his hometown and surrounding communities were synonymous."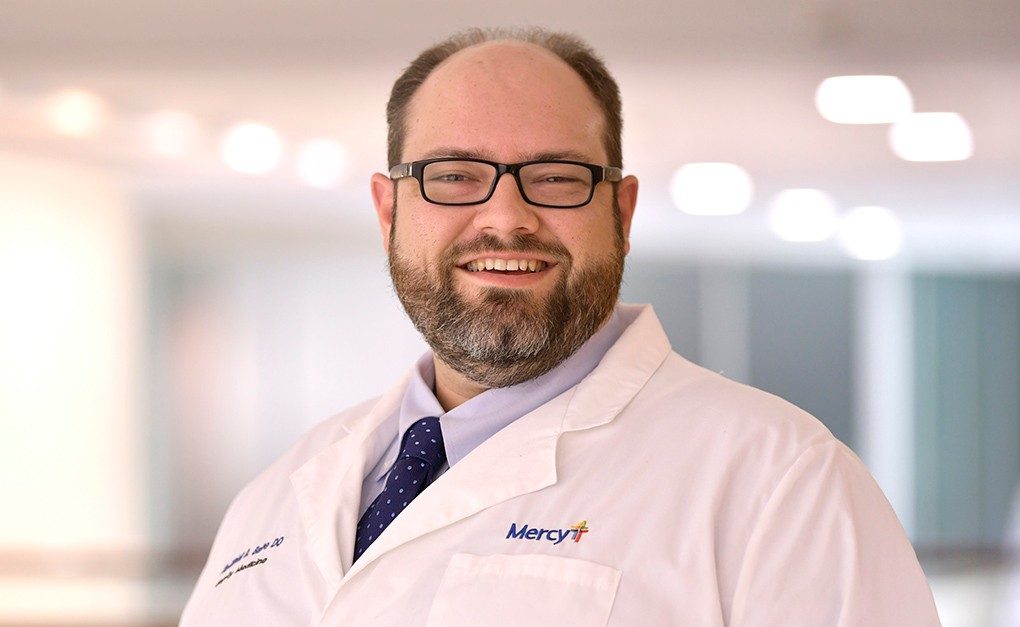 Dr. Nathaniel Barbe has come home to Mountain Grove, Missouri, to practice medicine.
In fact, Nathaniel was so much like his father, who had initially wanted to be a math teacher, that he at first went in to teaching. "I taught high school science for a year because of a passion for teaching others," Nathaniel said. "After that, I realized I enjoyed applied science and went to work in an analytical chemistry lab. But the love for medicine was always there, so I decided to go back to school with the love and encouragement of my wife."
Now, he and Cheryl, who also grew up in Mountain Grove, have moved back home with their four kids. Nathaniel is the new doctor at Mercy Clinic Family Medicine – Mountain Grove, working with his mom and dad. "We were careful not to push Nathaniel to come home to practice," David said. "But needless to say, we were overjoyed when he told us their decision!"
While some who work in "family businesses" may cite communication issues, for these three, it's working out well. "I enjoy working with my parents," Nathaniel said. "I get to work with people I love, and I learn from the experience they both provide. It's a different perspective I didn't get in residency."
His father agrees. "Being familiar with one another's styles and habits is a definite advantage. It makes communication easy, and there's no hesitation to ask questions, offer advice or work together for our patients' benefit."
Drs. David and Nathaniel Barbe consult on a case at Mercy Clinic Family Medicine - Mountain Grove.
You can expect the younger Dr. Barbe to be as involved in his community as his father. "I realized later the impact my dad had beyond direct patient care. His participation in organizing things like Relay for Life also made a big difference. In my mind, that's what a doctor is – someone who serves their community passionately with their time and talent for healing. That's what I hope to bring home."
He's also bringing home a different perspective. As a Doctor of Osteopathic Medicine (DO), Dr. Nathaniel Barbe has an additional 200 hours of training in osteopathic manipulative medicine. "We're taught to understand the body as an interconnected system of nerves, muscles and bones," he said. "We use some different techniques that help alleviate pain, improve motion and support the body's ability to function efficiently."
He's expecting his patients to ask plenty of questions during their visits. "One of the keys to better health is understanding and advocating for your own needs," he said. "Sometimes we need help recognizing that, so I'll be encouraging my patients. I want to help them achieve and maintain their best overall health."
You can schedule an appointment with Dr. Nathaniel Barbe by calling 417-926-6111, or by clicking the link below.
Media Contacts
Sonya Kullmann
Branson, Cassville, Lebanon, Mountain View, Rolla, Springfield, Aurora