He's served his country in Iraq and Afghanistan, and now Dr. Kyle Ward is ready to serve you as the newest general surgeon at Mercy Hospital Lebanon.
"Both of my parents were nurses, so I was exposed to the medical field throughout my childhood," he said. "I've always liked building and fixing things with my hands, so the combination is probably what drew me to surgery. I've always had the most satisfaction and joy in my life from serving others, so the medical field really seemed like a worthwhile pursuit."
Dr. Ward and his wife, Theresa, both grew up in Jackson, Missouri, and were looking for a similar-sized town in which to raise their two sons, Leland and Gehrig. "I was also excited for a chance to work at Mercy," he shared. "I spent time at Mercy Springfield during medical school and worked at Mercy in St. Louis as a patient care associate while I was in grad school."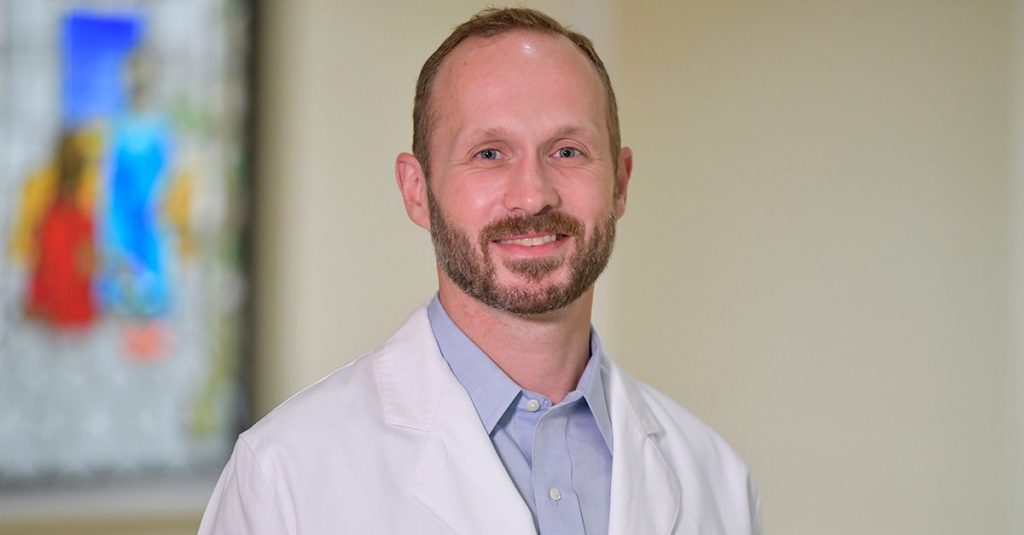 Dr. Kyle Ward is one of the newest general surgeons at Mercy Hospital Lebanon.
During graduate school, Dr. Ward did anatomical research at St. Louis University. After he was accepted to medical school at Kansas City University of Medicine and Biosciences, he joined the U.S. Army, which eventually took him to Texas, Colorado, St. Louis, Washington and overseas.
One thing he's learned: No matter what he's trying to patch up in the operating room, how well you heal is largely up to you. "While surgery can focus on a very specific problem that needs repair, a patient's overall health really impacts their outcome," he said. "Look at it as an investment in your future. Make a commitment to stay active, eat healthy and avoid harmful habits. It's the best way to weather any health adversity."
Dr. Ward stays active by getting outside – particularly enjoying fishing, camping and hiking and spending time with his family.
Dr. Ward and his partners, Dr. Rafael Bonilla and Dr. Joe Padilla, perform procedures like mastectomy, hernia repairs, appendectomy and laparoscopic (minimally invasive) surgeries. With the addition of Drs. Ward and Bonilla in Lebanon, patients can get into surgery faster, and on the road to recovery sooner.