Don Smith was disappointed when his cataract removal surgery in March had to be postponed due to COVID-19.
"It was like looking through a dirty window," he remembered. "But elective surgeries had to be canceled, so I kept waiting."
While the wait wasn't welcome or anticipated, it actually led to better vision for Smith. Due to astigmatism, which is an irregularly shaped cornea, Smith had worn glasses since he was 15. Astigmatism usually requires glasses or contact lenses to correct.
That is, until a new solution came out in mid-May.
"As a Center of Excellence for Johnson & Johnson, we get the first opportunity to try newly approved products," explained Dr. Wendell Scott, Mercy ophthalmologist. "As we were waiting to do Don's surgery, the company came out with the perfect new lens for his condition."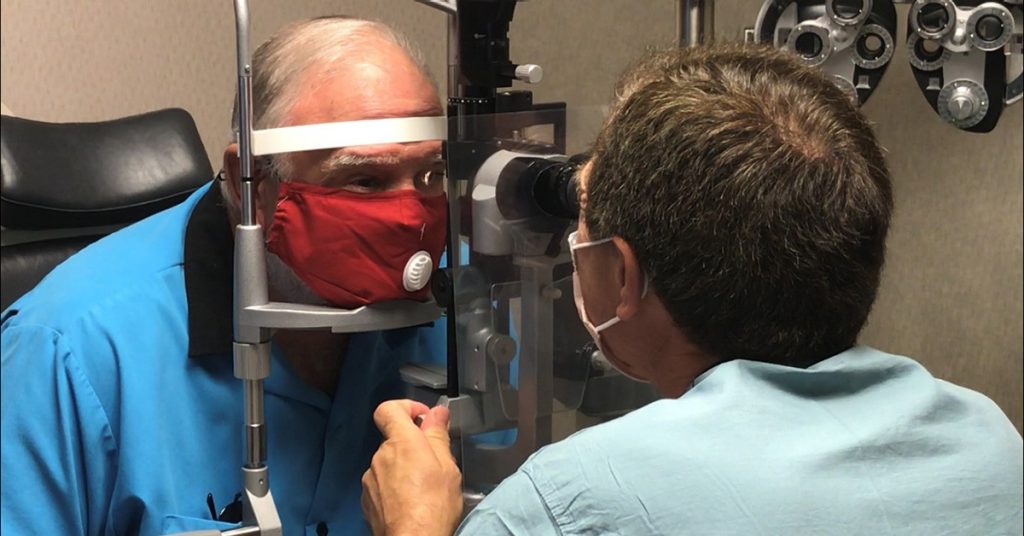 Don Smith gets a follow-up eye exam from Dr. Wendell Scott, Mercy ophthalmologist.
When patients have their cataracts removed, they have the option of getting upgraded lens implants that can correct other vision problems, including the need for bifocals or trifocals. This new lens could focus very well both near and far - and it could correct astigmatism. Smith was willing to try it.
As luck would have it, Mercy's femtosecond laser had also just gotten a software upgrade that further honed its ability to address astigmatism. The laser maps the eye in real-time, making the cataract removal and placement of the new lens incredibly precise. Mercy ophthalmologists are the most experienced in the country in not just using the femtosecond laser; they have innovated safety improvements and setting enhancements that are now used around the world. Because they feel all patients should have access to the best treatment possible, they're the only doctors in the state to offer laser cataract removal to everyone with no extra fee.
As always, Dr. Scott removed one cataract, and waited a couple of weeks before working on the second eye. Smith said that wait may have been even harder than the pause for the first surgery, because he wanted the results in both eyes as soon as possible.
"There was an immediate difference when they took off the eye patch three hours after surgery," he said. "Colors just popped. When we got home, I realized the dog collar I thought was red was actually pink."
With no pain from the surgery, which he described as "over before I realized it," Smith just had to wait a few weeks for his eyes to heal and the muscles to adjust to their new, corrected reality. And he had to learn to stop reaching for his glasses. "It's such a habit, but it's nice when I realize I no longer need them."
Now, he's seeing street signs clearly and is back to being able to drive at night. At his last checkup, he had 20-20 vision in one eye, and 20-15 in the other. "Don't try to tell my wife I'm better than perfect," he joked. She'll never believe you!"
If you'd like to see more clearly, whether you need cataract removal or LASIK vision correction, check out the link below.