September 15, 2020
After pregnancy complications led to the premature birth of her son Easton,  Mercy nurse Savannah Hopper learned that the support families get in the neonatal intensive care unit goes far beyond just medical treatment. Her experience as a NICU mom led her to become a NICU nurse herself. Now she uses her experience to help others.
By Savannah Hopper, Mercy registered nurse, certified in neonatal intensive care
As a child, I always knew that I wanted to be a mom so when I became pregnant with my son in 2013, we were ecstatic. At the time, I was working as a registered nurse on the medical surgical unit at Mercy. I had dreamed and hoped for the perfect pregnancy and delivery as every parent does.
My pregnancy was pretty uneventful until about 32 weeks, when I was put on bed rest due to elevated blood pressure. At 33 weeks, I suffered a placental abruption at home and was rushed to Mercy, where I underwent an emergency cesarean section to deliver our son, Easton. In the operating room, Easton was resuscitated for around 7 minutes and taken to the neonatal intensive care unit on ventilator support due to prematurity and loss of blood volume. Easton weighed in at 4 pounds. He was tiny but such a fighter!
As a new mom, the NICU was terrifying, but the NICU staff was amazing and helped ease any fears that I had. We stayed in the NICU locally for one week and then were flown to a higher acuity care facility due to Easton having a brain bleed with developing hydrocephalus. We were monitored by the neurosurgery team weekly and in the meantime worked on feeds and growing. Four weeks passed and Easton was discharged in good health! Head ultrasounds showed complete resolution of the bleed and no evidence of hydrocephalus. Praise!
Not long after returning to work after maternity leave, I felt pulled to leave the medical surgical floor and pursue other areas. Although I never envisioned myself working with kids, I felt led to transfer to the Women's and Children's Department. I worked pediatrics and postpartum care for a time and found myself feeling like my purpose was still not fulfilled.
Although hesitant, I soon began working in the NICU with infants and their families and I found myself quickly drawn to NICU parents who were struggling to cope. I found that by allowing NICU parents an outlet and sharing my story, I was able to give them a little glimpse of hope that their NICU stay could still be a fulfilling time of bonding, development and growth for not only the infant but parents and siblings as well. 
I feel incredibly passionate about strong parent and family support throughout the NICU stay and even after discharge. Because of this, I have created a fun family NICU support group that provides activities such as making name banners, footprint art and holiday crafts and allows graduated NICU parents and current NICU parents an opportunity to share their stories and support one another.
Giving families a safe escape from the sometimes hectic and relentless NICU environment to create "normal newborn" memories really helps the parents transition away from what can be a scary prognosis in their infant's first days or weeks. We do this with activities such as a bedtime story or first bath, celebrating milestones and decorating NICU rooms.
The holistic approach of the NICU team really made all the difference on my outlook of what Easton's life would look like. I truly believe that I was meant to work in the NICU to be a support and resource to these parents through their NICU journey. I fully trust that God is using Easton's story and myself to provide comfort to these special families and without the familial support that the NICU staff provided during our stay, our story may have not turned out the same.
Today, Easton is a happy, healthy 6 year old and is loving kindergarten. He continues to impress and exceed goals set by his teachers and pediatrician and can definitely be characterized as strong willed and spunky! He is such a light in this world and it's all thanks to the amazing NICU team that guided him (and his momma!) through those first stressful days.
Click here to learn more about Mercy Hospital Northwest Arkansas' neonatal intensive care.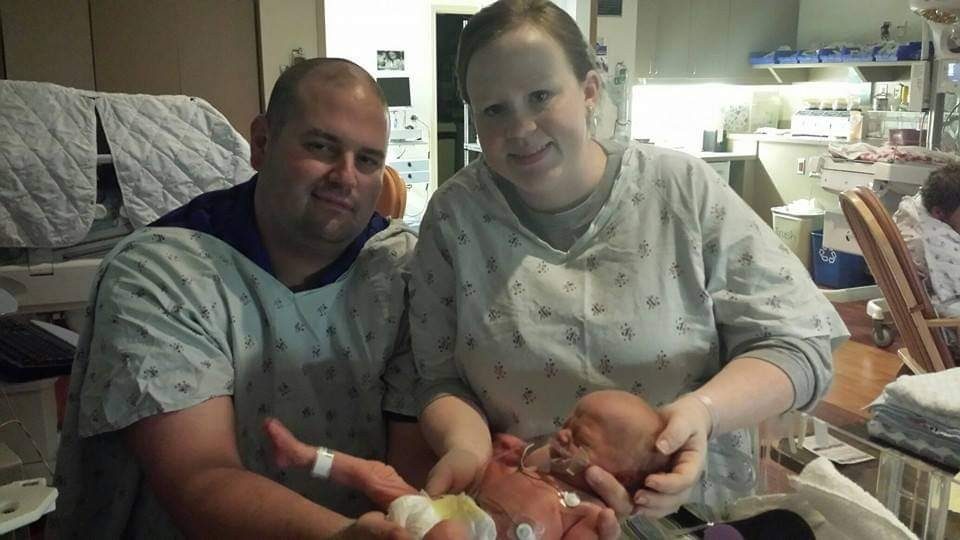 J.T. and Savannah Hopper with Easton in the neonatal intensive care unit.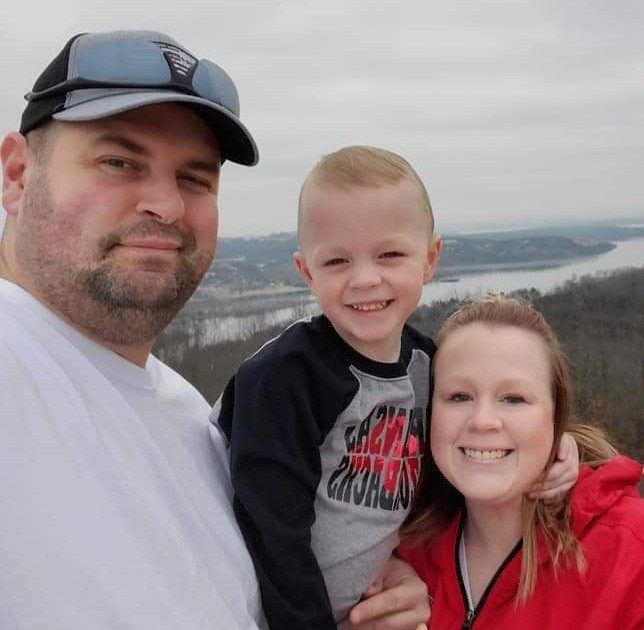 J.T., Easton and Savannah Hopper
Media Contacts