September 28, 2020
ST. LOUIS - Dr. Zachary Keller recently joined Mercy Clinic Women's Health -Tower A Suite 499 - on the campus of Mercy Hospital St. Louis. 
Originally from Nashville, Tennessee, Dr. Keller came to St. Louis for medical school at St. Louis University where he met his wife. He completed his residency at University of Arkansas Medical Sciences in Little Rock and then came back to St. Louis. In his free time, you might find Dr. Keller with his wife playing golf, visiting the lake or hanging with friends and family.
Did you always know you wanted to be a doctor?
I realized I wanted to be a doctor at the beginning of high school. I've always loved the sciences and I love people. In high school, we were encouraged to think about our interests and for which career paths these might be best suited. By being a doctor, I found that I would be able to use science in order to make a difference in other people's lives.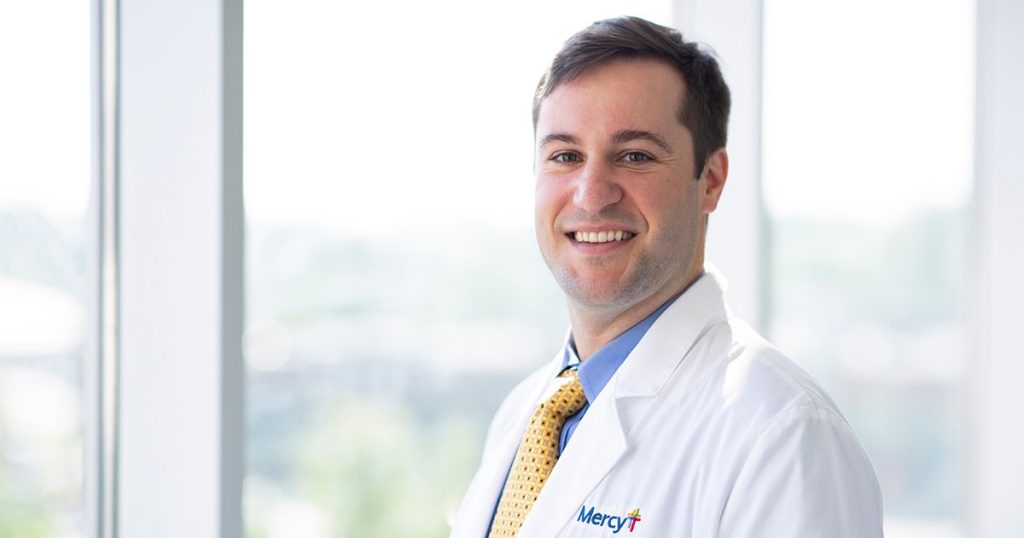 Dr. Zachary Keller, OB/GYN, recently joined Mercy Clinic Women's Health.
What drew you to your specialty?
I was drawn to OB/GYN because it enables me to provide a variety of services for my patients as their medical needs change over time.  Throughout a patient's life, I will be involved with routine well woman visits, milestones like prenatal care and delivery, menopausal symptom care, and managing other acute and chronic gynecologic issues. When medical options are not adequate, I'm also able to manage these issues surgically.  Obstetrics and gynecology allows me to build strong patient-physician relationships as I get to be involved with so many important aspects of a patient's life.
What made you want to join Mercy?
Mercy St. Louis has an outstanding women's health department and reputation. I wanted to be a part of it and contribute to its health care team as a physician.  As a Catholic, I am also drawn to Mercy's mission as a health care institution and the way they care for their patients. 
Dr. Zachary Keller has online scheduling available. Click here to schedule your appointment.
Media Contacts
Bethany Pope
St. Louis, St. Charles, St. Louis - South, Troy, Festus