October 23, 2020
For people living with severe pain, doing everyday tasks can be difficult enough – never mind all the fun hobbies they used to enjoy.
Now, there's fresh hope for getting past the pain. Dr. Byungkwan Hwang has just joined Mercy Clinic Pain Management – Rolla, and with three areas of specialized training, he has a lot of tools for getting people moving again.
"I focus on a patient's functional recovery, rather than just treating their pain," Dr. Hwang said. "I want them to get their life back."
Dr. Hwang is trained as a neurologist, pain management doctor and a physiatrist, which is a doctor who works to maximize a patient's physical mobility. "My job is to restore a patient's function. We may use medications, injections, exercise and neuromodulation, which targets the nerves that cause pain. I also address sarcopenia, which is age-related muscle loss. It's one of the reasons people have more chronic pain when they get older. Pain is a complex neurological problem, but it can be successfully treated."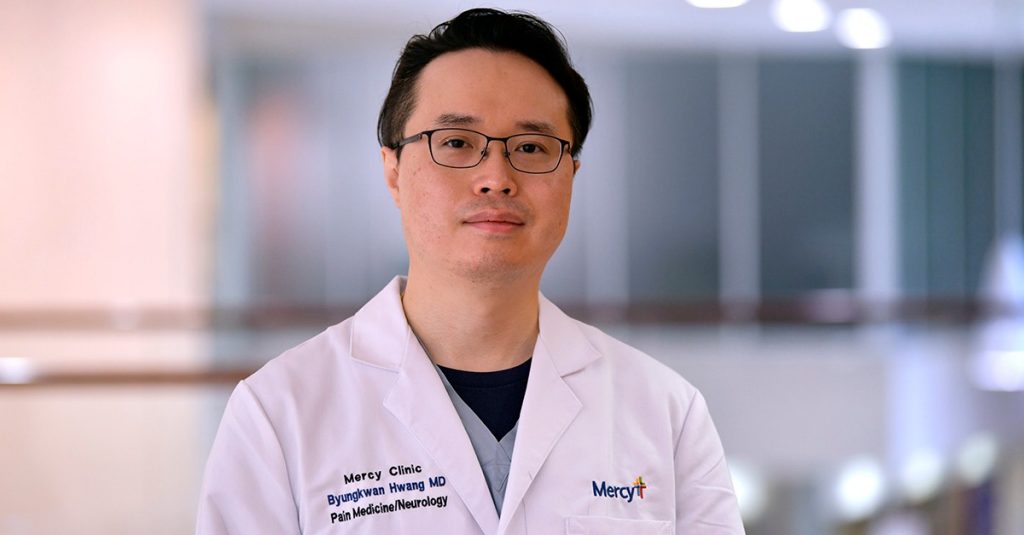 While Dr. Hwang's experience would be a boost to any big-city hospital, he chose to come to Rolla because of the people. "Everyone is friendly and supportive," he said. "I chose health care because I want to help people in person. I want to provide the best medical care to patients here."
When he's not at work, you'll find Dr. Hwang spending time with his wife and 5-year-old daughter. He also loves to play classical guitar.
To make an appointment with Dr. Hwang, just call 573-458-6401.
Media Contacts
Sonya Kullmann
Branson, Cassville, Lebanon, Mountain View, Rolla, Springfield, Aurora