February 11, 2021
ST. LOUIS – Sports looked a bit different at the beginning of the 2020-2021 season, but student athletes still worked hard and competed. Athletic trainers with Mercy Sports Medicine are embedded inside many St. Louis metro area high schools and get to know the athletes throughout the year. As a way of highlighting outstanding students from these schools each month, a new Mercy Sports Medicine Athlete of the Month will be recognized. Athletes are nominated by coaches and selected by a committee.
Here are the Mercy Sports Medicine Athletes of the Month for the 2020-2021 school year.
Ella Brinkmann and Gabe Porter - Mercy Sports Medicine Athletes of the Month - Nov. 2020 (submitted photos)
Ella Brinkmann, a junior volleyball player at St. Francis Borgia High School, thrives in the classroom and on the court. With a Class 5 team finishing in the final four, Brinkman had an impressive 541 kills, 42 blocks, 26 aces and 312 digs. She's a member of National Honor Society, involved in the Spirit Leaders club and served as a leader for the school's Luke 18 retreat for incoming freshmen. Brinkmann also volunteers for the Rockwood Thunder Volleyball Club and at various parish events at Our Lady of Lourdes church.
Gabe Porter, a junior swimmer at Parkway South High School, is an exceptional teammate and leader. He finished fourth in the state for the 100 Fly, for which he broke a 20-year school record with a time of 50.91. Porter also finished seventh in state for 500 freestyle and 11th in the 200 medley relay. He takes time at practice to teach and help his teammates with technique in different strokes. He excels in the classroom and dedicates time to helping youth swim clubs.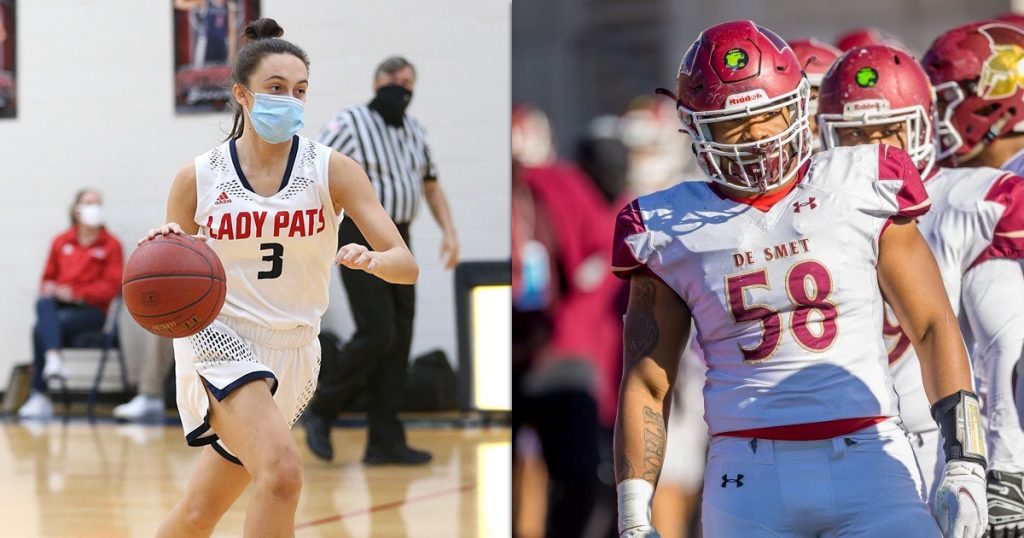 Grace Ellington and Mekhi Wingo - Mercy Sports Medicine Athletes of the Month - Dec. 2020 (submitted photos)
Grace Ellington, a senior basketball player at Parkway South High School, is a player her coach will never forget. She's a leader on the court, in the locker room and out of school. She is a four-year variety starter. She has made numerous All Conference and All District teams all while compiling a 4.1 GPA. Ellington has committed to play at Milwaukee School of Engineering and study Actuarial Science.
Mekhi Wingo, a senior football player at DeSmet Jesuit High School, has been the ultimate leader and teammate for the variety football team, and a starter for the last three seasons. As a team captain at defensive tackle, he has excelled at stopping the run and pressuring the quarterback. Moore was named MCC Defensive Player of the Year for the second time, led the team in sacks and was among the leaders in tackles. He was named Class 6 1st Team All State in 2019 and 2020 seasons and has committed to play at Mizzou next year.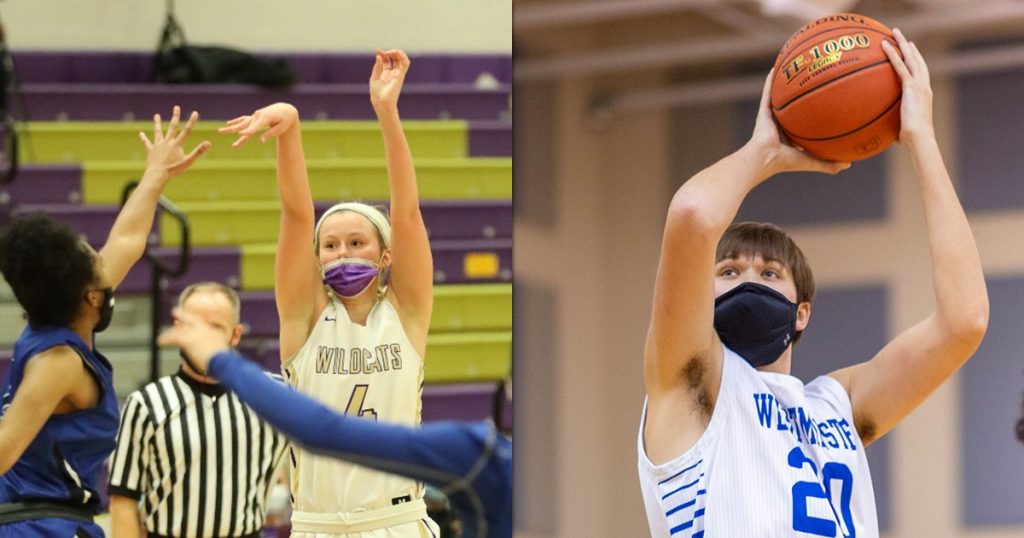 Kate Hillyer and Austin Vick - Mercy Sports Medicine Athletes of the Month - Jan. 2021 (submitted photos)
Kate Hillyer, a senior basketball player at Eureka High School, has been setting records and starting on varsity each of her four years. She was named Freshman of the Year in 2018 and All-Conference for three years. She holds four school records – free-throw percentage and three point for career, season and game. Nom-Hillyer is also closing in on the school's all-time scoring record (1,605) set in 2001. She is involved in the community as well, with canned food, clothing and back to school drives with her church. Last summer, with many summer camps canceled due to the pandemic, she even she held weekly basketball camps for kids in her neighborhood giving them a physical outlet and growing the game. She will be playing at William Jewel College next year.
Austin Vick, a junior basketball player at Westminster Christian Academy, is a person of high character, integrity and humility. He shows up early, stays late and follows through making him teachable and coachable. He has started every game and currently averages eight points, seven rebounds, two blocks and two assists per game. In a couple games, Vick has even had a double-double (double figure points and rebounds). In the community, he volunteers for Crisis Aid International by packing and serving food to those in need. 
Whether you need surgery to repair your rotator cuff or physical therapy to regain range of motion, Mercy's sports medicine team can help.
Media Contacts
Bethany Pope
St. Louis, St. Charles, St. Louis - South, Troy, Festus