March 2, 2021
Mercy Hospital Ada is offering an easy-to-use online form for Oklahomans eligible to schedule COVID-19 vaccinations. Although scheduling is available now, appointments will begin the week of March 15.
The state recently expanded vaccine eligibility to more than one million people in the next part of phase two. Current priority groups include:
Health care workers including expanded groups such as allied health fields and general outpatient health service (i.e. behavioral health, dentists)
First responders
Oklahomans age 65+
Oklahomans age 16+ with co-morbidities
Teachers and staff in schools (Pre-K – 12)
"As the state provides vaccine to us each week, we will do everything possible to get Oklahomans vaccinated," said Terence Farrell, president of Mercy Hospital Ada. "We know how critical it is for our community to get vaccinated and we ask for your patience as we are limited by the supply we receive. At this time, we are set to receive 400 vaccine doses each week."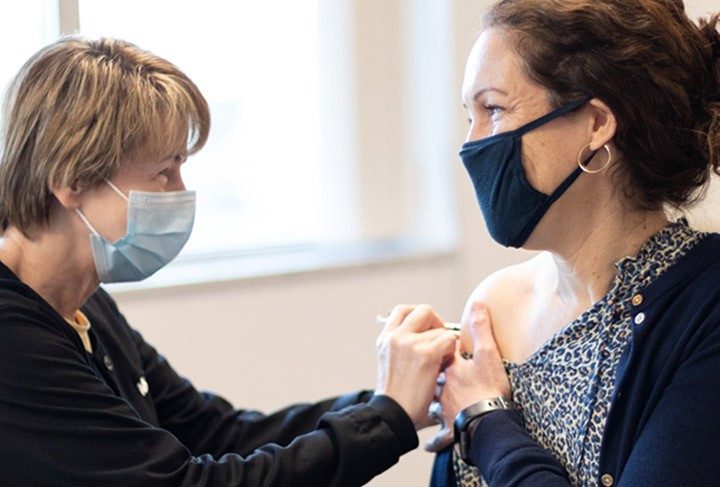 If someone is eligible based on state and federal guidelines, they can submit a form at mercy.net/adavaccine to receive updates. As vaccine supply is made available by the state, Mercy will reach out via text or email to schedule appointments with those who have submitted a form and are eligible. Because demand is high, available appointment times are expected to fill quickly.
"We are working closely with the Pontotoc County Health Department to vaccinate those who are eligible under Oklahoma state guidelines," said Farrell. "It's critical that people fill out the online form so that as soon as vaccine is available, we can reach out to get you scheduled for an appointment."
While filling out an online form is the preferred way for patients to sign up for a COVID-19 vaccine from Mercy, there is now an automated phone number to call for those who do not have internet access.
The number is 1-833-364-6777.
The automated, interactive voice response system will record things like a patient's name and date of birth. When vaccines become available in the patient's area, a Mercy co-worker will call back to schedule an appointment.
"Please remember the demand for vaccine far outweighs the supply the state currently has," said Farrell. "Together, we will get our community vaccinated and while we do that, please continue to wear masks and social distance at all times. What we do as a community speaks volumes. We can save the lives of our neighbors and loved ones by doing what's right."

For the most up-to-date state information from the state, visit Oklahoma guidelines.
Media Contact